Jeopardy! Round responses
IT COMES WITH THE TERRITORY

DISNEY VILLAINS
(Alex: We'll give you the villain, you name the movie.)

A BUNCH OF "GREAT" LEADERS

(R: What is pull out?)

Pull up stakes



(D: Who is William the Conqueror?)

Alfred the Great



Jose, can you see by the dawn's early light



(Alex: You're absolutely right, and you did it (Groucho imitation) well, too!)

"How he got in my pajamas, I'll never know!"


Scores at the first commercial break (after clue 15):
| | | |
| --- | --- | --- |
| Janet | Robert | Dan |
| $1,200 | $1,800 | $100 |
Scores at the end of the Jeopardy! Round:
| | | |
| --- | --- | --- |
| Janet | Robert | Dan |
| $1,900 | $3,600 | $1,200 |
Double Jeopardy! Round responses
LITERARY EPITAPHS
(Alex: You have to name the character in this category.)

(R: Who is Polonius?)

King Lear



(D: What is "Fame?")

The Drew Carey Show



(D: Who is the...(time)?)

Scarecrow



(D: What is a dance?)

Bathing in a creek



(D: Who is Thomas Wolfe?)

William Makepeace Thackeray



(J: What is Bacharach?)
(buzzer sounds)

Baccarat



(R: Who is Van Eyck?)

Peter Paul Rubens



(J: Who is George Leakey?)
(one minute to go...)

Francis Macomber



(R: What is a caribou?)

Peccary


Scores at the end of the Double Jeopardy! Round:
| | | |
| --- | --- | --- |
| Janet | Robert | Dan |
| $4,300 | $5,200 | $1,000 |
| | | |
Final Jeopardy! Round responses
Dan
Who are the Duke of Windsor & Mrs. Simpson?
$1,000
Janet
Who are Queen Elizabeth & Edward?
$4,299
Robert
Who is Elizabeth & Albert?
$3,400
The Duke of Windsor (former King Edward VIII) & Wallis Simpson
Final scores:
| | | |
| --- | --- | --- |
| Janet | Robert | Dan |
| $1 | $1,800 | $2,000 |
| 3rd place: Samsung Evoca 140S Camera | 2nd place: Zenith 36" Stereo TV & DirecTV Satellite System | New champion: $2,000 |
Game dynamics: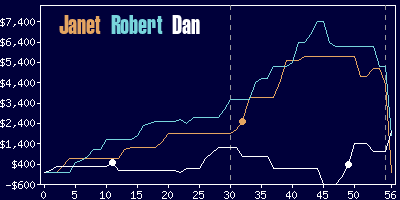 Janet
Robert
Dan
$3,700
$5,200
$1,200
13 R
(including 1 DD),
2 W
20 R,
4 W
10 R
(including 1 DD),
6 W
(including 1 DD)
Game tape date: 1999-08-24