Show #3501 - Monday, November 22, 1999
Jeopardy! Round
IT COMES WITH THE TERRITORY

DISNEY VILLAINS
(Alex: We'll give you the villain, you name the movie.)

A BUNCH OF "GREAT" LEADERS

Tokelau, a territory of this country, is over 1,000 miles north of its North Island

His forces defeated the Persian Army under Darius III in 333 B.C.

You "pull a few" of these to get a favor done

This Oscar winner played the matriarch of the Partridge Family

Steven Wright joked, "I put instant coffee in" this type of "oven and nearly went back in time"

In 1896 George Carmack, Skookum Jim & Tagish Charlie found gold in this territory

In the 18th century she founded a medical college & the first Russian school for girls

From the idea of breaking camp comes this phrase for moving on

She played Shirley Feeney on "Laverne & Shirley"

It's the classic response to the request "Call me a cab!"

In 1858 the British established this type of colony on India's Andaman Islands

This 9th century king of Wessex repeatedly repelled the Danes with great success

Since the 8th century, it's what churchmen have pulled to ring their bells

Shirley Manson is the lead singer of this "trashy" alternative band

When this gastropod in a shell rode on the turtle's back, it said, "Whee!"

The price paid for these Caribbean islands in 1917 was $25 million, over 3 times what Alaska cost

From 1682 to 1689 he shared the throne with his half-brother Ivan V

Word on the 2 buttons that preceded this one:
(Curly in a "Three Stooges" clip showing a button marked "Pull")

The 1999 movie "The Haunting" was based on her novel "The Haunting of Hill House"

When singing "The Star-Spangled Banner", Pavarotti & Domingo could change the first line to this for Mr. Carreras

Australia has an uninhabited territory named for this sea off its northeast coast

During the Seven Years' War, this king gained great military prestige & land for Prussia

Ermal Fraze holds the 1963 patent for part of the "tear strip opener" better known to pop drinkers as this

"Moonraker" is one of the 3 James Bond movies that have featured her singing over the title sequence

Completes Groucho's "One morning I shot an elephant in my pajamas..."
Scores at the first commercial break (after clue 15):
| | | |
| --- | --- | --- |
| Janet | Robert | Dan |
| $1,200 | $1,800 | $100 |
Scores at the end of the Jeopardy! Round:
| | | |
| --- | --- | --- |
| Janet | Robert | Dan |
| $1,900 | $3,600 | $1,200 |
Double Jeopardy! Round
LITERARY EPITAPHS
(Alex: You have to name the character in this category.)

Pride! Envy! Gluttony! Lust! All that & more are dramatized in a 1933 opera named for this septet of vices

Julie Harris reads the diary this girl wrote while in hiding in WWII Amsterdam

He was "X"-static when the first "X-Files" episode he directed aired 1 day after the birth of his baby.

While studying at Cambridge in the late 1960s, this prince showed a flair for acting in comedy revues

Beloved father of Cordelia, less beloved father of Goneril & Regan

Title of Oliver Goldsmith's title man "of Wakefield"

Of a woman, an evil twin or a circus ape, what Sir Edgar's nephew turns out to be in "Der Junge Lord"

This sitcom's last show of the '98-'99 season ended with the cast singing & dancing to "Brotherhood of Man"

This Tudor king founded Cambridge's Trinity College in 1546

"Run", "Redux", "Rich", finally "At Rest"

He traveled the Yellow Brick Road

In "Susannah", a Bible-inspired opera, the elders are scandalized when they see the nude Susannah doing this outside

"Matlock" & "Designing Women" were both set in this state capital

The 2 parts of St. John's college are connected by a copy of this Venetian bridge

Devoted salesman & husband to Linda. "Attention must be paid."

Lord Lechery, Madam Wanton & Madam Bubble are all characters in the 1951 opera based on this John Bunyan work

"Cosmetic" name of the magazine that's the focus of "Just Shoot Me", or what its racier episodes may make you do

This author of "Vanity Fair" studied at Cambridge but left without a degree

Fondly remembered by the boys of The Brookfield School. Goodbye...

In this casino game the winner is the one whose hand totals closest to 9

A singing sofa & a chorus of frogs are featured in "L'Enfant et les Sortileges" by this "Bolero" composer

Like Burton & Taylor, Billy Zane & Leonor Varela had a romance when they played these lovers (in a 1999 miniseries)

This great Flemish artist's "Adoration of the Magi" adorns King's College chapel

Died on safari after a short happy life. Placed here by his wife

It's a swine-like hoofed animal of the Western Hemisphere
Scores at the end of the Double Jeopardy! Round:
| | | |
| --- | --- | --- |
| Janet | Robert | Dan |
| $4,300 | $5,200 | $1,000 |
| | | |
Final Jeopardy! Round
In 1998 a 61-year-old piece of this couple's wedding cake sold for $26,000 at Sotheby's
Final scores:
| | | |
| --- | --- | --- |
| Janet | Robert | Dan |
| $1 | $1,800 | $2,000 |
| 3rd place: Samsung Evoca 140S Camera | 2nd place: Zenith 36" Stereo TV & DirecTV Satellite System | New champion: $2,000 |
Game dynamics: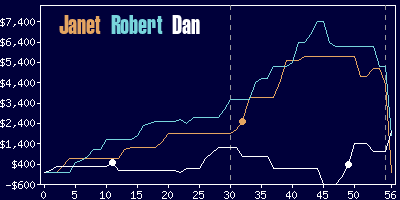 Janet
Robert
Dan
$3,700
$5,200
$1,200
13 R
(including 1 DD),
2 W
20 R,
4 W
10 R
(including 1 DD),
6 W
(including 1 DD)
Game tape date: 1999-08-24