Show #5005 - Friday, May 19, 2006
2006 Tournament of Champions final game 2.
Jeopardy! Round
SUPPORTING ACTOR EMMY WINNERS
(Alex: You have to identify the show.)

After routing Union troops at the first battle of this, P.G.T. Beauregard was promoted to the rank of general

2005:
Voters like Brad Garrett, too

It promotes technical research & education programs:
the NSF

At 10,000 feet in elevation, the Timberline campus of this state's Mountain College is the highest in the U.S.

Because of the greenhouse effect, the surface temperature on this planet is over 800 degrees F.

This Henry James novel centers on a plain girl

The Library of America has a boxed set of the memoirs of these 2 Union generals

1981:
Danny DeVito gets an Emmy dispatch

It protects Grandma's money in the bank:
the FDIC

In 1946 Congress designated January 5 as the "Day" of this Tuskegee Institute agriculture professor

The hottest stars, such as Rigel, are this color & have surface temperatures over 30,000 degrees

Replaced by Pres. Lincoln on November 7, 1862, he challenged the president as the Democratic nominee in 1864

1990:
Legal practice makes perfect for Jimmy Smits

Providing assistance around the globe:
AID

The USA's oldest college debating club is at this university where Aaron Burr & James Madison were members

In the northern hemisphere, latitude is equal to the angle above the horizon of this star, Alpha Ursae Minoris

This novel was sent to sinners in 1850

At Gettysburg, he said, "Up, men, and to your posts! Don't forget today that you are from Old Virginia"

2001:
Bradley Whitford joshes around

It protects against workplace discrimination:
the EEOC

In 1779 the nation's oldest law school was founded at this southern college

In 1801 Ceres became the first one of these to be discovered

Egoism & genius prevail in this 1943 bestselling novel

Nicknamed "Fighting Joe", he replaced Ambrose Burnside as commander of the Army of the Potomac in 1863

1985:
John Larroquette's prosecutorial misconduct earns an Emmy

Analyzing global business & tariffs:
the USITC

This 1968 presidential candidate once was a professor at Macalester College in St. Paul

This Frenchman prepared the first systematic catalog of nebulous objects; each object has an "M" number

The writer's own experiences served as source material for this 1929 novel
Scores at the first commercial break (after clue 15):
| | | |
| --- | --- | --- |
| Bill | Michael | Vik |
| $1,400 | $3,800 | $1,000 |
Scores at the end of the Jeopardy! Round:
| | | |
| --- | --- | --- |
| Bill | Michael | Vik |
| $5,200 | $5,000 | $5,600 |
Double Jeopardy! Round
THE DA VINCI CODE
(Alex: The movie version is just opening but these clues have to do with the novel.)

SHORT CLUES ABOUT LONG WORDS

90 miles from the equator, this mile-high Kenyan capital rarely exceeds 80 degrees in temperature

The events in "The Da Vinci Code" are set off by the murder of the curator of this place

March 2:
Robert McNamara announces that U.S. troops in this country total 215,000

It's the adjective for tutus that fall below the calf (or for the poetry of Keats & Coleridge)

This U.S. president designed more than one home for himself

--

this is the one at Poplar Forest

Meaning sent on operations abroad, it's the E in AEF

Until 1974 much of the land in this capital belonged to Haile Selassie's family, members of the nobility & the National Church

Robert Langdon is a professor of religious symbology at this Ivy League university

August 5:
This man gets hit in the head by a rock while leading a civil rights march in Chicago

Men in tutus portray ballerinas like Tatiana Youbetyabootskaya in Les Ballets Trockadero De this Riviera resort

This man who held up the heavens lent his name to a sculptural male figure used as a supporting column

For a Major League baseball it's 9 to 9 1/4 inches

They are the two capitals located on the banks of the Nile

Robert says Ariel's flowing red hair in Disney's "Little Mermaid" is an allusion to this Biblical woman

April 8:
This "Magnolia State" becomes the last to end statewide prohibition

This Ziegfeld star donned a tutu for zany ballet spoofs, which inspired "The Swan" number in the film "Funny Girl"

eBay has about a million collectibles in the category "entertainment" this

To reach this capital from Marrakech, hop on a train & travel about 200 miles northeast

Bishop Aringarosa heads this Catholic prelature that spreads the message of "God's work"

April 27:
This pope meets Soviet Foreign Minister Andrei Gromyko in the Vatican

His 1860s painting of "The Orchestra of the Opera" has some pretty tutus in the background

Appropriately, he designed the Swiss Dormitory at Cite Universitaire in Paris

Promptness, in 11 letters

Bujumbura shares its first 2 letters with this small country of which it's the capital

This ingenious device is worthy of an inventive mind like Leonardo's

"If you force it open, the vial breaks, vinegar dissolves papyrus, and your secret is lost forever."

July 28:
One of these U.S. military reconnaissance planes crashes in Bolivia

In "Swan Lake", it's traditional for this seductive daughter of Von Rotbart to wear a black tutu

The Kennedy Library was designed by this world-famous architect who gave it a soaring glass-enclosed pavilion

From "The Faerie Queene", it's an Italian-sounding word for boasting
Scores at the end of the Double Jeopardy! Round:
| | | |
| --- | --- | --- |
| Bill | Michael | Vik |
| $10,400 | $23,600 | $9,200 |
| | | |
Final Jeopardy! Round
It says, "'O Poet... I beg you, that I may flee this evil & worse evils, to lead me... that I may see the gateway of Saint Peter'"
Final scores:
| | | |
| --- | --- | --- |
| Bill | Michael | Vik |
| $399 | $31,801 | $0 |
Cumulative scores:
| | | |
| --- | --- | --- |
| Bill | Michael | Vik |
| $399 | $49,201 | $30,800 |
| 2nd runner-up: $50,000 | Tournament champion: $250,000 | 1st runner-up: $100,000 |
Game dynamics: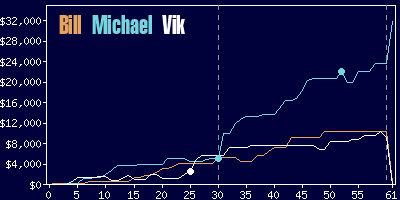 Bill
Michael
Vik
$10,400
$21,800
$8,000
14 R,
1 W
24 R
(including 1 DD),
2 W
(including 1 DD)
16 R
(including 1 DD),
5 W
Game tape date: 2006-04-11