Show #292 - Tuesday, October 22, 1985
Jeopardy! Round
Until Emma Nutt said "Number, please" in 1878, it was a men-only occupation

If you order a BLT sandwich, you'll get this

Counting its chirps in 14 seconds & adding 40 should give you the current temp., by Jiminy

The term "yam" is commonly but incorrectly applied to this vegetable

In 1971, when People's Republic was admitted to U.N., how U.S. voted

"Circus" is Latin for these, of which most large American circuses have 3

Sadie Orchard was one of few women drivers of this old transport

Much-transferred employees of this company say that IBM can also stand for "I've been moved"

To replace "it looks like a big duck", in 1803 Luke Howard classified them as cirrus, stratus, etc.

To a botanist, Prunus avium; it garnishes sundaes & slot machines

Henry P'u-Yi, last person to hold this office, obtained it at age 2 & lost it in 1912 when he was 6

1982 audiences flipped, flipped, flipped, flipped over 1st person to complete this trapeze feat

NYC's Lorna Kelley was 1st female art auctioneer for this London-based auction house

A dispatch from UPI comes from this organization

Formed by refraction & reflection of light by water droplets, 2 people can never see the same one

State which produces more plums than all others combined, though many reach market in different form

Semimilitary organizations of young people formed during Mao's Cultural Revolution

In 1826, Howe & Turner were 1st to present their shows in one of these

In 1876, Juliet Corson opened 1st American school to teach this domestic art

Some 2 million youngsters participate in these P.A.L. programs across the country

About 1/3 of all lightning victims lose their lives when seeking shelter under these

Food referred to in title of this tune:

["Instrumental music plays"]

During this war, Gen. Joseph Stilwell became 1st American ever to command a Chinese army

As a funambulist, this performer needs a well-balanced disposition

1920's "Winnie Winkle" was 1st of these to feature a career-girl as central character

These ATM's are becoming more & more common at banks

Gallegos, Santa Anas, & cockeyed bobs for example

Though winter quarters have moved to Venice, Fla., this site of Ringling Museum is still "Circus City"
Scores at the first commercial break (after clue 12):
| | | |
| --- | --- | --- |
| Larry | Lee | Ginny |
| $900 | $500 | $1,100 |
Scores at the end of the Jeopardy! Round:
| | | |
| --- | --- | --- |
| Larry | Lee | Ginny |
| $1,900 | $2,200 | $2,000 |
Double Jeopardy! Round
| | | | | | |
| --- | --- | --- | --- | --- | --- |
| | | | | | |
| In 1793, this country's Committee of Public Safety instituted the Reign of Terror | When it flows above the ground, magma is called this | After being forced to kill a Union soldier, she says, "I'll think about that tomorrow" | Experimental animal whose name has come to mean the subject of any experiment | A synagogue official who sings liturgical music, played in "The Jazz Singer" not by Eddie but Al | What newsboys shout so you'll "read all about it" |
| Threatened with excommunication, this Reformation leader publicly burned the bull | Archbishop Ussher said it occurred on Sun., Oct. 23, 4004 B.C., but geology proves the date was wrong | Actor so good in "This Gun for Hire", he was asked to "come back" in "Shane" | Wild Aussie dog who feeds on the wallaby | Famous traditional American hymn, or what some call "A View to a Kill's" Ms. Jones | It "takes a licking & keeps on ticking" |
| In power until 1975, after the axis defeat he was labeled "last of the fascist dictators" | Created by perpetual snow, they move when weight on top causes bottom to turn plastic & flow | In "42nd Street", she was told, "You're going out a youngster, but you've got to come back a star" | Mild-mannered at Sea World but fierce in the wild, attacking seals, penguins, & even blue whales | In Latin this famous church piece is called "Sanctus, Sanctus, Sanctus" | Arthur's supernatural sword |
| It was the middle rank between apprentice & master workman in a 17th century craft guild | | "Let's get outta here" is said to hold this record | Sleepy "Alice in Wonderland" partygoer who was served as a delicacy at Roman parties | He sang, "Let's Stay Together", but left soul singing for gospel & preaching | French for "chessboard", it's the British version of our treasury |
| | | Film of theater life in which Katharine Hepburn croons, "The calla lilies are in bloom again" | When the males spar with one another, it's called "necking" | General name for music played during the passing around of the money plate | Excellent authors Henry James, James Joyce, & James Jones also chose to be this "ex" |
Scores at the end of the Double Jeopardy! Round:
| | | |
| --- | --- | --- |
| Larry | Lee | Ginny |
| $5,100 | $3,000 | $6,800 |
| | | |
Final Jeopardy! Round
20th century engineering feat whose slogan was "the land divided, the world united"
Final scores:
| | | |
| --- | --- | --- |
| Larry | Lee | Ginny |
| $6,100 | $3,000 | $7,600 |
| 2nd place: Maytag washer & dryer & Radio Flyer Town & Country wager & row cart | 3rd place: Panasonic TV | New champion: $7,600 |
Game dynamics: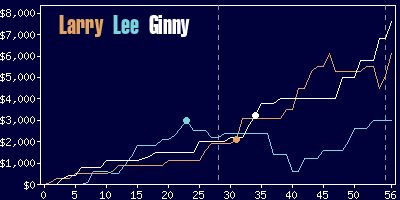 Larry
Lee
Ginny
$4,500
$3,500
$6,800
17 R
(including 1 DD),
2 W
15 R,
5 W
(including 1 DD)
16 R
(including 1 DD),
0 W
Game tape date: 1985-08-05