Show #8617 - Tuesday, April 12, 2022
Mattea Roach game 6.
Jeopardy! Round
EVERYTHING FROM MOD TO MUD
(Ken: All the correct responses will come between those two words in the dictionary.)

"Help" is a 2005 print by this man who played drums on "Help!" 40 years earlier

In 1959 methicillin was one of the first medications introduced to cope with bacteria resistant to these drugs

A 15th century rule change transformed the weakest chess piece to this one, the strongest on the board

Long flowy dresses are typical of boho fashion, boho being short for this

The Amazon River basin is home to stands of this "national" nut tree; the nuts are big in protein & the oil, big in shampoos

A rule by royals; Saudi Arabia has an absolute one

Andy Warhol's cover for The Velvet Underground's 1967 debut album featured one of these fruits with a peelable sticker

The A1C test measures average blood sugar over the past 3 months; at 5.7% you're pre-this, at 6.5 you're this

In 1990 this classic card game was included as part of Windows 3.0, turning millions of casual computer users into gamers

Often seen on the front of a hoodie, this type of pocket resembles a certain animal's pouch

Let this alliterative Amazon water creature light up your night... & despite its name, it's a knifefish

Buzzfeed examined "Why" this synonym for damp "is the Worst Word Ever"

Lithographs by this late disco queen include "Jazzman" & "Hard for the Money"

Iatrogenic is the term for a medical problem caused by the act of one of these, with maybe a lawsuit as a consequence

In 1875 a British army lieutenant modified a form of pool to create this very British billiards game

1980s fashion included wearing these accessories seen here outside the ballet studio

Iquitos, the world's largest city that can't be reached by road, is on the Amazon in this nation on Chile's northern border

This group of animals includes squid as well as shellfish

For the cover of a 2019 album, this "Truth Hurts" singer posed nude against a simple black backdrop

A patient is often put on a ventilator in a procedure called endotracheal
this -ation

This card game scored with pegs on a board evolved from an earlier one called Noddy

This winter coat echoes the name of a deadly sushi fish

Seen floating on the Amazon is Victoria amazonica, the largest one of these; its pads can be six feet wide

She's painted the covers for many of her own albums, including "Ladies of the Canyon" & "Both Sides Now"

Thomas Hodgkin's paper on "morbid appearances of the absorbent glands & spleen" described this type of cancer

In 2019 season 10 of this online survival game ended with a giant asteroid blowing up its virtual island, leaving a black hole

This portmanteau word is used of casual clothes for exercise & for just hanging out

The Casiquiare River connects 2 major river systems, the Amazon & this 1,300-mile one

It's Spanish for "young guy"
Scores at the first commercial break (after clue 15):
| | | |
| --- | --- | --- |
| Mattea | Leah | Zhe |
| $7,600 | $800 | $1,600 |
Scores at the end of the Jeopardy! Round:
| | | |
| --- | --- | --- |
| Mattea | Leah | Zhe |
| $9,600 | -$200 | $2,600 |
Double Jeopardy! Round
A CHRISTIE MYSTERY
(Hugh: You might wonder why I've gathered you all here. I'm Hugh Laurie

--

director, writer and executive producer of the new series based on the Agatha Christie novel Why Didn't They Ask Evans? I'll have clues, along with two of the stars, about some of Christie's other works.)

A mysterious animal in France's famed Lascaux Cave is known as this, even though it has two horns, not one

Withdrawing support from those who have erred in the eyes of the world leads to this alliterative phenomenon

In a movie sequel:
"Yo, Adrian, I did it!"

G. Gordon Liddy's 1972 Gemstone plan included kidnapping & prostitutes; it was scaled back but a remaining part led to this scandal

Seen here, this organization's General Assembly Hall accommodates nearly 200 delegations

(Hugh Laurie presents the clue.) A train that was snowbound in Turkey for 10 days in 1929 & the 1932 kidnapping of the Lindbergh baby helped inspire the plot of this, one of Agatha Christie's greatest novels

The black paint used in figures on the ceiling of Spain's Altamira Cave is mostly this stuff, radiocarbon-dated to 14,000 years ago

Spectral phrase for the place to prepare food that is consumed elsewhere

In 2018: "I am not king of all people. I am king of Wakanda"

In 1960 PM Ikeda planned to double Japan's national income by 1970, with annual this of 7.8%; it was 10% & income doubled early

Teenaged Yo-Yo Ma must have practiced, practiced, practiced to play his debut recital here, May 6, 1971

(Lucy Boynton presents the clue.) Because she worked as a nurse & later as a pharmacy dispenser, Christie frequently used poison as the murder weapon in her writing

--

strychnine, cyanide, & very often this one, as it would have been easy to obtain in her day as rat poison

Rock art depicting an animal's skeleton & internal organs is said to be in this electromagnetic-named style

This peanut butter & marshmallow creme sandwich has been around for a long time, but only made it into Merriam-Webster's in 2021

To Tom Cruise:
"Shut up, just shut up. You had me at hello"

Winfield Scott's Anaconda plan was to strangle the Confederacy by means of these efforts to stop up the enemy's ports

(Lucy Boynton presents the clue.) Agatha Christie wrote 12 novels & 20 short stories featuring this woman & regretted making her so old at the outset; she would have been well over 100 by the time Christie finished writing about her

Though arid today, Libya's Messak plateau in this desert has prehistoric images of hippos & crocodiles

It's the 4-letter abbreviation for the pleasant tingling sensation that starts on the scalp in response to certain stimuli

In 2005:
"I wish I knew how to quit you"

In 1990 the Shatalin plan for moving the USSR to a free market was too radical even for this reformer who ousted Shatalin

This temperance advocate took in battered women at Hatchet Hall, her Arkansas home

(Will Poulter presents the clue.) This courtroom drama that hinges on the testimony of the mistress of the accused murderer had been adapted for stage & screen, & in 2014 was performed in an actual English courtroom

A national monument in New Mexico is named for its many these, from Greek for "rock" & "carvings"

This Danish concept comparable to coziness has become a U.S. trend; it includes good food, coffee & a warm place to gather

Her in a 1950 classic:
"I am big, it's the pictures that got small"

The 1791 plan for Washington, D.C. with diagonal axes over a more conventional grid was named for this Paris-born man

(Hugh Laurie presents the clue.) The amateur sleuths featured in my adaptation of "Why Didn't They Ask Evans", Bobby Jones & Frankie Derwent, have a lot in common with the detectives Christie enjoyed writing about the most, the Beresfords

--

Tommy & his wife Prudence, nicknamed this, slang for a British coin
Scores at the end of the Double Jeopardy! Round:
| | | |
| --- | --- | --- |
| Mattea | Leah | Zhe |
| $25,400 | $7,800 | $5,800 |
| (lock game) | | |
Final Jeopardy! Round
The 1964 article that gave this term its current use noted the "menace that haunts the Atlantic off our southeastern coast"
Final scores:
| | | |
| --- | --- | --- |
| Mattea | Leah | Zhe |
| $30,800 | $12,856 | $1,900 |
| 6-day champion: $148,000 | 2nd place: $2,000 | 3rd place: $1,000 |
Game dynamics: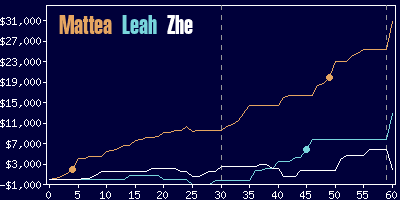 Mattea
Leah
Zhe
$23,000
$7,800
$5,800
32 R
(including 2 DDs),
1 W
8 R
(including 1 DD),
2 W
12 R,
4 W
Game tape date: 2022-02-08