Show #8051 - Monday, September 16, 2019
Jason Zuffranieri game 12.
Jeopardy! Round
| | | | | | |
| --- | --- | --- | --- | --- | --- |
| | | | | | 200 YEARS OF WALT WHITMAN |
| Judy & Elroy were (or is that will be) the kids on this visionary show | | | This popular name for Rembrandt's 1642 portrait of a militia group is a result of its old darkened varnish, now cleaned off | At a poker table it precedes "draw" or "stud" | |
| Blackmail, betrayal & bravado were always on tap for this scheming oil family on "Dallas" | HGH stands for this hormone secreted by the pituitary | This treat was first introduced to a wide audience as Fairy Floss at the 1904 World's Fair | The pensive pose of the figure in a Rodin sculpture originally called "The Poet" earned it this name | L.A. Dodgers Dusty Baker & Glenn Burke have been credited with inventing this gesture after a 1977 home run | Whitman's 1865 poems "O Captain! My Captain!" & "When Lilacs Last in the Dooryard Bloom'd" are elegies for this hero of his |
| On "The Simpsons" she's Bart & Lisa's pacifier-equipped baby sister | In business, the CFO is this job title | Around 1870 Thomas Adams was experimenting with Central Amer. tree resin to replace rubber, but instead developed this | | shavetalks.com has tips on avoiding this | In an 1856 essay, Walt wrote, "You young men!...You are either to abolish" this, "or it will abolish you" |
| Salinger was the last name of the siblings living without parents on this 1990s TV show | In the 1990s we had PDAs, "personal" these, used for organizing | Popularized by boxer Jack Broughton in the 18th century, the early version of these were used only in training bouts | Pastel colors & asymmetry are features of this style of Antoine Watteau, a reaction against Baroque art | Omar Bradley or Dwight Eisenhower, for example | "Every atom belonging to me as good belongs to you", wrote Walt in this groundbreaking long poem |
| This "Happy Days" family included Richie, Joanie & Chuck, who was last seen at Christmas but didn't make it to New Year's | JSYK is texting shorthand for this 4-word phrase | During WWII a fabric mesh was sandwiched between polyethylene & adhesive layers to make this sticky roll | Here's "Symphony in White, No. 2" by this American who often gave musical titles to his paintings | Shoplifting is also known as this anatomical "discount" | After Walt published his first book of verse, this "Sage of Concord" wrote to him, "I greet you at the beginning of a great career" |
Scores at the first commercial break (after clue 15):
| | | |
| --- | --- | --- |
| Jason | Laura | Rodrigo |
| $8,200 | $1,400 | -$600 |
Scores at the end of the Jeopardy! Round:
| | | |
| --- | --- | --- |
| Jason | Laura | Rodrigo |
| $10,000 | $4,000 | -$1,000 |
Double Jeopardy! Round
THIS CATEGORY HAS PLATEAUED

COMEDY: YOU DIDN'T HAVE TO BE THERE

HERE COMES THE JUDGE WORD

Promised "the final triumph over poverty" in accepting the 1928 nomination

Thought by some to be in Cornwall, it's the legendary site of King Arthur's palace & court

He's seen here around the time his HBO special "Bring the Pain" brought him a new level of fame

In the first issue of his own comic, the Caped Crusader goes up against this "Clown Prince of Crime"

He was left an invalid by a paralytic stroke suffered while in office

The Cumberland Plateau is located in the southern section of this mountain range

This voyeur who is struck blind has been connected with the legend of Lady Godiva

You didn't have to catch Rodney Dangerfield live

--

he was recorded in 1980 for an album with, of course, this 2-word title

Luke 11:4 says, "lead us not into" this, "but deliver us from evil"

The person who presides over a debate, or over an ecclesiastical body in the Presbyterian Church

The year he left the presidency, he became president (of the American Bar Association)

The Udi-Nsukka Plateau of this country is home to the Igbo people

Makemake is the chief god of a divine race of bird beings in the Rapa Nui mythology of this island

Samuel L. Jackson played the uncle of this comedian in a sketch from the 1987 concert film "Raw"

Lying at the junction of the Bow & Elbow Rivers, this Alberta city was Canada's first to host the Winter Olympics

One who makes calls on taxable value

7 of the first 10 presidents were born south of the White House; Martin Van Buren & these 2 men were from the north

The Saharan al-Hamra Plateau is mostly located in Tripolitania in this country

For his 11th labor Hercules nabs some golden apples from the garden of these nymphs at the western edge of the world

Recorded in part at the San Francisco club the hungry i, his 1960 "The Button-Down Mind Strikes Back!" won a Comedy Album Grammy

In 1953 a fisherman paralleled "The Old Man and the Sea" by bringing in a 1,560-pound black one of these

AKA justice of the peace; I present the gift of the...

He got contract offers from the Lions & Packers to play in the NFL

The Yangtze & the Mekong are 2 of the rivers emerging from the plateau named for this lofty land

In Norse myth, it's the rainbow bridge between the home of the gods & Earth

Aussie comic Hannah Gadsby undermined traditional stand-up in this show on Netflix with a woman's name as the title

46,368, 75,025, 121,393 & 196,418 are specific to the work of this 12th & 13th century Italian man

Someone who knows what's good & bad is this "of taste"; author Petronius was declared to be one in Nero's court
Scores at the end of the Double Jeopardy! Round:
| | | |
| --- | --- | --- |
| Jason | Laura | Rodrigo |
| $34,400 | $8,800 | $200 |
| (lock game) | | |
Final Jeopardy! Round
When he didn't win the inaugural 1901 Nobel Prize, 42 of his peers apologized to him, calling him "the most revered patriarch of today's literature"
Final scores:
| | | |
| --- | --- | --- |
| Jason | Laura | Rodrigo |
| $24,400 | $16,800 | $1 |
| 12-day champion: $356,643 | 2nd place: $2,000 | 3rd place: $1,000 |
Game dynamics: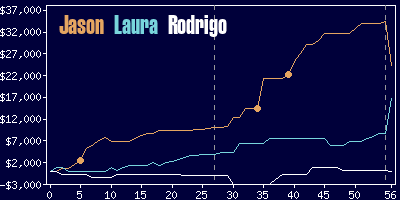 Jason
Laura
Rodrigo
$25,800
$8,800
$200
27 R
(including 3 DDs),
1 W
18 R,
4 W
4 R,
5 W
Game tape date: 2019-07-23