Show #2610 - Friday, December 29, 1995
1995-B Seniors Tournament final game 2.
Jeopardy! Round
"A" ON THE MAP
(Alex: Obviously a geography category. Each correct response will begin with "A".)

It's the force that gives us weight & prevents us from floating into space

This "Murder She Wrote" star provided the voice of Mrs. Potts the teapot in "Beauty and the Beast"

Don't throw this away: take it out of your medicine bottles & use it to apply nail polish remover

In 1972 he married Marilyn Tucker

The afghani is this country's basic unit of currency

Though painful, the bite of these largest spiders usually isn't fatal

While considered an Australian, this "Lethal Weapon" star was actually born in Peekskill, New York

If your hamster's wheel squeaks, Heloise suggests applying this sticky stuff also known as petrolatum

James Wilkinson's denunciation of this man led to his famous treason trial

"Poor Richard's Almanack" said this animal "in gloves catches no mice"

Continent on which you'd find the Filchner Ice Shelf

It's a colorful flower, or the colored part of the eye

She left husband Ludlow Smith after 2 weeks; her love affair with Spencer Tracy lasted 27 years

To decorate her drinks, Heloise freezes maraschino cherries or mint leaves in these

This Gerald Ford vice president served as president of the Museum of Modern Art 1939-1941 & 1946-1953

This food is "the staff of life"

In area this north African country is the continent's second largest

Luther Burbank specialized in this science of cultivating plants & flowers

This star of "Annie Hall" directed the 1995 movie "Unstrung Heroes"

Heloise pulls this bathroom headgear over her face when she tries on dresses in a store

In 1962 this future vice president was elected Baltimore County Executive

A rhyming proverb tells us "A swarm of bees in" this month "is worth a load of hay"

16th century guild houses line the Groote Markt in this Belgian port city

This chemical element makes up the hardest substance known in nature

In 1995 she stood by her former man George Jones as they released their 1st duet album in 15 years

Heloise makes the "throw" type of these from fabric remnants & stuffs them with old panty hose

In 1828's "South Carolina Exposition", he argued for the right of states to nullify federal laws

A proverb has been defined as "The wisdom of many and the wit of" this many

Oranjestad, the capital of this Caribbean island, is known for its Dutch charm
Scores at the first commercial break (after clue 13):
| | | |
| --- | --- | --- |
| David | Jerry | Phyllis |
| $800 | $2,300 | $800 |
Scores at the end of the Jeopardy! Round:
| | | |
| --- | --- | --- |
| David | Jerry | Phyllis |
| $2,800 | $2,800 | $3,100 |
Double Jeopardy! Round
SEAFARERS
(Alex: There's something new for us.)

Among this "Arabian Knights" seafarer's adventures were finding a roc's egg & the Valley of Diamonds

Queen Liliuokalani was once the organist at Kawaiahao church in this state capital

This faith of about 80% of India's population has no single founder or creed

In 1873 its words were first published under the title "Oh, Give Me A Home Where The Buffalo Roam"

1-2" thick, this "dainty filet" of meat comes from the small end of the tenderloin

Dinosaurs live again in the 1995 novel "The Lost World", Michael Crichton's sequel to this book

Today this ex-CBS anchorman sails the waters off Martha's Vineyard; that's the way it is

The American Museum of Natural History's Hall of Pacific Peoples is named for this anthropologist

A hajj to this city must be performed in the 12th lunar month, though Muslims may go there at any time

"I'm in the mood for" this "simply because you're near me"

In 1936 it made the flight from Lakehurst, N.J. to Frankfurt, Germany in 42 hours 53 minutes

In "The Grapes of Wrath", poverty & drought drive the Joad family from this state

Oliver's brother, he's been called the father of the U.S. Steam Navy

A church in Grafton, W. Va. is the international shrine of this holiday first observed May 10, 1908

This is the common term for the Roman Catholic sacrament of penance or reconciliation

In 1964 Barbra Streisand took this song from "Funny Girl" to No. 5 on the pop charts

45% of the Bureau of Engraving & Printing's production time is spent on this unit of U.S. currency

This Robert James Waller novel was the top-selling hardcover fiction book of 1993

In the Bible he attempted to flee by ship from the presence of the Lord

A life-size statue of this heroine of the Battle of Monmouth marks her grave in Carlisle, Penn.

Ching tu or "pure land" is one of the most influential forms of the Mahayana branch of this faith

Although Tex Ritter sang the theme to this 1952 western, Frankie Laine's single was the big hit

At 726 feet, the second-highest dam in the U.S. is named for this 5'11" person

This author of "The Joy Luck Club" touches on the supernatural in her novel "The Hundred Secret Senses"

Encarta calls them "the most notable traders and sailors of the ancient world"

A building named for this black abolitionist stands on the site of her famous 1851 speech in Akron

These nomadic people, the Rom, are monotheistic & worship a god named Del

"You're the cream in my coffee, you're" this "in my stew"

He was the last U.S. Chess Champ to become World Chess Champ

This Philip Roth book begins, "The first time I saw Brenda she asked me to hold her glasses"
Scores at the end of the Double Jeopardy! Round:
Final Jeopardy! Round
Clause 40 of this document reads, "To none will we sell, to none deny or delay, right or justice"
Final scores:
| | | |
| --- | --- | --- |
| David | Jerry | Phyllis |
| $15,400 | $8,400 | $3,500 |
Cumulative scores:
| | | |
| --- | --- | --- |
| David | Jerry | Phyllis |
| $28,000 | $14,000 | $10,300 |
| Tournament champion: $28,000 | 1st runner-up: $14,000 | 2nd runner-up: $10,300 |
Game dynamics: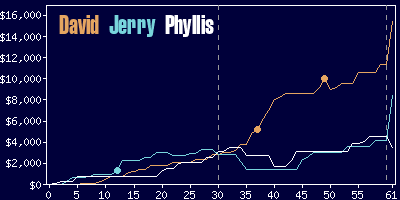 David
Jerry
Phyllis
$12,000
$3,700
$4,500
27 R
(including 1 DD),
1 W
(including 1 DD)
15 R
(including 1 DD),
4 W
15 R,
2 W
Game tape date: Unknown