Show #7088 - Wednesday, June 10, 2015
Jeopardy! Round
WORDS THAT SHOULD RHYME
(Alex: "Silo" and "kilo" is an example.)

I PLAYED HIM IN THE RECENT MOVIE

Add one letter to a sleep-aid drug & you get this "noise"; in production it's called room tone

On June 8, 1966 one of these destroyed 800 homes & did $100 million damage in Topeka

A spade & a book of dramatic fiction

The total money in a standard version of this real estate board game is $15,140

Frederick Cook claimed to have discovered this in 1908, a year before Robert Peary

David Oyelowo:
This leader in "Selma"

The last shot of the day is also known as this gin cocktail shot

--

because the next shot is in that cocktail's glass

Before Alaska & Hawaii were states, this point was near Lebanon in north central Kansas

A vessel that carries blood to the heart & a mug for drinking ale

Hasbro said this action figure that debuted in 1964 was "America's movable fighting man"

A shiny pebble discovered in South Africa in 1867 turned out to be this type of gem, kicking off a major industry

Eddie Redmayne:
This smarty in "The Theory of Everything"

Want to show video of what your on-screen talking head is yapping about? Use this letter "roll" that paints the story

The main campus of the University of Kansas occupies 1,000 acres of this city

The serpent that killed Cleopatra & a hornet

This handheld device made its debut at the 1939 World's Fair & hit it big when it started showing Disney images

On January 24, 1848 James Marshall discovered gold while building a mill for this man, & the rush was on!

Guy Pearce:
This abdicator in "The King's Speech"

Geometrically speaking, a high-this shot makes a character seem puny

This 10-letter occupation is the complete epitaph on the grave of William Inge in Independence, Kansas

Classical dance & a wooden hammer

Applejack & Pinkie Pie are 2 of the teensy equines in this toy line

This dangerous virus transmitted by a mosquito was first discovered in Africa in 1937

Benedict Cumberbatch:
This mathematician in "The Imitation Game"

John Kloehr & other citizens of Coffeyville, Kansas made sure that this gang's Oct. 5, 1892 raid was its last

A buccaneer & an angry adjective

In 1911 Hiram Bingham discovered

--

or rather rediscovered

--

this ancient Inca settlement in Peru

Bradley Cooper:
This Navy SEAL in "American Sniper"
Scores at the first commercial break (after clue 12):
| | | |
| --- | --- | --- |
| Phil | Martha | Darren |
| $0 | -$600 | $500 |
Scores at the end of the Jeopardy! Round:
| | | |
| --- | --- | --- |
| Phil | Martha | Darren |
| $2,400 | $400 | $3,900 |
Double Jeopardy! Round
| | | | | | |
| --- | --- | --- | --- | --- | --- |
| | | | WESTERN HEMISPHERE RIVERS | | |
| This novel begins on the porch of Tara | Contestants try not to get outfoxworthy'd on this game show | The Stone Age is divided into 3 periods whose names each end with these 6 letters | The Hondo River provides much of the border between Mexico & this small Central American nation | One of 12 victories ascribed to Arthur is the defeat of an army of these Germanic invaders at the Battle of Badon Hill | When si.com called CC Sabathia one of these, it meant he'd pitched a lot of innings, not that he was a draft animal |
| He wove "Charlotte's Web" | The Forman family's follies in Wisconsin revived a decade on this sitcom | Found on Salisbury Plain, it was constructed using the post & lintel system, in which 2 upright members support a third | Its many tributaries include the Great Miami & Wabash Rivers | In some versions the "sword in the stone" that Arthur pulls free to become king was the sword of this man, his dad | There's a train stop in this desk+computer combo |
| Jack Handey's first collection | Among the colorful characters on this "Cops" parody was Lt. Jim Dangle in short shorts | In John 20 she sees that the stone in front of the tomb of Jesus had been rolled away | In the 1520s Sebastian Cabot named a South American river this, believing the nearby area had lots of silver | When Arthur is away in battle, this bastard son of his seizes his throne | Government benefits that require the recipient to perform a job |
| He began a trilogy with "The Golden Compass" | Sadly, it was John Ritter's final TV show | We know it as a famous military man's nickname, but in Britain it means "to filibuster" | Rising near Tennessee pass in the Colorado Rockies, it flows southeasterly for more than 1,400 miles | After his final battle, the wounded Arthur is carried off to this magical isle | According to John Lennon, it's "something to be" |
| John Howard Griffin darkened his skin & went South to write it | It was Reed & Malloy on patrol in L.A. on this classic cop show | This mineral, whose name is from the Greek for "mallow", is a copper ore as well as a gemstone | The Winnipeg River rises in this U.S.-Canada lake & empties into Lake Winnipeg | A chair at the Round Table reserved for the Grail finder but deadly to anyone else is called the "Siege" this word | Riverside county, California has one of these programs in which convicts do manual labor on the outside |
Scores at the end of the Double Jeopardy! Round:
| | | |
| --- | --- | --- |
| Phil | Martha | Darren |
| $10,800 | $3,200 | $21,900 |
| | | (lock game) |
Final Jeopardy! Round
During the 1976 presidential campaign, Ronald Reagan said of this, "We built it, we paid for it, it's ours & we are going to keep it"
Final scores:
| | | |
| --- | --- | --- |
| Phil | Martha | Darren |
| $10,800 | $3,200 | $22,000 |
| 2nd place: $2,000 | 3rd place: $1,000 | New champion: $22,000 |
Game dynamics: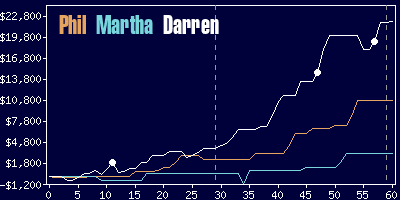 Phil
Martha
Darren
$10,800
$3,200
$19,800
13 R,
2 W
5 R,
2 W
27 R
(including 2 DDs),
5 W
(including 1 DD)
Game tape date: Unknown