Show #7072 - Tuesday, May 19, 2015
Andrew Haringer game 4.
Jeopardy! Round
THE NATO PHONETIC ALPHABET

A small museum devoted to the history of this barrier is located at Checkpoint Charlie on Friedrichstrasse

This film about a family of superheroes beat out "Shrek 2" & "Shark Tale" as 2004's Best Animated Feature

To be called Scotch, whisky must age for a minimum of 3 years in casks of this wood

The treasures of this chief mountain system in Mexico include silver & gold, mined there since the 16th century

This cow part is made up of 4 independent glands, each with its own teat

The title of this 2014 Best Picture refers to a superhero that Michael Keaton once played

As declared by Congress in 1964, the official native spirit of the United States is this type of whiskey

Sierra Negra volcano on Isabela Island in this Ecuadorian group has a caldera roughly 6 miles wide

Until a cow gives birth to a calf, she is known by this term that scoffs at the "I before E except after C" rule

Q:
7 1/2 million French speakers can't be wrong

Charles Townes shared the 1964 Nobel Prize in physics for his role in creating this light-emitting device

(Al Gore delivers the clue.) This film about my campaign to recognize climate change as a worldwide problem won the Oscar in 2006 for Best Documentary Feature

The Whiskey Rebellion of 1794 against taxes on booze took place in this state's Monongahela Valley

This country's General Manuel Belgrano peak is the highest point in the Sierra de Famatina, a range in the Andes

Cattlemen watch out for this weed so named because it makes cows act crazy

U:
As an adjective, it means "unvarying"

In the 1980s Congressman Charlie Wilson secretly steered money to rebels fighting the USSR in this country

1980's Best Picture nominees included 2 black & white films: "The Elephant Man" & this boxing film

This Tennessee man's career in the whiskey business started in 1863 while he was still a teenager

This New Mexico city renamed in 1950 for a radio game show is the seat of Sierra County

The black, polled beef cattle aka the Aberdeen this was introduced to the U.S. in 1873

N:
Melville wrote of "a damp, drizzly" one "in my soul"

In the 1850s this American inventor wrote "Gum-elastic and Its Varieties"

She received 2 1982 acting Oscar nominations, both for playing actresses

--

a soap star & a '40s film star

Sure, I'll take a glass of Russell's Reserve this, the third "R"

The Sierra de Gata mountains in Spain & Portugal serve as a barrier between the basins of the Douro River & this river

Developed in the same-named county in England, this breed is a big name in beef
Scores at the first commercial break (after clue 15):
| | | |
| --- | --- | --- |
| Andrew | Todd | Liz |
| $4,000 | $1,600 | -$3,000 |
Scores at the end of the Jeopardy! Round:
| | | |
| --- | --- | --- |
| Andrew | Todd | Liz |
| $10,000 | $1,400 | -$3,000 |
Double Jeopardy! Round
LITERARY CAST OF CHARACTERS

ETERNAL DAN NATION
(Alex: You have to identify the current country of the Daniel referred to in the clue.)

A treat for the feet including toenail trimming

France, you've lost a 1340 naval battle to England to start this war, but it's a long way from over

--

I mean a long way

"The rain in Spain stays" this way "in the plain"

19th century nationalist leader Daniel O'Connell

It's the facility represented here during a 1789 event

It precedes "Ballroom" in a Baz Luhrmann title

Dan Aykroyd, before he crossed the streams

The home called Kykuit, meaning "lookout", housed 4 generations of this family who founded Standard Oil

France enjoyed a round of "Frere Jacques" in 1995 when he went from being mayor of Paris to the presidency

Risky adverb Christopher Koch chose to complete his novel title "The Year of Living..."

Elinor & Marianne Dashwood

Longtime politician Daniel Akaka

It's caused by vitamin C deficiency

In 1929 France began to build this "line" of heavy defensive fortifications against Germany

Devotedly or staunchly; Journey sang, "I'm forever yours..." this

Dan Jacobson, author of 1959's "The Zulu and the Zeide"

Its last car, a Grand Marquis, rolled off the assembly line in 2011

In 1685 Louis XIV revoked the Edict of this, which had guaranteed freedom of worship to French Protestants

In a Motels song title taken from Tennessee Williams, it comes before "Last Summer"

Cecilia & Briony Tallis,
Robbie Turner

Psychologist & 2002 Nobel Prize winner Daniel Kahneman
Scores at the end of the Double Jeopardy! Round:
| | | |
| --- | --- | --- |
| Andrew | Todd | Liz |
| $13,200 | $13,600 | $7,400 |
| | | |
Final Jeopardy! Round
The European Central Bank is based in this city sometimes called "Mainhattan"
Final scores:
| | | |
| --- | --- | --- |
| Andrew | Todd | Liz |
| $26,400 | $799 | $5,800 |
| 4-day champion: $72,399 | 3rd place: $1,000 | 2nd place: $2,000 |
Game dynamics: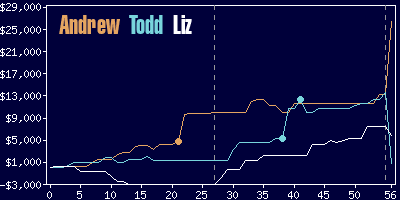 Andrew
Todd
Liz
$9,400
$12,200
$7,400
16 R
(including 1 DD),
3 W
15 R
(including 1 DD),
3 W
(including 1 DD)
10 R,
5 W
Game tape date: 2015-03-03