Show #6836 - Monday, May 12, 2014
Battle of the Decades semifinal game 1.
Jeopardy! Round
OLYMPIC ATHLETES BEYOND THE GAMES

ANAGRAMS FOR MILLIONAIRES

Sanskrit texts call this ocean Ratnakara, the Mine of Jewels

In London Paula Radcliffe ran a 2:15:25 in this race in 2003; it's still the world record

Members of the agave, lily & cactus families are this type of plant whose fleshy leaves are able to store water

In 2013 Variety reported "This is the End" was the last movie rented from this once-mighty chain

In the one-man show "You're Welcome America", Will Ferrell spoofed this president

Where to vacay? This Mediterranean region:
"I ARRIVE"

In 2009, on her back, feet first, American Erin Hamlin broke a 16-year German reign in this winter sport

Looking for a climber with fragrant flowers? Plant the star type of this shrub

In 2009 service was no longer state of the art at the last brick & mortar stores of this alliterative electronics chain

The singing killers & would-be killers of "Assassins" include Oswald, Booth & this 1980s attempter

Type of agreement made before the vows:
"A TRIPLE PUN"

Originally an adjective, it's now a noun referring to a deep-sea vessel like a submarine or bathyscaphe

At the '88 Worlds, skater Kurt Browning was the first in competition to land a jump with this many revolutions

This hybrid lemon tree bears the surname of the guy from the U.S.D.A. who brought it to the U.S. in 1908

Let's go back in time

--

he made 9,000 of the cars named for him before running off the road in 1982

In 2014 Bryan Cranston made his Broadway debut in "All The Way", a drama about this president's first year in office

Pop its cork & get a
"GRIP ON DEMON"

In 2007 Merlene Ottey, born in this island nation known for sprinters, ran an 11.64 100 meters... at age 47

This flower does well in partial shade but can be exposed to full sun

In 1991 this "directional" airline flew off into the sunset after 64 years

"Politics & Poker" & "I Love a Cop" are songs in this musical about a big-city mayor

Endow a new chemistry building there:
"THROAT MUD"

What scientists technically call insanely weird creatures live near hydrothermal these on the ocean floor

In 6 straight world track & field championships 1983 to 1997, this Ukrainian was your winner in the pole vault

This process of punching holes & removing small plugs of soil from a lawn helps to improve nutrient & water absorption

In 2009 Toys "R" Us scooped up the remains of this 2-letter retailer

It's Peter Morgan's play about a revealing series of 1977 interviews

Your kid is one, even past infancy:
"BRATTY BUDS FUN"
Scores at the first commercial break (after clue 15):
| | | |
| --- | --- | --- |
| Ken | Russ | Chuck |
| $8,800 | $1,000 | $1,400 |
Scores at the end of the Jeopardy! Round:
| | | |
| --- | --- | --- |
| Ken | Russ | Chuck |
| $15,000 | $800 | $2,800 |
Double Jeopardy! Round
MAKE YOUR OWN SPY NOVEL TITLES

The + a Jewish holiday in which the story of Exodus is retold + a musical term for a gradual increase in volume

This word denoting a counterpart is German & means "double-walker"

This American known for his portraits was born in Italy to the former Mary Newbold Singer

In a letter to a 5-year-old boy, she wrote the story of 4 little rabbits named Flopsy, Mopsy, Cottontail & Peter

Giant of American music
seen here

The + a Green Knight-battling Round Tabler + milk substitute for babies, such as Enfamil

This French word for "lounge" was used for exhibits of artworks; famous ones were "d'Automne" & "des Independants"

PS can stand for picosecond, this fraction of a second

The + our 9th president's last name + a "diplomatic" term for a correct method of medical treatment

Grammatically, in "When Al headbutted a lamppost, he got a concussion", "Al" is this of "he", & Al is stupid

Nature morte (literally "dead nature") is another name for this genre of painting

His 1954 & 1955 Supporting Actor Emmys were for "The Jackie Gleason Show"

This explorer wrote to his friend J.M. Barrie in 1912, "we have accomplished our object in reaching the Pole"

This justice said of pornography, "I know it when I see it", & you'll know him when you see him

The + a Mongol emperor's poetic palace + a type of papal teaching letter first issued in 1740

Adjective for the perfect embodiment of something, or something a Dionne kid must have

Da Vinci used both chiaroscuro & this, Italian for "smoked", to gradually transition hues

He made 'em laugh & won for his "Colgate Comedy Hour" work

In this 1845 story, the stolen title object has been hidden in plain sight

The + a 35-year "Price is Right" host + an act of reasoning from the general to the specific

From the Latin for "uncertain", it refers to a judgment based on one's whim rather than on a rule

Joseph Cornell took these small display cases into the realm of Surrealist art

In 1952 this comedian won the "Best Actor" Emmy; in 2014 his "hour" came as he passed away at 91

He wrote to his muse Georgia O'Keeffe, "How I wanted to photograph you

--

the hands

--

the mouth

--

& eyes"
Scores at the end of the Double Jeopardy! Round:
| | | |
| --- | --- | --- |
| Ken | Russ | Chuck |
| $18,600 | $1,600 | $15,200 |
| | | |
Final Jeopardy! Round
Written about the U.S. occupation of the Philippines, a Kipling poem said, "Take up" this now-controversial phrase
Final scores:
| | | |
| --- | --- | --- |
| Ken | Russ | Chuck |
| $30,401 | $0 | $26,200 |
| Finalist | 3rd place: $25,000 | 2nd place: $25,000 |
Game dynamics: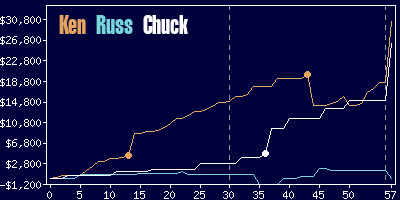 Ken
Russ
Chuck
$21,200
$1,600
$12,000
32 R
(including 1 DD),
2 W
(including 1 DD)
6 R,
3 W
10 R
(including 1 DD),
0 W
Game tape date: 2014-04-17