Show #1162 - Tuesday, September 26, 1989
Jeopardy! Round
POINT IT OUT
(Alex: And in this category, whenever we give you the clue, we expect you to do something physical to really point it out; if it had something to do with your tie, you'd go like this [points to tie], you don't even have to phrase it in the form of a question, I guess.)

Luci Nugent was only 19 when she gave birth to this president's 1st grandchild

At Christmas shopping, bags of this "5th Avenue" store feature a December calendar

As you might expect, it's the sweetener in a bee's knees cocktail

Dramatic 16th c. style named for the Portuguese "Barroco", meaning an irregular-shaped pearl

Since she had a bare cupboard, hers certainly wasn't a lucky dog, lucky dog

In Tunisia this hand sign means "I'll get you", in Japan "money" & in the U.S. "okay"

He was known as "Big Bill"

Used to make martinis, it's an aperitif wine flavored with herbs

The Swedes who settled in Delaware in 1638 were the 1st in America to build cabins made of these

Precarious position of the bough-borne cradle

In the sobriety test, you shut your eyes, put your arms out to your sides & touch this

In 1970 George Bush ran against Lloyd Bentsen Jr. for this position

A gin cocktail is named for this man, John Tunney's father

Ancient British monument that's an example of post-and-lintel construction later used by the Greeks

"See-saw, Margery Daw," he "shall have a new master"

Besides his heart, this was the other part of E.T. that glowed

This wartime president had previously served in the Black Hawk War but saw no fighting

Profession in which one might wear a cassock, alb, chasuble & maniple

All you need to make this simple cocktail is gin & sweetened lime juice

Associated with geodesic domes, he once proposed saving energy by covering midtown Manhattan with a dome

A 2nd verse to this rhyme begins "Every fiddler he had a fiddle, and a very fine fiddle had he"

Paper covers stone, but stone breaks these

You can visit his home, Sagamore Hill, in Oyster Bay, Long Island

At Blomingdale's, the DKNY shop features ready-to-wear clothes by this N.Y. designer

Bartenders know this juice puts the scarlet in a Scarlett O' Hara

The Romans built their houses around this open-air central room

In this rhyme, a parent bemoans the fact her child has gone to bed with stockings & 1 shoe on

Jim Lange would invite the couples on "The Dating Game" to do this with him at the end of the show
Scores at the first commercial break (after clue 14):
| | | |
| --- | --- | --- |
| Tom | Larry | Marty |
| $100 | $1,800 | $1,400 |
Scores at the end of the Jeopardy! Round:
| | | |
| --- | --- | --- |
| Tom | Larry | Marty |
| $400 | $3,300 | $2,900 |
Double Jeopardy! Round
"C" HERE
(Alex: All of the correct responses will begin with that letter of the alphabet.)

It can be a group riding exhibition performed to music or a merry-go-round

By the end of this J.M. Barrie play, Wendy flies so badly she has to use a broomstick

The sextant is so named because its shape is this fraction of a full circle

He won a 1962 Grammy for the following:

"I can't stop loving you, I've made up my mind..."

He loved Polyxena but demanded that she be slain at his tomb

--

what a "heel"!

Now over 60% of U.S. homes can save our show forever using one of these electronic devices

Pronounced one way, it means to comfort; pronounced another way, it's a cabinet for your stereo

This Norwegian author's last play, "When We Dead Awaken", includes a major self-analysis

Navstar, one of these, allows aircraft & ships to determine their position anywhere on Earth

He once said that he "cried like a baby" while writing about Kunta Kinte

After she rendezvoused with Poseidon in Athena's temple, Athena changed her hair into serpents

The focus of many living rooms, in Latin "focus" means this, abbreviated "fplc" in real estate ads

A fancy roast of lamb, veal, or pork; you might wear your tiara while eating it

For centuries, navigators have used 2 stars in Ursa Major to point the way to this star

A dancer in "The Wiz" & an understudy in "Dreamgirls", she's sung & danced on "The Cosby Show"

He deserted his beloved water nymph, Oenone, to run off with Helen of Troy

A man's personal servant, or a stand that holds his jacket

A 10-letter word for a crotchety old miser, not a crotchety old dog

Invented in 1735, this clock, whose name means "time measurer", is used in sea navigation

He's famous for having gone on long fasts during the Vietnam War & the 1980 Iran hostage crisis

Zeus carried Europa all the way to Crete when he was disguised as one of these

In old manor houses, it's the room off the kitchen where the dishwashing was done

If you were a mummy, some of your internal organs would be in these jars

Paul Scofield starred in the original production of this play & won an Oscar for the film version

In 1977 PBS's "Black Journal" was renamed for him, its executive producer & host

After Apollo gave her the gift of prophecy, she spurned him

This company is the largest single maker of finished Venetian blinds in the U.S.
Scores at the end of the Double Jeopardy! Round:
| | | |
| --- | --- | --- |
| Tom | Larry | Marty |
| $2,900 | $4,900 | $5,700 |
| | | |
Final Jeopardy! Round
A juvenile edition of this 1961 best seller was called "The Great Adventure of Michelangelo"
Final scores:
| | | |
| --- | --- | --- |
| Tom | Larry | Marty |
| $5,800 | $5,801 | $9,801 |
| 3rd place: Whirlpool French Door Refridgerator | 2nd place: Trip to St. Kitts | New champion: $9,801 |
Game dynamics: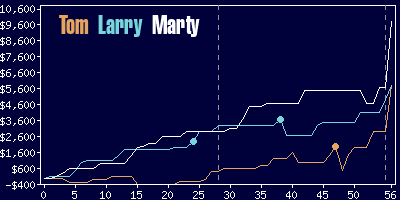 Tom
Larry
Marty
$4,400
$5,800
$5,700
14 R,
4 W
(including 1 DD)
15 R
(including 1 DD),
1 W
(including 1 DD)
16 R,
1 W
Game tape date: 1989-06-19