Show #5849 - Thursday, February 4, 2010
2010-A College Championship quarterfinal game 4.
Jeopardy! Round
PRODUCE THE INTERNATIONAL PRODUCE

I'LL TAKE THE COUNTRY FROM HERE, THANKS

Like Pearl Harbor, Marine Corps Base Hawaii is on this island

In 2009 Nebraska's Huskers rolled, spared & struck their way to the NCAA women's title in this sport

Hope you catch up to the fact that a pomodoro is this fruit used in many pasta sauces in Italy

Muammar al-Qaddafi, from King Idris

A cleverly sharp head of a faculty

Its Tar Heels won the 2009 NCAA basketball title

Don't cry

--

it's only this vegetable known as a tamanegi in Japan

Nicolas Sarkozy, from Jacques Chirac

The smell of the document you receive upon graduating

All 28 members of this international organization have sent troops to fight the Taliban in Afghanistan

In 2009, this school's Gators won their second BCS title in 3 years

In the Netherlands cut up a komkommer to add this gourd to your salad

Deng Xiaoping, from Hua Guofeng

A B.A. in hosting a TV show

In the U.S. Marines, if you're one rank below corporal, you're this type of corporal

The Cardinal women outstroked their rivals from Cal to bring this school a 2009 NCAA rowing title

In Poland, pick up some kalafjor if you crave this broccoli relative

Asif Ali Zardari, from Pervez Musharraf

A bureau for the clothes of a teacher of college courses

The U.S. Army unit insignia with the 23rd Greek letter signifies these operations

This upstate N.Y. academy's team has won back-to-back National Collegeiate Boxing Association titles

Mamma mia! In Rome this vegetable is cavolo

"Their Eyes Were Watching God"

Jose Zapatero, from Jose Maria Aznar

A short, quick motion of the head on the square open area on campus
Scores at the first commercial break (after clue 15):
| | | |
| --- | --- | --- |
| Dan | Surya | Nick |
| $3,000 | $800 | $2,800 |
Scores at the end of the Jeopardy! Round:
| | | |
| --- | --- | --- |
| Dan | Surya | Nick |
| $9,200 | -$200 | $6,000 |
Double Jeopardy! Round
GET A "P-H-D"
(Alex: Each correct response will begin with a "P", and somewhere in the word there will be an "H" followed by a "D".)

As well as a list in a book, this word also means something that points out; hence this finger

There have been more than 130 million views on YouTube for "The Evolution of" this, including the twist & the robot

1934: "Invincible Louisa: The Story of the Author of" this classic

Ptolemy I wrote to sovereigns & governors asking for works by all authors to build this library's circulation

Study up for your GRE, short for this test; you're probably not hittin' grad school without it

Hippos & rhinos are also these, thick-skinned, nonruminant ungulates

Extensor digiti minimi is the muscle that lets you straighten this when holding a teacup

Thousands of prisoners in the Philippines re-enacted the moves of the video of this Michael Jackson hit

1986: Her, "Plain and Tall"

The Manuscripts & Archives Division of this library known for its marble lions has Washington's farewell address

Subjects in this grad field include food science & plant breeding; maybe you'll run the Cabinet dept. of it

The state of being a mom or dad

Olden tradition said the vena amoris, or vein of love, ran from this one of the 10 fingers

Fatso from Spokane is the lovable "Keyboard" this animal

1972: "Mrs. Frisby and the Rats of" this group

This priceless word comes before "Library of Philadelphia" in the name of a system with over 6 million books

A 2006 study in N.J. found those going for this business degree are the most likely grad students to cheat

This term for a solid figure having many faces comes from the Greek for "many faces"

In piano playing the fingers are numbered; a right-hand triad uses these 3 numbers

"I'm On a Boat" is one of many popular parody songs that started on this TV show & then went viral on the web

1995: "Walk Two" of these celestial bodies

Since 1537 it's been the legal depository for all books published in France

--

en francais, s'il vous plait!

His will provided $2 million to an Ivy League univ. to establish a graduate school of journalism; quite the prize

The name of this plant is from the Greek for "fond of trees"

All primates have 2 of these bones in each thumb & 3 in each other finger

A popular animation about a unicorn with this name follows him to Candy Mountain, where he loses a kidney

1978: "Bridge to" this imaginary kingdom

Located on Capitol Hill, it publishes the journal Shakespeare Quarterly

"Hold" this last name of the medical family who put on a clinic & established a graduate school of medicine in 1915

The Curies discovered radium in 1898 while working with this ore of uranium
Scores at the end of the Double Jeopardy! Round:
| | | |
| --- | --- | --- |
| Dan | Surya | Nick |
| $17,800 | $12,200 | $16,400 |
| | | |
Final Jeopardy! Round
The July 1, 1946 cover of Time magazine depicted him with the caption, "All matter is speed and flame"
Final scores:
| | | |
| --- | --- | --- |
| Dan | Surya | Nick |
| $13,584 | $17,000 | $20,000 |
| 3rd place: $5,000 if eliminated | 2nd place: $5,000 if eliminated | Automatic semifinalist |
Game dynamics: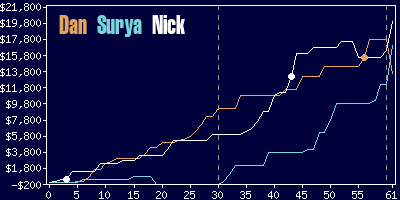 Dan
Surya
Nick
$17,200
$12,200
$14,400
22 R
(including 1 DD),
0 W
12 R,
1 W
20 R
(including 2 DDs),
1 W
Game tape date: 2010-01-05