Show #4286 - Monday, March 31, 2003
Jeopardy! Round
TV CATCHPHRASES
(Alex: You have to identify the show, of course.)

BEGINS & ENDS IN "N"
(Alex: Each correct response will begin with the letter N and end with the letter N.)

In 1986 Thessaloniki in this country celebrated its 2,300th birthday

Louis Henry & Bruce Ancona hold a patent on one of these that'll hold your undies on the line

It's the number one vegetable (or is it a fruit?) planted by backyard gardeners in the U.S.

Referring to her Oscar win for "Norma Rae", she said, "All I could think of was: don't fall down"

This word for a bedtime garment worn by women dates back to the 14th century

This city is central to works by James Joyce; after all, he was born there

"You bet your sweet bippy!"

A dowel pin is used by these health professionals to support crowns

Habaneros are the hottest domesticated types of these

This emperor once observed that "An army marches on its stomach"

From the Middle English for name, it's a part of speech that can be a name, place or thing

While Amsterdam is the capital of the Netherlands, this city is the seat of government

"Oh my God! They killed Kenny!"

Aye, matey, it's what's normally belayed on a belaying pin

Most Idaho baking potatoes are of this variety which may weigh up to 18 ounces

"History will be kind to me for I intend to write it", once quipped this British prime minister & he did!

Last name of "Boy Genius" Jimmy who starred in his own animated feature film in 2001

One of Norway's best-known resorts, it hosted the 1994 Winter Olympics

"Say Kids, what time is it?"

In a gun, it strikes the cartridge, setting off the propelling charge

The French know this purple pear-shaped vegetable as an aubergine

In a bestseller, this Crystal Cathedral minister tells us that "Tough times never last, but tough people do"

In the early 20th century, this kind of theatre charged 5 cents admission

Legend has it that this Iberian seaport city was founded by Hamilcar Barca around 230 B.C.

"And now for something completely different"

Ooh! Ooh! Horshack knows it has a split end that's spread after being put through a hole

Also known as a butter bean, the 2 main varieties of this veggie are baby & fordhook

This author of "I, Robot" once observed, "Life is pleasant. Death is peaceful. It's the transition that's troublesome"

This legal process by which one becomes a citizen of his adopted nation grants him the rights of a native-born citizen
Scores at the first commercial break (after clue 15):
| | | |
| --- | --- | --- |
| Carolyn | Brian | Jay |
| $4,600 | $800 | $3,600 |
Scores at the end of the Jeopardy! Round:
| | | |
| --- | --- | --- |
| Carolyn | Brian | Jay |
| $6,800 | $2,800 | $8,000 |
Double Jeopardy! Round
(Alex: Things or words that come...)
FROM THE ITALIAN

You shouldn't have as much trouble with your mother as this author's creation Alexander Portnoy

This Elton John song begins, "She packed my bags last night pre-flight zero hour 9 A.M."

"Who Wants to be a Milliner?" would be a game show for makers & sellers of these

Traditionally 2 long poles with footrests, they're now available with straps & springs

Exercise (& sex) make it go up:
HR

Italian for "unknown", it's how you travel when you don't want to be recognized

This author of the hitchhiking novel "Even Cowgirls Get the Blues" once hitchhiked across the U.S.

Don't mess with him, the title of the '80s song heard here

Some stores & malls hide these conveyances, invented by Jesse Reno, so you'll pass more merchandise

Near the city market in Oaxaca there's a special parking lot just for these creatures

Adjective meaning after death:
PM

From Italian for "sweetmeat", the little candies tossed during Carnival, it's what's tossed at New Year's

A physician & Benedictine monk, this 16th century French author was a man of "Gargantuan" learning

Sting's musical tribute to noted author & dandy Quentin Crisp is titled this "in New York"

Oklahoma grocer Sylvan Goldman didn't invent the wheel, but did invent this wheeled "vehicle"

This type of boat speeds along on ski-like supports with most of the hull out of the water

A form of birth control:
IUD

These quick appearances by guest stars in films can carve out a little comic "relief"

A former cop, she "reigns" over true crime with bestsellers like "...And Never Let Her Go"

(Sarah of the Clue Crew at Buddy Guy's Legends blues club in Chicago) A 1993 record recorded here at Buddy Guy's Legends featured the blues number about this rhyming man

Joseph Lieberman's father owned a package store, New Englandese for a store specifically selling this

With reinforced hulls, the Polar class of these specialized vessels are the Coast Guard's biggest cutters

Ben Jonson's 1598 comedy "Every Man in His Humor" uses this Italian term for a brothel

(Jimmy of the Clue Crew standing in front of the Eiffel Tower in Paris) "Le Bateau ivre", or "The Drunken Boat", was a famous poem by this "wild man" who arrived in Paris in 1871

"Every day I wake up, then I start to break up, lonely is" he, sang Engelbert Humperdinck

A grocery store to Hispanic Americans, in Spain it means a facility for storing sherry

(Sofia of the Clue Crew at the Johnson Space Center in Houston) NASA's Man Maneuvering Unit is a real version of this 7-letter propulsion device seen in "The Rocketeer"

A test used to diagnose diabetes:
FBS
(please, no eating or drinking after midnight)

Somewhere along the line this instrument's name lost its big finish of "forte"
Scores at the end of the Double Jeopardy! Round:
| | | |
| --- | --- | --- |
| Carolyn | Brian | Jay |
| $17,200 | $10,600 | $16,600 |
| | | |
Final Jeopardy! Round
When a pharaoh died, his heart was carved out & replaced with a stone rendering of this tiny creature
Final scores:
| | | |
| --- | --- | --- |
| Carolyn | Brian | Jay |
| $23,201 | $16,601 | $23,600 |
| 2nd place: $2,000 | 3rd place: $1,000 | New champion: $23,600 |
Game dynamics: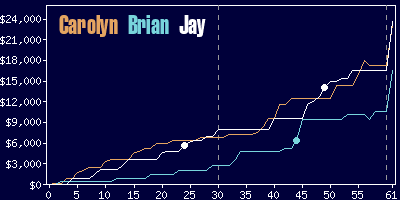 Carolyn
Brian
Jay
$17,200
$9,200
$17,600
22 R,
1 W
12 R
(including 1 DD),
1 W
20 R
(including 2 DDs),
0 W
Game tape date: 2002-12-10