Show #4750 - Friday, April 8, 2005
2005 Ultimate Tournament of Champions Round 1, game 43.
Jeopardy! Round
JON STEWART'S AMERICA
(Alex: Clues based on the book, of course.)

In the "Unelectable Founders" section, an "achievement" of his is "all-time record holder, most places slept"

At the theatre it's the sole job of

--

Line!

--

following the script & reminding actors what to say next

Stroll down this avenue if you want to shop at Bergdorf's or Saks

Ths science of dealing with the structure of animals

The Rolling Stones were inducted into it in 1989; meanwhile, The Comateens remain unjustly excluded

If this woman "was alive and sewing American flags today, she'd be a 13-year-old Laotian boy"

Elmer Booze has gained (moderate) fame doing this for piano virtuosos as they perform

The Empire State Building took the title of tallest building in the world away from this Manhattan skyscraper

From the Greek for "theft", it's a person with an irresistible need to steal

In this movie Jack Black plays Dewey Finn, who tries to turn a prep class into a band

He "wrote immortal maxims like '$2,145.34 saved is $2,145.34 earned.' (Figures adjusted for inflation)"

In 1999 & 2000 some of these employees at the Natl. Gallery sat for David Hockney; sitting might have felt odd to them

(Hi, I'm Christie Whitman.) My grandfather's company built this "city in a city", Midtown Manhattan's famous art deco complex

The witty line "I'd rather have a bottle in front of me than" this has been attributed to Tom Waits

In 1990 the Red Hot Chili Peppers were part of the first campaign by this org. to interest youth in politics

A listed "cause" of this country's 1978 revolution was "too much 'Shah', not enough 'Na Na'"

William Hamilton is the consulting one of these muscle & joint doctors to American Ballet Theatre

Take in a show at the Public Theater or Shakespeare in the Park, both founded by this producer/director

Southeast of Tucson, Arizona, this city bills itself as "the town too tough to die"

This 2001 movie was inspired by a singer in a Judas Priest cover band who ended up joining that band

1885 "last words" from this president: "Bury me next to my wife. But nothing too fancy"

13-letter word for the "super" job of nonspeaking actor onstage in an opera

The functions of this federal agency were transferred to the Nuclear Regulatory Commission

Cannons fire during AC/DC's song "For" these people "We Salute You"
Scores at the first commercial break (after clue 13):
| | | |
| --- | --- | --- |
| Josh | Trevor | Phil |
| $2,800 | $3,800 | $600 |
Scores at the end of the Jeopardy! Round:
| | | |
| --- | --- | --- |
| Josh | Trevor | Phil |
| $6,000 | $5,000 | $3,600 |
Double Jeopardy! Round
| | | | | | |
| --- | --- | --- | --- | --- | --- |
| | | | FELIX, NOTHING MORE THAN FELIX | | THANK YOU, I PREFER NOT TO ROCK |
| The "Anschluss" was the forced union of Austria with this country in 1938 | A verb meaning "to forbid", or a leading anti-perspirant | This country calls an 1846 to 1848 military conflict "The War of American Aggression" | Felix E. Dzerzhinsky oversaw the system of forced labor camps now known by this Russian name | It can be an Empire-period dress, a more shapeless flapper dress, or just the French word for shirt | Benedetto is the original last name of this man who's been crooning great music for decades |
| The Contras were a U.S.-backed force battling the government of this country | This short form of a Biblical name can also mean to banter with or tease | The city of Tangier in this country lies on the strategically important Strait of Gibraltar | Felix III was Rome-in' around when he held this post from 483 to 492 | Classy backless shoes include slides & these, named for an animal | Before she worked with Nelson Eddy, this singer starred in stage shows like "Yes, Yes, Yvette" |
| The Irgun was a secret underground organization fighting to establish this nation | You can do it to a ball, your voice, or a game you're losing on purpose | This island country uses the lira as its basic unit of currency | Heard here is one of the most popular works by this Felix | A pencil one is narrow, hopefully not to the point that the wearer has trouble walking | This much-married bandleader's 1938 hit "Begin The Beguine" set him up as a rival to Benny Goodman |
| A record of all the land in England, this "Book" was commissioned by William the Conqueror in 1085 | | Cyberjaya, a city billed as an Asian Silicon Valley, was recently founded in this Muslim nation of 20 million | In 1999 he became a welterweight boxing champion | The slenderer among us can wear the wide contour type of this, also called a cincture | Of Gypsy heritage, he became a great jazz guitarist despite losing the use of 2 fingers on his left hand |
| World leaders met at the Congress of this city in 1815 to decide the fate of Europe after Napoleon's defeat | "Happy" manual term meaning to extend hearty, perhaps insincere greetings | Timbuktu in this country was a dusty town when first visited by Europeans in the 1820s; today it bustles with 30,000 | His book "Bambi" first appeared in print in 1923; a Disney movie made it world famous | This brand of beret that dates to 1930 suddenly got street cred when L.L. Cool J. wore it & Slick Rick sang about it | This baritone who died in 2004 was a star at the Met & at Yankee Stadium with his national anthem rendition |
Scores at the end of the Double Jeopardy! Round:
| | | |
| --- | --- | --- |
| Josh | Trevor | Phil |
| $12,800 | $7,800 | $20,600 |
| | | |
Final Jeopardy! Round
Dr. Seuss wrote this book to win a bet that he couldn't write a book using only 50 different words
Final scores:
| | | |
| --- | --- | --- |
| Josh | Trevor | Phil |
| $25,600 | $15,600 | $25,601 |
| 2nd place: $5,000 | 3rd place: $5,000 | Winner: $25,601 + an advance to UToC Round 2 |
Game dynamics: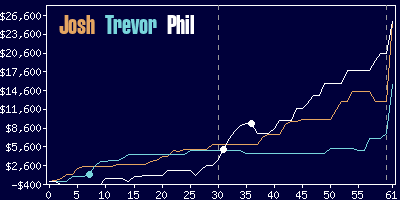 Josh
Trevor
Phil
$12,800
$7,200
$22,400
20 R,
2 W
11 R
(including 1 DD),
2 W
21 R
(including 1 DD),
4 W
(including 1 DD)
Game tape date: 2005-03-08