Show #3045 - Friday, November 21, 1997
1997 Power Players Week game 5.
From DAR Constitution Hall in Washington, D.C.
Jeopardy! Round
(Alex: This could be called POTENT POTABLES, but we refer to it as...)
SET 'EM UP, JOE

(Alex: Here's a tribute to you, Bill...)
POLITICALLY INCORRECT

(Alex: This is not a tribute to anyone...)
MORE STUPID ANSWERS

In 1974 this organization granted the PLO observer status & suspended South Africa

The title fawn in Disney's 1942 film is this deer

On St. Patrick's Day, customers clamor for Joe's Irish Shillelagh, which features this "Irish" liquor

R.J. Reynolds dropped this drawn character after drawing complaints it drew kids to cigarettes

In her book "My Turn", she points out that Eleanor Roosevelt was criticized for ordering new china, too

The American Heritage Dictionary defines this word as "one who digs graves"

The Braves tried to bench this player so he'd break the Babe's record in Atlanta, but was ordered to play him

Monstro is the monstrous whale who swallows Geppetto in this beloved film

From its start in 1993, this Steven Bochco show has been attacked by the Christian Family Network

She donated the net proceeds of her dog Millie's book to her Foundation for Family Literacy

Queensland & New South Wales cover eastern Australia & this state covers western Australia

The Symbionese Liberation Army kidnapped this heiress & demanded food for the poor as a ransom

Mowgli finds out it's a jungle out there in this film based on Kipling's classic

In July 1997 the National Federation for the Blind urged a halt to a live-action version of this cartoon

First Lady seen here when she was a young girl:

John Connally "got" trouble from campaign contributions he "got" from producers of this product

The Mickey Mouse version of this Dickens classic features Goofy as the ghost of Jacob Marley

A 1989 protest by a Michigan housewife against this Fox sitcom only boosted its popularity

This Texas-born conservationist headed the First Lady's Committee for A More Beautiful Capital

The Western Hemisphere's first female head of state was this country's Isabel Peron

Famous voices in this film include Ed Wynn as the Mad Hatter & Jerry Colonna as the March Hare

Ira Zimmerman led a protest of the mocking of Michael Palin's stuttering in this 1988 film

She started wearing those famous bangs while living in the Panama Canal Zone with her military husband
Scores at the first commercial break (after clue 11):
| | | |
| --- | --- | --- |
| Oliver | Andrea | Bill |
| $600 | $700 | $500 |
Scores at the end of the Jeopardy! Round:
| | | |
| --- | --- | --- |
| Oliver | Andrea | Bill |
| $100 | $2,600 | $1,300 |
Double Jeopardy! Round
He was born in the capital Nov. 25, 1960, 17 days after his dad was elected president

A spare on a car, or an extra person on a double date

Robert De Niro, for "Cape Fear";
Anthony Hopkins, for "The Silence of the Lambs";
Warren Beatty, for "Bugsy"

In "Paper Lion" George Plimpton reported on his attempt to play this sport

Seattleites Bill Gates & Paul Allen started this company in Albuquerque, then moved home to Washington

Middle initial of John Public, or of sixth president John Adams

Lisa Halaby, born in D.C. in 1951, married King Hussein & became Queen Noor of this country

On the fifth day God created these, like the one that swallowed Jonah

Rosie Perez, for "Fearless";
Holly Hunter, for "The Firm";
Anna Paquin, for "The Piano"

A 1996 history of this substance includes sections on bakelite, polyethylene & cellophane

The Melvins, heard here, were an early band in this rock genre that swept America in 1992:

He was born in Washington on Jan. 1, 1895 & became the FBI's director at 29

On this date in 1776 the Declaration of Independence was mailed to towns across the colonies

Vanessa Redgrave, for "Howards End";
Joan Plowright, for "Enchanted April";
Marisa Tomei, for "My Cousin Vinny"

Frank McCourt put his mother's name in the title of this bestselling memoir

This TV journalist, who longed for parenthood, is the 10th child of a Chinese diplomat

A fifth of liquor is one-fifth of this measure

The title of this 1994 book about group differences in intelligence refers to a shape on a graph

Washington-born "Crossfire" host & 1996 presidential candidate

In 1967 they rose to the Top 10 singing "Up, Up And Away In My Beautiful Balloon"

Song that's the title of Robert Dallek's book on "The Making and Unmaking of American Presidents"
Scores at the end of the Double Jeopardy! Round:
| | | |
| --- | --- | --- |
| Oliver | Andrea | Bill |
| $100 | $6,600 | $3,000 |
| | (lock game) | |
Final Jeopardy! Round
THE ARMED SERVICES
(Alex: And it's not a set-up!)
In September 1997 this branch of the U.S. Armed Services celebrated its 50th anniversary
Final scores:
| | | |
| --- | --- | --- |
| Oliver | Andrea | Bill |
| $200 | $7,100 | $6,000 |
| 3rd place: $10,000 for the Freedom Alliance (scholarship fund), Joe Gibbs' Youth for Tomorrow, and the Salvation Army | Winner: $15,000 for the University of Pennsylvania | 2nd place: $10,000 for the Best Friends Animal Sanctuary |
Game dynamics: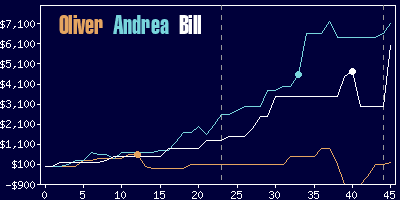 Oliver
Andrea
Bill
$700
$5,400
$4,700
8 R,
4 W
(including 1 DD)
18 R
(including 1 DD),
4 W
11 R,
1 W
(including 1 DD)
Game tape date: 1997-11-01