Show #4739 - Thursday, March 24, 2005
2005 Ultimate Tournament of Champions Round 1, game 32.
Jeopardy! Round
WAR STORIES
(Alex: We want you to identify the war each story is associated with.)

"The Man Who Flew the Memphis Belle",
"Slaughterhouse Five"

With this name, Muhammad Ali won 1960 light-heavyweight gold

Princess Cruises shipped in tons of this to keep its private Caribbean island beach looking pristine

The glossy green leaves & red berries of this state tree of Delaware are used to make Christmas wreaths

She went to Smith in 1918 hoping to become a doctor; her dream was "Gone with the Wind" when her mom died in 1919

"The storm of protest was nipped in the bud" is a "mixed" one of these

"Gods and Generals",
"Li'l Dan: The Drummer Boy"

You'd be chillin' & grillin' if you knew that he won the heavyweight gold medal in 1968

As you'd expect, it was the first company to launch a fleet exclusively in the Caribbean

The seeds of the horse chestnut, Ohio's state tree, resemble the orb of a male deer, giving it this nickname

This chef who died at age 91 in 2004 earned a history degree from Smith in 1934

The more delicate and vague "to pass away" when used as a substitute for "to die"

"A Farewell to Arms",
"Goodbye to All That"

Teofilo Stevenson of this country impressively won heavyweight gold in 1972, 1976 & 1980

Destiny & Liberty are 2 of this line's "Fun Ships"

Both Colorado & Utah chose the blue species of this

These 2 20th century First Ladies both attended Smith College in the 1940s

Nick Lowe's "cruel to be kind" or Ahnold's "girlie men"

"The Splendid Little War",
"The Rough Riders"

Both the 1972 & 1976 Olympic light-welterwight gold medalists had this "sweet" nickname

If you're cruising on the Royal Clipper, it will most likely be under this power

The fan-shaped leaves of this South Carolina state tree are sometimes used to make baskets

This 1956 grad co-founded the Ms. Foundation & the Women's Action Alliance

9-letter term for the deliberate exaggeration of "to wait an eternity"

"Hold Back the Night",
"The Coldest War"

Last name of the brotherly pair who both won gold medals in Montreal

When you pull into Guadeloupe, you may have to change your dollars into this official currency

This nut pine is the state tree of New Mexico

Ann M. Martin (Smith, 1977) is the author of the book series about this "Club"

"A well-boiled icicle" & "a scoop of boy trouts" are 2 of these transpositions
Scores at the first commercial break (after clue 15):
| | | |
| --- | --- | --- |
| Tom | Eugene | Chacko |
| $2,600 | $1,200 | $2,600 |
Scores at the end of the Jeopardy! Round:
| | | |
| --- | --- | --- |
| Tom | Eugene | Chacko |
| $3,000 | $2,800 | $4,200 |
Double Jeopardy! Round
"P" AN' "O"s
(Alex: Each correct response will have two words in it. First word will begin with the letter P; the second word will begin with the letter O.)

Orchestra section with the name of an alloy

In August 1578 this English navigator sailed around Cape Horn

Legal term for the burning of a building with malicious or criminal intent

In a 1960 comedy, a bumbling Jerry Lewis has this title job at the Fontainebleau Hotel

Temporary loss of electricity

There's a special case, seen here, for this item used on the podium

Willem Schouten, who rounded the Horn, named it after his birthplace in this country

The long symbolic history of the pentacle includes representing Jesus' five of these

In 59 A.D. this Roman emperor went too far & had his mom Agrippina murdered

He made us laugh as "Tommy Boy", the dimwitted heir to an auto parts factory

Children's game of giving letters & receiving kisses in return

For much of the 20th c., Gregor Piatigorsky was regarded as the world's second-greatest virtuoso on this instrument

In the 1830s this British ship visited the Patagonian Coast & the Falkland Islands & made a passage around Cape Horn

This system for informing people about abductions is named for an unfortunate 9-year-old

John Belushi played this most notorious Delta in "Animal House"

Of the genus Rhus, it'll give you a rash if touched

It was invented in the 18th century, & in the 19th Monsieur Sax developed it into the saxophone

In 1910 he said he was sailing from Norway to the Arctic Ocean via Cape Horn, but he was really headed to the South Pole

Delta, Alitalia & KLM are part of this "Team", whose symbol is seen here

In WWII he headed the Gestapo in Lyons, France; in January 1983 he was arrested in South America

Luckily, Jim Carrey gave a more dastardly turn as this evil relative in "A Series of Unfortunate Events"

A drink of raw egg, Worcestershire sauce, salt & pepper, taken as a hangover cure

A gold "concert grand pedal" one of these instruments from Lyon & Healy costs $42,000

This British naval captain "Endeavour"ed to sail around the Horn

--

& did in 1769

Assassinated by a naval officer in 1628, English nobleman George Villiers was the first duke of this "palatial" title

This comic's "Rush Hour" character was billed as "The Biggest Mouth in the West"

A time for the media to take pictures of a politician doing something newsworthy
Scores at the end of the Double Jeopardy! Round:
| | | |
| --- | --- | --- |
| Tom | Eugene | Chacko |
| $7,000 | $11,600 | $3,400 |
| | | |
Final Jeopardy! Round
Books by this alumnus include 1957's "Nuclear Weapons and Foreign Policy" & 1994's "Diplomacy"
Final scores:
| | | |
| --- | --- | --- |
| Tom | Eugene | Chacko |
| $13,999 | $15,600 | $6,799 |
| 2nd place: $5,000 | Winner: $15,600 + an advance to UToC Round 2 | 3rd place: $5,000 |
Game dynamics: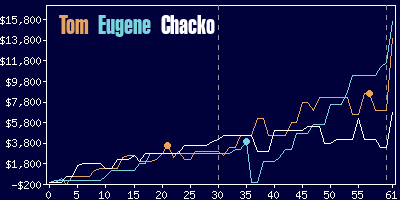 Tom
Eugene
Chacko
$9,800
$15,600
$3,400
18 R,
9 W
(including 2 DDs)
17 R,
1 W
(including 1 DD)
14 R,
6 W
Game tape date: 2005-03-01