Show #4728 - Wednesday, March 9, 2005
2005 Ultimate Tournament of Champions Round 1, game 21.
Jeopardy! Round
| | | | | | |
| --- | --- | --- | --- | --- | --- |
| GOD SAVE THE BRITISH KING OR QUEEN | | | | | |
| At her death, aged 81, she was the oldest British monarch ever | | "FTASB" stands for this phrase that describes Superman | He was on everybody's mind when he posthumously won a handful of Grammys for his "Genius Loves Company" album | British Admiral David Beatty was the first Earl of this, found between Britain & Norway | In titles of 2 Springsteen hits, it precedes "To Run" & "In The U.S.A." |
| It has been reported that he was once seen having a conversation with an oak tree | | It's what the acronym "WYSIWYG" stands for | An instrumental, "Mrs. O'Leary's Cow", & not a song about a surfer girl earned him his first Grammy ever | Its official motto is "Liberty and Union, now and forever, one and inseparable" | Living high on the hog you can afford your own tub of this hog fat |
| John Bradshaw presided over the high court that sentenced this British king to death in 1649 | | "WAMBAM" means "Web application meets" these 2 building materials | Between the 2 of them, they picked up 7 Grammys, including one for their "My Boo" duet | Many explorers once sought this arctic sea route connecting 2 oceans | James Beard described it as "our common ground, a universal experience" |
| In 1603 he became the first British monarch of the House of Stuart | The Hubert H. Humphrey Metrodome | In online lingo, "BEG" stands for "big, evil" this | U2 was perhaps feeling dizzy after winning Grammys for this song | The flag of this country, once at war with the United States, is seen here | |
| All 3 of the kings with this name died violently | | If all else fails, do this, "RTM" | 33 years after her last win, she hit the mother lode with awards for Country Album & Best Country Collaboration | It's seen on many flags, & on a Nobel Prize medal as a symbol of the Royal Swedish Academy of Sciences | It's another name for the killer whale |
Scores at the first commercial break (after clue 16):
| | | |
| --- | --- | --- |
| Erik | Mark | Michael |
| $3,200 | $1,200 | $4,600 |
Scores at the end of the Jeopardy! Round:
| | | |
| --- | --- | --- |
| Erik | Mark | Michael |
| $6,000 | $2,200 | $6,800 |
Double Jeopardy! Round
HAULIN' S
(Alex: Each correct response will consist of two words, one with an "S", one without.)

Once married to producer Grant Tinker

Balanchine was a friend of this composer whose fascinatin' rhythms inspired the ballet "Who Cares?"

It's what horses are "put out" to, or the kind of 5-card poker game where the first card is down & the rest are up

A disease caused by a lack of vitamin C; without the "S", it could describe a road

The Arctic variety of this gull relative is famous for migrating over 25,000 miles each year

He was cheered & jeered at the 2003 Academy Awards

Balanchine wrote that he played an elf in this Shakespeare play long before creating a 1962 ballet based on it

Benny Binion held the first "World Series of Poker" in 1970 at this Las Vegas casino

Remove an S & the partner of "live long" means suitable or fit

It's sometimes referred to as the South American ostrich

He was the spy in "The Spy Who Loved Me"

"Concerto Barocco" is danced to this man's music, though Balanchine said the music "can stand alone"

Don't tell the others, but I've got this, the highest possible natural poker hand

"Not deep" &, after the "S" departs, "to make holy"

DNA from the remains of this extinct bird at a British museum proved that it had been part of the pigeon family

Elected to the U.S. Senate 8 times, his middle name is Moore

When the ballet "Prodigal Son" was revived in 1950, this woman who was then Balanchine's wife played the siren

Unrelated to chess, it's letting a bet pass to the next player

Make the choice to lose an "S" from one word to get this, to choose by vote

Let's go fly the swallow-tail species seen here

1952 Pulitzer-winning poetess

The 3 muses who appear in Balanchine's ballet "Apollo" are Polyhymnia, Calliope & this muse of the dance

In this "reptilian" poker game, players pass 3, then 2, then 1 card to the player to the left

To allay your thirst, drop an "S" & form a body of water

The most abundant crow in Europe, you might find one near a castle
Scores at the end of the Double Jeopardy! Round:
| | | |
| --- | --- | --- |
| Erik | Mark | Michael |
| $17,600 | $3,800 | $24,000 |
| | | |
Final Jeopardy! Round
It begins, "'To be born again,' sang Gibreel Farishta tumbling from the heavens, 'first you have to die'"
Final scores:
| | | |
| --- | --- | --- |
| Erik | Mark | Michael |
| $32,600 | $1 | $35,201 |
| 2nd place: $5,000 | 3rd place: $5,000 | Winner: $35,201 + an advance to UToC Round 2 |
Game dynamics: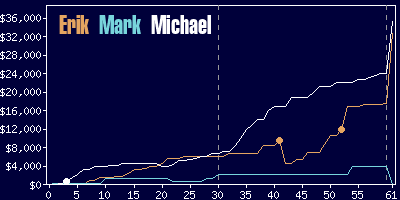 Erik
Mark
Michael
$19,600
$3,800
$24,000
21 R
(including 1 DD),
1 W
(including 1 DD)
5 R,
1 W
30 R
(including 1 DD),
1 W
Game tape date: 2005-02-22