Show #5228 - Wednesday, May 9, 2007
2007 College Championship semifinal game 3.
From the University of Southern California.
Jeopardy! Round
On April 24, 1970 this country launched its first satellite, Mao 1

Condenser, crisper, butter compartment

On the flag of this largest island, white represents the ice that covers about 80% of it

In 2007 this team beat Ohio State 84-75 to repeat as NCAA basketball champs

Napoleon abdicated for the second time 4 days after this battle

In 2011 MESSENGER is scheduled to orbit this planet named for a messenger god

Push-button, cartridge, spring, ballbearing tip

Her personal flag consists of a wreath of golden roses & a crown atop the letter "E", all on a blue field

He won golf's Vardon Trophy, for the lowest adjusted scoring average, from 1999 to 2003 & again in 2005

This country's soldiers are seen here rehearsing for May 7, 2004, the 50th anniversary of the Battle of Dien Bien Phu

This spacecraft whose name is from Greek for "origin" collected solar wind particles & then returned to Earth

Transept, nave, aisle, chancel

This Australian state's flag features a red lion, just like the coat of arms of its capital, Hobart

The Treaty of Ghent had already been signed when Andrew Jackson decisively won this Jan. 1815 battle

In 1998 a craft named for him photographed volcanic plumes on Io, a Jovian moon he discovered in 1610

Title, key or legend, compass rose

The flag of the United Nations shows the world from the perspective of this spot

Light you "carry" for an old flame
(5)

This team won the World Series every year from 1949 to 1953

300 Spartans led by Leonidas held off Persian troops for 3 days, until a traitor betrayed them, in this 480 B.C. battle

Launched in 1977, this spacecraft is the most distant manmade object at more than 9.5 billion miles from Earth

Safety pin, pressurized canister, hose, foam

The flag of this nation seen here has flown since 1882; the flag of its neighbor to the north, since 1948

Norman cavalry are preparing to attack for a reenactment of this battle that took place in 1066
Scores at the first commercial break (after clue 15):
| | | |
| --- | --- | --- |
| Dean | Pete | Craig |
| $2,400 | $1,600 | $1,600 |
Scores at the end of the Jeopardy! Round:
| | | |
| --- | --- | --- |
| Dean | Pete | Craig |
| $3,800 | $3,600 | $4,400 |
Double Jeopardy! Round
A traditional Ugandan cloth is made from this part of the mutuba tree, softened by pounding

The walls of Avila, with 88 towers, were built in the 11th C. by Christians fighting these people

Armenia is the hub for speakers of Armenian; this country has the most speakers of Rundi

Though Greek by ethnicity, the 2nd century physician was born in Anatolia in what's today this country

Former Guns N' Roses members Duff, Slash & Matt Sorum reunited to form this pistol of a band

This word, Hawaiian for "quick", is technology that allows for open access to add & change a page

All Peace Corps volunteers in Africa are trained to instruct locals on stopping this retroviral epidemic

Arundel Castle has been the seat of these noblemen of Norfolk for hundreds of years; the 18th one lives there now

Galen studied medicine at Pergamum, Smyrna & this Egyptian city famous for a library & a lighthouse

This New Mexico indie band named for leg parts is all the rage, & their "New Slang" was a hit in "Garden State"

An O.S. can be an operating system as well as this type of software like Firefox, GIMP & Thunderbird

When friends in Gabon meet, they give each other a series of 4 of these

The numerically designed Castel del Monte in Italy has 8 towers around a courtyard of this shape

Vi vill ha en smorgas och jordnotter

--

sorry, slipped into this language for a second

One of Galen's medical breakthroughs was proving arteries carried blood & not this, as was believed

This Brit's first name is a flower; her Myspace page & her "Smile" helped to launch her fame

This phrase was used of an appliance that connected to an electrical outlet; now it's an add-on for a browser

In 1990 Namibia became independent from this country that had controlled it for 75 years

A castle was built at Vallandraut, France for the man who in 1309 moved this office to France for an extended stay

It's the term used for Dutch as spoken in Belgium; in it, Antwerp is Antwerpen

Galen might have sworn an oath to this 5th century B.C. Greek man he considered the beginning of all medical learning

Chris Daughtry turned down the offer to sing for this band even after he covered their song "Hemorrhage"

If you want to build a new you, create a toned, buff one of these online facsimiles in "Virtual Hills"

A Senegalese cape shares the name of these islands that form an independent country to the west

Even the peaceful Swiss needed their castles, like Chillon on this lake seen here

"Battle" was "gefeoht" in this, the language spoken in London until about 1100

Galen believed that blood was produced in this largest internal organ & that it ebbed & flowed like the tide

YouTube helped this Arizona band's cover of OutKast's "Hey Ya!" surge in popularity

You can get the New York Times or blogs in this type of XML format that's known as "really simple"
Scores at the end of the Double Jeopardy! Round:
| | | |
| --- | --- | --- |
| Dean | Pete | Craig |
| $11,100 | $9,200 | $14,000 |
| | | |
Final Jeopardy! Round
In an Ibsen play, Nora tells her husband that she's been like one of these to him, just as she was to her father
Final scores:
| | | |
| --- | --- | --- |
| Dean | Pete | Craig |
| $0 | $200 | $22,222 |
| 3rd place: $10,000 | 2nd place: $10,000 | Finalist |
Game dynamics: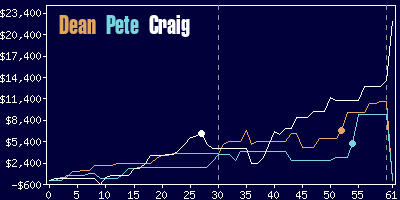 Dean
Pete
Craig
$10,200
$6,800
$15,400
18 R
(including 1 DD),
2 W
11 R
(including 1 DD),
3 W
21 R,
6 W
(including 1 DD)
Game tape date: 2007-04-22