1997-A Teen Tournament quarterfinal game 5.
Jeopardy! Round responses
(J: What is a horse?)

Donkey



(B: What is...?)
(Alex: Don't be nervous, it's still early)

White water



Sabrina, the Teenage Witch



(J: What is water?)
(Alex (during interview):
Going back to the clue, it would seem very obvious that we were excluding water, but we didn't say that in the clue, so we're going to accept Justin's response since it dumps 1 million metric tons of water into the Gulf of Mexico)

Silt/Sediment



Different names for Santa Claus



(B: What is a pallbearer?)
(Alex: You're getting way ahead of yourself there, Brian, with wedding ceremonies!)

Ring Bearer



(J: What is "Expediency?")

"Relativity"


Scores at the first commercial break (after clue 15):
| | | |
| --- | --- | --- |
| Fran | Brian | Justin |
| $900 | $300 | $1,500 |
Scores at the end of the Jeopardy! Round:
| | | |
| --- | --- | --- |
| Fran | Brian | Justin |
| $1,600 | $2,800 | $2,500 |
Double Jeopardy! Round responses
(Alex: Why do you smile & say that when you look at me? - go again!)

30



(J: What is the lotus?)

Chrysanthemum



Atchison, Topeka & Santa Fe


Scores at the end of the Double Jeopardy! Round:
| | | |
| --- | --- | --- |
| Fran | Brian | Justin |
| $10,600 | $4,200 | $10,100 |
| | | |
Final Jeopardy! Round responses
[Semifinalists: winners: T. O'Connor, B. Frantz, F. Hillis & A. Fox; wildcards:
M. Burgess ($10,100), P. Dhume ($8,600),
F. Bigman ($7,100) & J. Den Hartog ($3,989)]
Brian
What is (Wales) Ireland
$4,200
Justin
What is Great Britain
$2,099
Fran
What is England
$3,500
Germany
Final scores:
| | | |
| --- | --- | --- |
| Fran | Brian | Justin |
| $7,100 | $0 | $8,001 |
| 2nd place: $1,000 if eliminated | 3rd place: $1,000 if eliminated | Automatic semifinalist |
Game dynamics: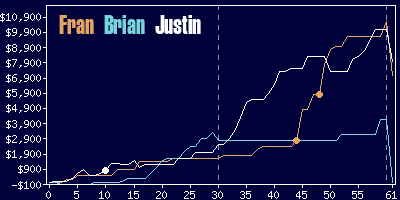 Fran
Brian
Justin
$8,000
$4,200
$9,900
16 R
(including 2 DDs),
0 W
13 R,
2 W
27 R
(including 1 DD),
4 W
Game tape date: 1997-01-08