Lisa Guay game 4.
Jeopardy! Round responses
(Tom: Who is Benedict Arnold?)

Nathan Hale



indegestion (heartburn accepted)



(Lisa: What is "In the Living Years"?)

(Alex: No, I'm sorry, it is not "In The Living Years", it is called [*]. You were so close. Sorry we have to rule against you. It cost you $1,000. You retain control of the board. Select again.)

"The Living Years"


Scores at the first commercial break (after clue 15):
| | | |
| --- | --- | --- |
| Lisa | Tom | Don |
| $2,100 | $1,000 | $600 |
Scores at the end of the Jeopardy! Round:
| | | |
| --- | --- | --- |
| Lisa | Tom | Don |
| $3,200 | $900 | $1,100 |
Double Jeopardy! Round responses
the Chesapeake (Bay Retriever)



(Tom: What is Baltimore?)

Calvert



Inspector (Jules) Maigret



(Tom: Who is Louis B. Mayer?)

Irving Thalberg


Scores at the end of the Double Jeopardy! Round:
| | | |
| --- | --- | --- |
| Lisa | Tom | Don |
| $9,200 | $2,500 | $4,900 |
| | | |
Final Jeopardy! Round responses
(Alex: [*] was a test pilot for NASA.)
Tom
Who is Armstrong?
$2,500
Don
Who is Sally Ride?
$4,900
Lisa
Who is Mike Collins?
$601
Neil Armstrong
Final scores:
| | | |
| --- | --- | --- |
| Lisa | Tom | Don |
| $8,599 | $5,000 | $0 |
| 4-day champion: $38,000 | 2nd place | 3rd place |
Game dynamics: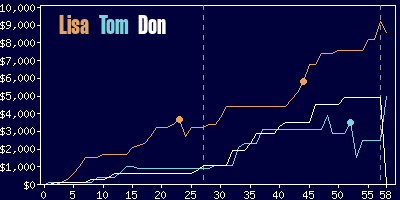 Lisa
Tom
Don
$10,000
$4,500
$4,900
25 R
(including 1 DD),
1 W
(including 1 DD)
11 R,
3 W
(including 1 DD)
13 R,
0 W
Game tape date: 1989-08-22