Ken Jennings game 26.

(Sarah: We'll go beyond the burrito to show you some Mexican delicacies today on Jeopardy!)
(Sofia: ¡Buen provecho!)
Jeopardy! Round responses
"...oh my darling Clementine"



(Ken: Who is Clinton?)

Jimmy Carter



(Alex: I'm trying to read it in a very flat way so that you will not be helped too much by my excellent singing.)

"...and smile, smile, smile"



(Michael: What is ¡[*]!?)
[Laughter]
(Michael: MEXICAN FOOD & DRINK for 8, please.)
(Alex: O-kay!...)

tequila



"...and we'll have a barrel of fun"



"...We have no bananas today"



Fat Albert & the Cosby Kids



(Alex: [*]. Independence, Missouri.)

Harry Truman



"...over the hills and everywhere"


Scores at the first commercial break (after clue 15):
| | | |
| --- | --- | --- |
| Ken | Michael | Vanessa |
| $3,600 | $3,200 | $1,800 |
Scores at the end of the Jeopardy! Round:
| | | |
| --- | --- | --- |
| Ken | Michael | Vanessa |
| $9,800 | $5,200 | $2,200 |
Double Jeopardy! Round responses
(Ken: Uh, who is her consort? ...[*]?)

(Prince) Albert



(Ken: What is the liver?)

the gall bladder



(Ken: Gotta do some quick math. I will wager $600, Alex.)

Panzers



[Applause for Ken's run of the category]
(Alex: Ken, have you done anything except read comics and watch television?)
(Ken: Being a nerd, you know, it pays off sometimes.)
(Alex: By gosh, it sure does. But you're no nerd.)

Iron Man



(Pierre Charles) L'Enfant


Scores at the end of the Double Jeopardy! Round:
| | | |
| --- | --- | --- |
| Ken | Michael | Vanessa |
| $34,000 | $13,200 | $5,000 |
| (lock game) | | |
Final Jeopardy! Round responses
(Ken: [Shaking hands with his opponents] It was a great game. You two were really good.)
Vanessa
Who was John Donne
$4,700
Michael
Who was Marlowe?
$3,199
Ken
Who is Marlowe?
$6,000
Christopher Marlowe
Final scores:
| | | |
| --- | --- | --- |
| Ken | Michael | Vanessa |
| $40,000 | $16,399 | $300 |
| 26-day champion: $828,960 | 2nd place: $2,000 | 3rd place: $1,000 |
Game dynamics: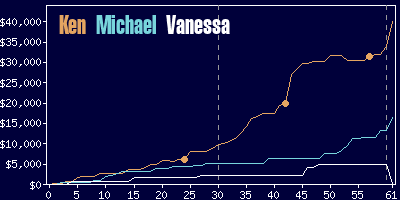 Ken
Michael
Vanessa
$27,400
$13,200
$5,000
33 R
(including 3 DDs),
2 W
17 R,
0 W
5 R,
0 W