Show #3932 - Tuesday, October 9, 2001
(Sofia: I'm Sofia of the Clue Crew. You don't have to be a rocket scientist to be on
Jeopardy!
, but you do if you want to work
here
.
Jeopardy!
's next.)
Jeopardy! Round
JPL
(Alex: Jet Propulsion Laboratory.)

1946
(Alex: You're all too young to remember it!)

SOME CHOICE 4-LETTER WORDS

The first road constructed in this state after the Europeans arrived was along the Rio Grande

Boosting membership to 54, Afghanistan, Iceland & Sweden all joined this organization on November 11, 1946

It's what you're doing when you're "cutting a rug"

Last name of 2 presidents, or a small cluster of shrubs appearing as a single plant

JPL spacecraft have visited every planet in our solar system except this one

This country's North Island is on the Australian Continental Plate; South Island is on the Pacific Plate

Now docked in Long Beach, CA. this ship docked in New York on February 10, 1946 with 1,666 British war brides aboard

Ecclesiastes says, "A man hath no better thing under the sun than to eat, and to drink and to be" this

The little sister of Buffy the Vampire Slayer, or Tony Orlando's backup singers

Once the capital of New Netherland, New York City was originally named this

This former first lady suffered minor injuries when she crashed her car in Yonkers, N.Y. on August 14, 1946

You've let loose when this animal precedes "around" or "play"

"I'm gonna live forever...light up the sky like a flame...baby remember my name" & also this tune

JPL was transferred from Army control in 1958 to this newly created government agency

It was the first American colony to declare its independence from Great Britain in 1776

In 1946 this dictator said the world was divided into "two camps" & war was inevitable while capitalism existed

Spelled one way, it's to have casino fun; spelled another, it's delightful skipping

It's a still, deep place in a stream; I lost $5 in our office one for the Super Bowl

This Connecticut city, one of the first planned communities, was also the first to have antipoverty programs, in 1962

1975:
"Love To Love You Baby"

This 50-year-old ex-colonel was elected president of Argentina on March 28, 1946

Fancy, as in what's tickled when you are amused, is a shortened form of this word

Old English for "to stuff", it's what you might have done late last night before your appearance here
Scores at the first commercial break (after clue 16):
| | | |
| --- | --- | --- |
| Rod | George | Andrea |
| $300 | $1,700 | $300 |
Scores at the end of the Jeopardy! Round:
| | | |
| --- | --- | --- |
| Rod | George | Andrea |
| $2,000 | $2,100 | $1,500 |
Double Jeopardy! Round
LITTLE BROWN
(Alex: Hey, a publishing feast!)

While growing up, one of Tim McGraw's heroes was this ballplayer whom he later learned was his father

There are little brown & big brown species of this winged cave dweller

At Oxford, to be "sent" in this direction is to be expelled

The constellation Crux points to this pole

This gem seen here got its name because of its pomegranate-like color

One can hold hunters, caretakers or beavers

While Faith Hill hails from Mississippi, Tim McGraw grew up in Richland Parish in this state

3-letter term for a little brown young member of Ursus arctos

The ceremony called Encaenia awards this type of degree, as in 2000 to Judi Dench

Because she ate his pomegranate seeds, Persephone had to return to his underground home for 4 months every year

Often having a veranda, this single-storied, gable-roofed cozy little house is "of Bengal"

Let it out nice & slow... it's the name of Faith's No. 1 album that includes the hit "The Way You Love Me"

This small "nutty" bird may be red-breasted, white-breasted or brown-headed

This is the usual word that combines the names of Oxford & its main rival

He experimented with prisms & published his theories on light & color in 1704's "Opticks"

Pomegranate syrup is sold under this name

A small house by the lake known for its "cheese" or "industry"

Tim & Faith kindled their relationship during this 1995 concert tour; it also means to catch fire without an outside source

This small rodent whose name rhymes with mole is closely related to the lemming

Oxonians do it in a flat-bottomed boat in summer term; across the pond we do it on fourth down

Jan Van Riebeeck led the first European settlement of what would become this South African seaport

"Madonna of the Pomegranate" is one of the many Madonnas in the Uffizi by this "Venus on the Half Shell" artist

From the name of a hill in Rome, it's an official residence of a ruler or archbishop

This small mouselike animal makes up the largest family among the insectivores

The Mayflower had to return to port twice because of this leaky companion ship, then left it behind

John Patrick's post-WWII comedy was this "of the August Moon"
Scores at the end of the Double Jeopardy! Round:
| | | |
| --- | --- | --- |
| Rod | George | Andrea |
| $6,200 | $3,500 | $3,900 |
| | | |
Final Jeopardy! Round
In 1935 she sent a telegram to a Macmillan editor: "Please send manuscript back I've changed my mind"
Final scores:
| | | |
| --- | --- | --- |
| Rod | George | Andrea |
| $4,500 | $7,000 | $6,900 |
| 3rd place: a trip to Eden Roc Resort, Miami Beach | New champion: $7,000 | 2nd place: a trip to St. James's Club, Antigua |
Game dynamics: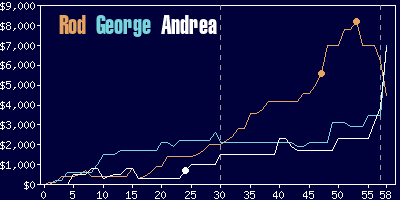 Rod
George
Andrea
$6,800
$3,500
$4,100
24 R
(including 1 DD),
4 W
(including 1 DD)
11 R,
4 W
12 R
(including 1 DD),
4 W
Game tape date: 2001-08-21