Show #4295 - Friday, April 11, 2003
Brian Weikle game 2.
Jeopardy! Round
| | | | | | |
| --- | --- | --- | --- | --- | --- |
| | | | | | |
| In 1962 on the 59th anniv. of their flight, they were posthumously inducted into the National Aviation Hall of Fame | (I'm Kurt Warner.) The team at my alma mater, Northern Iowa, is these big, fierce black cats | Like the bloodhound, the beagle is classified as a hound that hunts mainly by this sense | The Hong Kong branch of this world-famous wax museum features figures of Asian singing idols Andy Lau & Teresa Teng | This city's annual film festival gives out the Golden Bear for its best film | A timesaving alternate route |
| First names of childhood friends & ice cream makers Cohen & Greenfield | (I'm Jeff Garcia.) For San Jose State, I was one of these warriors who battled the Athenians | The Beagle Brigade of this cabinet department helps keep banned fruits & vegetables out of the U.S. | This city's "Histeria Pass" will get you a discount to the Wax Museum of Witches and Seafarers | In 1932's "Blonde Venus", this German sex symbol aped around in a gorilla suit | Position played by Derek Jeter |
| They're the pair heard here | (I'm Drew Brees.) At Purdue I was one of these, originally an insult by some jerks from Wabash College in 1889 | | Salome, Jezebel & Mata Hari enhance the vixens exhibit in this city's Wax Museum at Fisherman's Wharf | The Commerzbank Tower rises 60 stories above this city, a financial center on the Main | A rich, buttery, crumbly cookie |
| In England, you can still see shows by this pair: an abusive hunchback & his long-suffering wife | | The AKC says, when drawn out (see how your dog likes that) these should reach nearly the end of the beagle's nose | Voodoo queen Marie Laveau is one of many local legend depicted in wax at the Musee Conti in this U.S. city | From the German for "council cellar", it's a basement bar patterned after a beer hall | A failure in an electrical path |
| "Ruddigore", first published in 1887, is one of their lesser known operettas | (I'm Shaun Alexander.) I'm the all-time leading rusher of this college team whose nickname used to be "The Thin Red Line" | The beagle's coat is usually described as black, white, & this shade of brown | You, too will enjoy wax figures of U2 at the National Wax Museum near Parnell Square in this world capital | Defeating Jack Sharkey, this German won the World Heavyweight boxing title in 1930 | You're working on this if you're practicing your golf play around the green |
Scores at the first commercial break (after clue 17):
| | | |
| --- | --- | --- |
| Brian | Marianne | Ross |
| $3,800 | $200 | $4,600 |
Scores at the end of the Jeopardy! Round:
| | | |
| --- | --- | --- |
| Brian | Marianne | Ross |
| $9,600 | $1,200 | $5,000 |
Double Jeopardy! Round
FAMOUS PEARS
(Alex: Notice the spelling this time.)

A famous quotation about this pear variety also called the Williams is that it accounts for about 50% of U.S. production

A 1562 ordinance against public ostentation turned this city's gondolas black; they still are

As opposed to the armed service, this group handles the government's administrative functions

It was Georges Bizet's last & most famous opera

Simon & Garfunkel told her that "Jesus loves you more than you will know, wo, wo, wo"

The fruits of this cactus plant are known as tunas

Due to an earthquake, in October of 1562 Chile was hit by one of these reported to be 52' high

Some cities are planned with a mayor & this body, some with this body and a manager

This opera Georges Bizet composed in 1865 about the terrible czar wasn't performed until 1946

Otis Redding was "Sittin' on" this title spot "watchin' the tide roll away"

This tropical fruit is among my favorites

This winter pear shares its name with a region in the Loire valley

The shroud of the French occupation of this town was lifted in 1562 when it became the seat of the Dukes of Savoy

In England MP & PM are short for these 2 posts

In 1875 Bizet was honored by being a chevalier of this French legion

Tom touts this as the best beer

Also called the Chinese pear, most varieties of this type of pear are grown in Japan

This saint of Avila founded her order of Barefoot Carmelites

Term for a chief minister of state; it's also the last name of a late NBC newscaster

Bizet served in the national guard to protect Paris from a siege of the city during this 1870-71 conflict

"Don't hang around and let your problems surround you, there are movie shows" here

I like to paddle mine on the ocean

The Passe-Crassane was created by crossing a pear with this pectin-rich fruit

Tubes in the body are named for Bartolomeo Eustachio & this contemporary Italian anatomist who died in 1562

Next to the president is the vice president; this "vice" is the crown's main representative in a territory

A musical prodigy, by age 10 Bizet was studying in Paris under this famous composer of the 1859 opera "Faust"

"If I were" this "and you were a lady, would you marry me anyway? Would you have my baby?"
Scores at the end of the Double Jeopardy! Round:
| | | |
| --- | --- | --- |
| Brian | Marianne | Ross |
| $26,400 | $4,800 | $9,000 |
| (lock game) | | |
Final Jeopardy! Round
2 of the 3 4-letter countries of Africa
Final scores:
| | | |
| --- | --- | --- |
| Brian | Marianne | Ross |
| $31,400 | $600 | $13,000 |
| 2-day champion: $52,800 | 3rd place: $1,000 | 2nd place: $2,000 |
Game dynamics: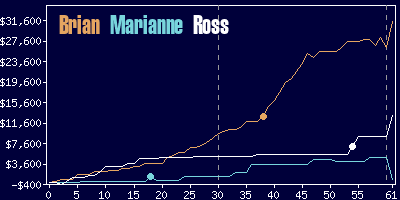 Brian
Marianne
Ross
$26,400
$5,600
$9,000
34 R
(including 1 DD),
3 W
7 R,
2 W
(including 1 DD)
12 R
(including 1 DD),
1 W
Game tape date: 2002-12-11