Show #3247 - Tuesday, October 20, 1998
Jeopardy! Round
| | | | | | |
| --- | --- | --- | --- | --- | --- |
| | | | | STATE DEPT. TRAVEL WARNINGS | |
| In its last chapter, the hero tells his father, "Love means never having to say you're sorry" | Close proverbially counts in this sport, but a ringer counts the most | In '06 these events devastated San Francisco in April & Valparaiso, Chile in August | Number of nursery rhyme blackbirds baked in a pie divided by number of nursery rhyme blind mice | The U.S. uses the Swiss embassy in Iran to conduct business & the Polish embassy in this neighboring country | This form of billiards uses 15 red balls & 6 colored balls |
| Ralph survives on the island but Piggy is less lucky in this William Golding classic | Justin Huish of the U.S. took a bow when he won a gold in this sport at the 1996 Olympics | Blind in one eye, Frank McGee scored 14 goals in one game to win this trophy for Ottawa in '05 | Number of ounces in a standard avoirdupois pound divided by number of cups in a gallon | Say so long to Sarajevo; the U.S. has been warning people about visiting this country since 1992 | Oscar-nominated film in which Dustin Hoffman played both Michael Dorsey & Dorothy Michaels |
| Albert Camus' French work "L' Etranger" has been translated as "The Outsider", but more commonly as this | Now a sport that can include a 10,000 foot free fall to a target, the equipment dates back to 1797 | This barbershop favorite was a campaign song for "Honey Fitz" Fitzgerald | It's the square root of the square root of 81 | In June 1997 the U.S. closed its embassy in Brazzaville in this country & advises you not to visit | In 1967 the Rascals were doing this "Down a crowded avenue, doin' anything we'd like to do" |
| Norman Mailer was just 25 when this 1948 bestseller, his first novel, was published | Its center should be 5 feet, 8 inches off the tavern floor & you can stand 7 feet, 9 1/4 inches away from it | It began in '01 & the train of the same name began running from NYC to Chicago in '02 | Total number of U.S. representatives times total number of U.S. senators | If you decide to go to this country (against U.S. wishes), really avoid the city of Cali | Meaning the lot, pack or crowd, it's often paired with kit |
| Saul Bellow's title characters include Herzog, Humboldt & this man, "The Rain King" | The target in this Italian sport, also known as lawn bowls, is called the jack | | It's the number you get when you raise 10 to the fifth power | With tensions between Ethiopia & this country mounting, the State Dept. warned Americans to get out | From the Tamil language for "curl", it's a cigar with square-cut ends |
Scores at the first commercial break (after clue 12):
| | | |
| --- | --- | --- |
| Tammy | Greg | Debra |
| $1,600 | $200 | $700 |
Scores at the end of the Jeopardy! Round:
| | | |
| --- | --- | --- |
| Tammy | Greg | Debra |
| $2,800 | $200 | $500 |
Double Jeopardy! Round
WHO WON THE OSCAR?
(we'll give you a choice)

Composer baptized with the given names Joannes Chrysostomus Wolfgangus Theophilus

This man shared a Nobel Prize with his wife Marie

Mizen Head, this country's southernmost mainland point, lies in County Cork & that's no blarney

Born in Norway, he coached the Fighting Irish

Al Pacino, for "Scent of a Woman"; Robert Downey Jr., for "Chaplin"; Denzel Washington, for "Malcolm X"

He pushed for a New Deal in 1932 & appealed to the "forgotten man at the bottom of the economic pyramid"

Shakespeare mentioned this folk tune attributed to Henry VIII in "The Merry Wives of Windsor"

He was one of the early card-carrying members (of the Communist Party) before "getting the axe"

Seixas Point, the easternmost point on the mainland of the Americas, lies in this country

You might be ticked off if you catch this disease caused by the microorganism rickettsia rickettii

Tom Cruise, for "Jerry Maguire"; Geoffrey Rush, for "Shine"; Ralph Fiennes, for "The English Patient"

Jack Dempsey in 1926 & Ronald Reagan in 1981 quipped they "forgot to" do this

The stringed instrument played sitting cross-legged on the floor, sometimes with a tabla, an Indian drum

Born in Scotland, this author spent time in the United States & the South Seas

Only 4 nations lie south of 40 degrees south latitude: Australia, New Zealand, Argentina & this one

The Stray Cats revived this kind of rock in 1982

Brad Pitt, for "12 Monkeys"; James Cromwell, for "Babe"; Kevin Spacey, for "The Usual Suspects"

In this Eagles song, "Some dance to remember, some dance to forget"

The 3 clef signs in current use are C, F & this, also known as treble

This woman's silent films include "The Torrent" & "Flesh And The Devil"

The L.A. Thunderbirds could tell you 2 bruising teams on skates lap each other to score in this sport

Jodie Foster, for "Nell"; Jessica Lange, for "Blue Sky"; Winona Ryder, for "Little Women"

In this 1945 Hitchcock classic, Gregory Peck doesn't remember if he committed a murder

A victim of friendly fire, this man was born in Clarksburg in what is now West Virginia

"Sow" these at breakfast, but make sure they've been hulled & steamed

Robert Loggia, for "Jagged Edge"; Eric Roberts, for "Runaway Train"; Don Ameche, for "Cocoon"

You probably forgot you knew this word was Greek for "forgetfulness"
Scores at the end of the Double Jeopardy! Round:
| | | |
| --- | --- | --- |
| Tammy | Greg | Debra |
| $5,400 | $7,600 | $1,100 |
| | | |
Final Jeopardy! Round
WORDS FROM PHYSICS
(Alex: Oh boy!)
It means "relating to the motion of projectiles", or "very angry"
Final scores:
| | | |
| --- | --- | --- |
| Tammy | Greg | Debra |
| $2,201 | $4,399 | $100 |
| 2nd place: Daewoo TV/VCR Combo & Direct TV Satellite System | New champion: $4,399 | 3rd place: Ducane Par-T-Grill |
Game dynamics: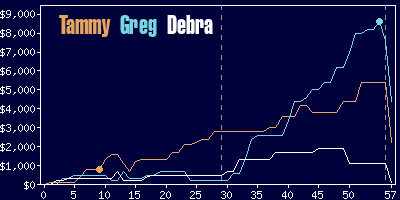 Tammy
Greg
Debra
$5,100
$8,600
$1,100
17 R
(including 1 DD),
3 W
19 R,
4 W
(including 1 DD)
9 R,
2 W
Game tape date: 1998-09-01