Show #3223 - Wednesday, September 16, 1998
Lance Johnson game 1.
Jeopardy! Round
| | | | | | |
| --- | --- | --- | --- | --- | --- |
| | | | | | |
| MacArthur Park in this Arkansas capital honors General Douglas MacArthur, not Richard Harris | (Small "V" on top of a large "W", enclosed in a circle) | The "R" in the MMR vaccine stands for this | In 1998 he hit the big screen as "Dr. Dolittle" | It's the only "W" in the NWF & the second "W" in the WWF | |
| This capital has been home to the NBA's Kings since 1985 | (Stylized "H" inside a square) | New studies have found artemether as effective as quinine in treating this disease | She plays Dr. Mary Albright on TV's "3rd Rock From The Sun" | This "bird-brained" group runs 8 education centers & over 100 sanctuaries in the U.S. | |
| Its one daily newspaper is the Idaho Statesman | | Nicknamed the "kissing disease", it's commonly caused by the Epstein-Barr Virus | In 1991's "Father Of The Bride", he played wedding planner Franck Eggelhoffer | This San Francisco-based group's books have very de"muir" text & Ansel Adams photos | "Specter Lurking in a Certain Paris Theatre" |
| The old governor's mansion in this capital was built by Huey Long in 1930 | (Interlocking "T" & "O" on a circle) | In WWII Charles Drew persuaded blood banks to store this instead of whole blood; it keeps longer | This comic seen here recently hit the streets in "Lethal Weapon 4" | Founded in 1971 to protest U.S. nuclear weapon testing in Alaska, it broadened its scope to the world | |
| The Peachtree Road Race is a 6-mile run held every July 4 in this capital | (Three diamonds, which is also what the name translates to) | The virus that causes this kids' disease can cause shingles in later life | This one-time regular got an Oscar nomination for her role as the frustrated fiancee in "In & Out" | This Arlington, Virginia-based conservancy protects species & habitats by buying lands | |
Scores at the first commercial break (after clue 14):
| | | |
| --- | --- | --- |
| Anne | Jenny | Lance |
| $1,900 | $200 | $1,600 |
Scores at the end of the Jeopardy! Round:
| | | |
| --- | --- | --- |
| Anne | Jenny | Lance |
| $2,700 | $1,700 | $3,200 |
Double Jeopardy! Round
IS THERE A DOCTOR IN THE HOUSE?

Queequeg, a tattooed cannibal, is Starbuck's harpooner aboard the Pequod in this 1851 novel

His son Tony wrote the last film he directed, "The Dead"; his daughter Anjelica starred in it

The colonists darkened their faces & dressed up (admittedly badly) as these

In 1977 Jimmy Carter awarded this polio vaccine pioneer the Presidential Medal of Freedom

The AP received his 1897 telegram saying, "The report of my death was an exaggeration"

Don't be "mad", it's where Mel Gibson took Max in the third installment

This novel begins: "Samuel Spade's jaw was long and bony..."

Dennis Weaver is terrorized by a truck in "Duel", a 1971 TV movie this wunderkind directed in his 20s

After taking part in the Tea Party, he rode to Philadelphia in a less famous ride to report on it

Apollo & Asclepius are 2 gods mentioned in his oath

Character whose father says the following:
"Murder, most foul, as in the best it is but this most foul, strange and unnatural"

The degree to which the prosecution must prove its case to obtain a guilty verdict

The line "A dozen Hurons fell by a discharge from Chingachgook and his band" is from this novel

(VIDEO DAILY DOUBLE):
The first American film Alfred Hitchcock directed was this 1940 classic, seen here:
"You thought you could be Mrs DeWinter, live in her house, walk in her steps, take the things that were hers, but she's too strong for you, you can't fight her..."

Historians believe he gave the signal for the Tea Party (not the beer party) to begin

This "Study in Scarlet" author began writing while waiting for patients who never came

"Any man's death diminishes me...and therefore never send to know" this

Upton Sinclair novel that ends: "Chicago will be ours! Chicago will be ours!"

This actor directed himself & wife Trish Van Devere in the 1974 film "The Savage Is Loose"

In retaliation the British passed a series of laws the Colonists dubbed these

In 1852 this first U.S. woman doctor published her lectures on "The Physical Education of Girls"

Oscar Wilde says "The coward does it with a kiss, the brave man with a sword"

Novel in which Willa Cather wrote, "The Shimerdas were the first Bohemian family" in the area

David Lean co-directed the WWII film "In Which We Serve" with this "Blithe Spirit" playwright

The tea belonged to this company whose monopoly angered the colonists

In the 18th C., this Italian anatomist showed that electric current affects nerves & causes muscles to act

In "Fathers And Sons" he wrote "Go and try to disprove death. Death will disprove you."
Scores at the end of the Double Jeopardy! Round:
| | | |
| --- | --- | --- |
| Anne | Jenny | Lance |
| $4,500 | $3,800 | $9,800 |
| | | (lock game) |
Final Jeopardy! Round
It's the only continent with no active volcanoes
Final scores:
| | | |
| --- | --- | --- |
| Anne | Jenny | Lance |
| $2,500 | $6,200 | $10,599 |
| 3rd place: Samsung Impax 300i Contact Zoom APS Camera | 2nd place: Daewoo 19-inch Color TV/VCR system & Broyhill Entertainment Armoire | New champion: $10,599 |
Game dynamics: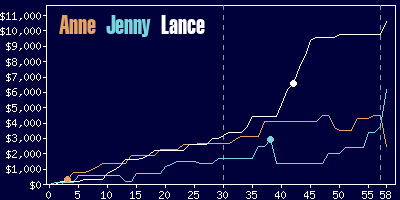 Anne
Jenny
Lance
$4,400
$5,300
$9,400
15 R
(including 1 DD),
2 W
13 R,
3 W
(including 1 DD)
23 R
(including 1 DD),
0 W
Game tape date: 1998-07-15