Show #8824 - Thursday, March 9, 2023
2023 High School Reunion Tournament final game 2.
Jeopardy! Round
| | | | | | |
| --- | --- | --- | --- | --- | --- |
| | THE LONG-AGO 20th CENTURY | | | | |
| Alliterative nickname for just the last 2 rounds of the NCAA basketball championship, featuring a quartet of teams | This term applied to many female activists of the early century is from Latin for "right of voting" | It can mean a pupil or a follower of anyone, not just of Jesus | Yum! tries to live up to its name, owning Taco Bell & this chain that boasts "Pepperoni Lover's" slices | It includes the pharynx & parts of the trachea & the esophagus | Baseball players call an unhittable pitch this adjective also found before "rich" |
| In 2022 this numeric conference announced plans to grow to 16 schools, 2 in Calif.; no word about a possible name change | This predecessor to the U.N. met for the first time in November 1920 | This word ends the first line of Shakespeare's "Richard III" | This oil company wants to be "a net-zero energy emissions business by 2050 or sooner", & become one "of its former self" | Named for its shape, it spans from the heel to the ball of the foot | Maggot farmer was one of the options Mike Rowe explored as the host of this Discovery Channel TV show |
| The NCAA needs permission from Major League Baseball to use this name for an event held each summer in Omaha | Announced in a 1947 speech, this president's "Doctrine" provided the basis for U.S. Cold War policy | To protect sensitive information, you may be asked to sign an NDA, a non-this agreement | "We are" this insurance company with a shield logo, bum pa-dum, etc. | It's one of the layers of cartilage seen here | Synonymous with handheld vacuum for many, it's been picking up spilled cat litter & coffee grounds since 1979 |
| This SEC school won the 2023 NCAA football title game in convincing fashion with a 65-7 drubbing of TCU | The 1998 Good Friday Agreement helped quell decades of violence in this U.K. country | It can be a break or interruption, or the boundary between the Earth's crust & the mantle called the Moho, or Mohorovicic this | Talk about making a connection! In 2020 T-Mobile ran some numbers by this competitor, which agreed to a $26 billion merger | The occipital one in the brain processes visual information | "The Seven Dirty Words You Can Never Say on Television" was a routine by this late, great humorist |
| Gable Steveson won the 2022 NCAA heavyweight title in this, with 2 quick takedowns to beat Greco specialist Cohlton Schultz | Ford's 1913 adoption of this continuous workflow process reduced the time to build a car from 12-plus hours to 1 1/2 | Disturbing the peace & loitering can be part of the crime known as this type of "conduct" | In 2020 Lululemon spent $500 million to buy this fitness company whose wall-mounted device streams exercise classes | Macrophages destroy old or damaged cells when blood passes through this organ | For a traditional Cajun dish, add chicken liver or gizzards to this, making it "dirty" |
Scores at the first commercial break (after clue 15):
| | | |
| --- | --- | --- |
| Jackson | Maya | Justin |
| $3,400 | $1,400 | $2,400 |
Scores at the end of the Jeopardy! Round:
| | | |
| --- | --- | --- |
| Jackson | Maya | Justin |
| $3,600 | $2,400 | $3,000 |
Double Jeopardy! Round
| | | | | | |
| --- | --- | --- | --- | --- | --- |
| | | THERE'S A NAME IN THE TITLE | | | |
| It's from the Latin for "beginning", or a letter like the L in Samuel L. Jackson | U.S. island bearing the name of a Polynesian demigod | This 1815 Jane Austen title is just the heroine's first name | Ballet dancers in the preparatory position called "bras bas" hold these down low, as its French name says | Last name Sanchez, this gassy scientist creates a robot whose sole purpose is to pass butter | This word can refer to someone in charge of a train, or Susanna Malkki when she's leading a philharmonic |
| Inception is a synonym for this, also an event at the end of a college career | Baltic capital 600,000 strong | Annie is the real name of this Henry James title character who goes by a flowery nickname | Amneris in "Aida" is usually sung in this hyphenated vocal range, middle of the pack for women | In his spare time, Bumblebee of Autobot fame likes to disguise himself as a Beetle from this carmaker | A German version of Caesar, Kaiser was an official royal title until the end of this conflict |
| It's the first of a product before copies are made; KFC used it to describe their "first" recipe | Archipelago nation about 1,300 miles north of Auckland | The names of 2 lovers are in the title of this Shakespeare tragedy set during the Trojan War | Meaning "great" in Russian, this ballet company survived the Russian Revolution, World Wars & the Soviet breakup | WALL-E's robot girlfriend had this palindromic name | As her son Chlotar II was an infant when he became king in 584 A.D., his mom Fredegund served as this type of queen until he came of age |
| To begin the bidding in a card game or at an auction | Major industrial river valley region of northwest Germany | Chaim Potok's "My Name is" this traces the inner struggle of a young Jew whose artistry conflicts with his Orthodox faith | This 8-letter piece of music comes before an opera & contains themes of the entire piece | On "The Mandalorian" IG-11 is a lethal robot performing tasks for this guild, the same one the title character belongs to | As shown in a 17th century painting, Jesus is taken before Caiaphas who is this religious boss, kohen gadol, in Hebrew |
| Seen here are the skin cells described by this fundamental adjective | Colorado ski resort town in Eagle County | This Aristophanes play is named for the character who inspires the women of Athens & Sparta to end a war between the cities | The opposite of legato, it's the term for the short, clipped articulation employed by opera singers | The motions of the robot Baymax in this 2014 Disney movie were based on the movements of baby penguins | This type of govt. official sent to a foreign land shares its name with an elected leader in the days of the Roman Republic |
Scores at the end of the Double Jeopardy! Round:
| | | |
| --- | --- | --- |
| Jackson | Maya | Justin |
| $5,600 | $14,200 | $11,000 |
| | | |
Final Jeopardy! Round
After its completion in the late 19th c., it was called a "truly tragic street lamp" & a "high & skinny pyramid of iron ladders"
Final scores:
| | | |
| --- | --- | --- |
| Jackson | Maya | Justin |
| $11,198 | $21,240 | $21,991 |
Cumulative scores:
| | | |
| --- | --- | --- |
| Jackson | Maya | Justin |
| $35,198 | $24,610 | $35,561 |
| 1st runner-up: $50,000 | 2nd runner-up: $25,000 | Tournament champion: $100,000 |
Game dynamics: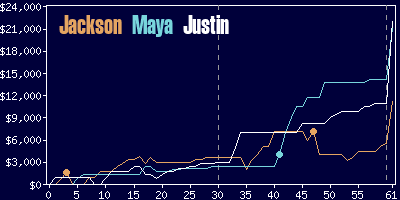 Jackson
Maya
Justin
$10,400
$12,400
$11,000
20 R,
7 W
(including 2 DDs)
13 R
(including 1 DD),
1 W
18 R,
3 W
Game tape date: 2023-01-31