Show #1211 - Monday, December 4, 1989
Missing introductions.
Jeopardy! Round
| | | | | | |
| --- | --- | --- | --- | --- | --- |
| | | | | | |
| Each August on Hawaii a harvest festival is held to honor this nut | If you don't finish your dinner you won't get any "afters", which is this | This star of "Charlie's Angels" was once married to Alan Ladd's son David | About 1 in 5 patents issued in the U.S. in 1988 went to inventors from this Asian country | John the Baptist used this river to baptize believers | This Allen Ludden series that premiered in 1962 featured a "Lightning Round" |
| A holomuu is a fitted version of this | A Cantabrigian is someone who is a graduate of this English university | Her daughters Ginna & Mary Dixie have played her nieces on "Designing Women" | A new type of this helps concrete cure much faster than the old standard Portland variety | The apostle Paul called this writer of the 3rd gospel "the beloved physician" | 14 years before her "Valley of the Dolls" became a best seller, she co-hosted "Your Surprise Store" |
| This beach on Mamala Bay was once a favorite resort spot for the island's monarchs | Americans wear braces on their teeth, & the British wear braces to hold these up | Of Mary Crosby, Denise Crosby or Cathy Lee Crosby, the one who isn't related to Bing Crosby | An architectural technique called base isolation uses rubber & steel pads to absorb waves from these | The New Testament refers to this town in Judea as the "city of David" | Summer reruns of this prime time NBC game show were entitled "The Best of Groucho" |
| A monument at Kealakekua Bay honors this man killed there in 1779 | The British wear pajamas just like we do, but spell "pajamas" this way | Steve Allen's famous sister-in-law who was born in China but "honeymoon"ed in Brooklyn | Gillette's Boston plant cut water usage 90% by fixing drips, installing sink regulators & doing this with the water | During the Hebrews' exodus from Egypt, God provided this white food resembling coriander seed | This newsman hosted "What's My Line?" for 17 1/2 years & was the show's last prime time mystery guest |
| Of the volcanoes that formed the Big Island of Hawaii, only these 2 are still active | This relatively new Britishism meaning "crummy" or "shabby" stems from "grotesque" | Sam Robards, who starred in "TV 101", is the son of Jason Robards Jr. & this actress | This emission control device on cars is a cylinder filled with metal-coated pellets | 1 of 2 books in the King James version of the Bible to bear the name of a woman | During much of its original run on NBC, "Jeopardy!" followed this Peter Marshall game show |
Scores at the first commercial break (after clue 15):
| | | |
| --- | --- | --- |
| Candy | Lisa | Larry |
| $2,800 | $100 | $200 |
Scores at the end of the Jeopardy! Round:
| | | |
| --- | --- | --- |
| Candy | Lisa | Larry |
| $5,300 | $1,400 | $1,500 |
Double Jeopardy! Round
The only African queen who appears in the title of a Shakespearean play

It's Monaco's largest town, I'll bet

The name of this bed sounds like it's made to hold corn, not children

It's the title phrase following "When somebody loves you, it's no good unless he loves you..."

Name for a generating station, or a person with lots of energy

In "Romeo & Juliet", Escalus is the prince of this city

This Lebanese capital has an Arab University, a French University & an American University

Also called a horse-dressing glass, a cheval glass is a full-length one of these that can tilt

In this 1967 winner Rex Harrison asked up to "imagine it, chatting to a chimp in Chimpanzee"

The ring-necked species of this game bird is South Dakota's official state bird

A maneuver to gain control used by politicians & football players

Hamlet says this is "the thing wherein I'll catch the conscience of the king"

The Palace of Nations in this city served as the headquarters for the League of Nations from 1920-46

The "Boston" variety of these chairs usually has a curved seat that dips down in front

Movie which gave us the following "Best Song" of 1964:

"Chim chiminey / Chim chiminey / Chim chim cher-ee! / A sweep is as lucky / As lucky can be..."

This "crazy" water fowl, also known as the great northern diver, is Minnesota's state bird

It is a document giving someone else the authority to act in your behalf

This tragic title character is the son-in-law of a senator named Brabantio

This largest city of the French Alps hosted the 1968 Winter Olympics

A duchesse bed is a canopy bed without these

Andy Williams used this song from "Breakfast at Tiffany's" as his TV theme but never had a hit single with it

If Louisiana gave you their official state bird, you've gotten one of these

It's the title of Norman Vincent Peale's 1952 best seller

This play features lords, pirates, a prince of Tyre & a 1-man chorus named Gower

New Hampshire's only seaport city is named for this city, Britain's' chief naval center

The famous 18th century cabinetmaker whose name sounds like a hotel

In 1989 Carly Simon won an Oscar for writing this song from "Working Girl"

This state bird of California lives in coveys in foothill areas

Slang for those in authority, according to Romans 13:1 they "are ordained of God"
Scores at the end of the Double Jeopardy! Round:
| | | |
| --- | --- | --- |
| Candy | Lisa | Larry |
| $10,500 | $2,000 | $5,600 |
| | | |
Final Jeopardy! Round
He was captured near Irwinville, Georgia on May 10, 1865
Final scores:
| | | |
| --- | --- | --- |
| Candy | Lisa | Larry |
| $14,000 | $200 | $1,300 |
| 2-day champion: $29,101 | 3rd place: Queen Anne chair from Action Recliners by Lane & Nintendo Entertainment System with Family & Junior editions of Jeopardy! + Wheel of Fortune | 2nd place: Gibson refrigerator-freezer & Bernardaud Limoges Rhapsody place setting |
Game dynamics: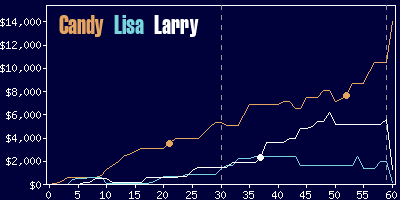 Candy
Lisa
Larry
$10,100
$2,000
$4,900
26 R
(including 2 DDs),
3 W
13 R,
3 W
15 R
(including 1 DD),
2 W
Game tape date: 1989-08-28