Show #8658 - Wednesday, June 8, 2022
Eric Ahasic game 3.
Jeopardy! Round
ALLITERATIVE SPORTS NO-NO's

This King Louis reigned for 72 years & once owned the Hope Diamond

If a teen has a Finsta, it's a secret account on this social media platform, hidden from parents

Food to keep it chilled, or plans that have to be delayed

It's when a pitcher intentionally hits you with the pitch

Restaurant Gordon Ramsay in London won the max 3 stars from this guide as "exceptional cuisine, worth a special journey!"

Louis XVIII was king from 1814 to 1824, except for the interruption of the "Hundred Days" when this man attempted a return to power

To stop all communication, particularly with a romantic partner, often suddenly & without explanation

10 bucks to win at Laurel Park

Ask the baby with the bib, bub; this basketball no-no can involve touching the ball twice before it hits the ground

Walt Bogdanich won a 2005 Pulitzer for reporting on corporate cover-ups following fatal accidents at these crossings

Kings Canyon National Park boasts the grove at Redwood Mountain, an impressive stand of giant these trees

Louis VIII fought against King John of England & had this nickname, like King John's older brother

Deriving from an Eminem song, this first name of an overzealous fan also became a verb

A Kurt Adler star or angel finial

In tennis this no-no happens when the server steps over the baseline on a serve

In 2014, this music legend seen here, a 7-time Oscar nominee, was awarded the prestigious Spingarn Medal

Steinbeck could appreciate this nearly 10,000'-deep Submarine Canyon off the Pacific coast, with tributaries in the same-named bay

Louis XII couldn't stop warring in Italy & was duke of this main city of Lombardy, not too far from the French border

Something hot can be this or straight this

--

it all sounds temperature related but isn't

Decca F.11940, released 1964

Type 2 of this NBA infraction is "unnecessary and excessive" & gets you an automatic ejection

In 2022 Diébédo Francis Kéré became the first Black winner of this architecture prize in its 43-year history

A canyon that got its religious name from Mormons is the main feature of this national park near St. George, Utah

To build France into a leading European power, Louis XIII worked for 2 decades with this chief minister & clergyman

Sounds like a mode of transport, but this word can mean fan-based support for the romantic pairing of fictional characters

Time out for a penalty in hockey; it's also the name of the group that had the 2001 hit song "Superman"

You likely won't hear him bragging about it, but this reclusive author of "Vineland" won a MacArthur Genius Grant in 1988

The ancestral Puebloans once lived in this canyon that despite the spelling, rhymes with "bay", not with "belly"
Scores at the first commercial break (after clue 15):
| | | |
| --- | --- | --- |
| Eric | Maggie | Tessa |
| $3,600 | $1,000 | $2,000 |
Scores at the end of the Jeopardy! Round:
| | | |
| --- | --- | --- |
| Eric | Maggie | Tessa |
| $6,600 | $800 | $3,800 |
Double Jeopardy! Round
| | | | | | |
| --- | --- | --- | --- | --- | --- |
| | | | | | |
| In the world of this author, District 1 provided luxury items; District 5, power & electricity | You don't have to go to Antarctica; Boulders Beach in South Africa has the African type of this flightless bird, with pink "eyebrows" | | This second-lightest gas is mixed with oxygen for use in scuba diving | This apostle & letter writer was a tent maker by trade, so he moved easily around the ancient world with tools & cloth | The "Love Street" in a 1968 song by this band was Laurel Canyon's Rothdell Trail, where Jim Morrison lived |
| John Updike had a devil of a time coming up with "The Witches of" this fictional Rhode Island town | Modern-day Druids visit this Mystic circle north of Salisbury, England that's thousands of years old | | Okay, we've heard about it regarding "fire & brimstone", but this element is used as a fungicide & in vulcanizing rubber | The story of Martin de Porres, the 1st Black saint in the Americas, includes this skill, letting him hover before the altar | The "N" in CSNY, he wrote the 1970 hit "Our House" about the Laurel Canyon home he shared with Joni Mitchell |
| This author created Magrathea, which worked to create a second earth, as the first was destroyed by Vogons to create a galactic bypass | This ancient Israeli fortress was the site of a 1st century siege after the fall of Jerusalem | | Predynastic Egypt used this element in glassmaking; today, we'd be pretty lost without it as a semiconductor in computers | In a vision on the wall of her room, St. Clare witnessed a mass & so today is the patron saint of this modern invention | Stars flocked to the 1970s football & poker nights at the "Kirkwood Casino", the home of this late Eagles singer |
| Norton Juster wrote up Dictionopolis & ran the numbers on Digitopolis, rival cities in this children's classic | Rio de Janeiro is home to this soccer stadium that held its second World Cup final in 2014 | | A 1954 report noted this lightest of the solid elements "appears to offer a useful alternative" to electro-convulsive therapy | Story goes the patron saint of Wales, St. David, lived on nothing but water & these onion relatives | An epicenter of the 1960s Laurel Canyon scene was the house of Cass Elliot, big-voiced star of this group |
| In an H.G. Wells book, this doctor has established a camp for creepy scientific research on a volcanic island | The northern lights are cool, but at Mt. Wellington in Tasmania, you can see the southern lights, also called the "aurora" this | Slow & dignified, musically | A pacemaker can use heat from this radioactive element, No. 94, as it decays to generate the electricity that stimulates the heart | St. Francisco Marto, one of 3 children who saw the Virgin Mary in this Portuguese town in 1917, died in the flu pandemic in 1919 | Looking out from her daughter's dining room, Joni Mitchell's mom was shocked by goings-on at this man's place next door |
Scores at the end of the Double Jeopardy! Round:
| | | |
| --- | --- | --- |
| Eric | Maggie | Tessa |
| $30,600 | $3,600 | $11,800 |
| (lock game) | | |
Final Jeopardy! Round
A participant in this 1773 event recalled, "Some of our numbers jumped into the hold... I never labored harder in my life"
Final scores:
| | | |
| --- | --- | --- |
| Eric | Maggie | Tessa |
| $35,600 | $1 | $16,399 |
| 3-day champion: $75,601 | 3rd place: $1,000 | 2nd place: $2,000 |
Game dynamics: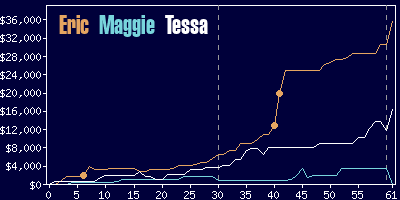 Eric
Maggie
Tessa
$19,600
$3,600
$11,800
26 R
(including 3 DDs),
2 W
9 R,
2 W
16 R,
4 W
Game tape date: 2022-04-19