Show #8652 - Tuesday, May 31, 2022
Ryan Long game 13.
Jeopardy! Round
Before becoming New York City mayor in 2002, he founded a financial news & information service

"Shakespeare in 1606" is the subtitle of James Shapiro's book rhymingly titled "The Year of" this great tragic play

Thomas Chippendale preferred this dark reddish-brown wood from the West Indies; the British had dropped duties on it in 1733

The apostolic letters or books of the New Testament

Sony Music made a boss move in 2021, paying more than half a billion for the recordings & music publishing of this Jersey guy

Its mayors have included Josiah Quincy, arranger of a certain market

A risque work "written" by one of this queen's ladies in waiting, "1601" was first published anonymously by Mark Twain in 1880

The shagbark species of this tree can produce seeds until it's 300 years old

--

"old" this indeed

From the Latin for "ask", it's a letter to a publisher to see if they might be interested in a work you're submitting

Deserving the Fleetwood max, this frontwoman sold a majority

--

but not all!

--

of her publishing for $100 million

He opposed speculation, gentrification & loud college parties as mayor of Burlington, Vermont from 1981 to 1989

A classic by a fellow Englishman inspired Anthony Burgess to write a book in response whose title is this, one year later

This rhyming plane that flew in 1947 was made of a plywood composite called duramold, lighter & stronger than aluminum

At the Stanford academic advising website, advice to students on getting these letters: take intro seminars to cozy up to a prof

Music rights for America (the band) went for $40 million in 2022 in part for having "been through the desert on" this title transport

London Breed is this California city's first African-American woman mayor

Herman Raucher based his coming-of-age novel about the summer of this year on his own experiences on Nantucket island

Often made from a 12-foot piece of oak, the wagon part extending to the left connects to a horse & has this anatomical name

Big in the 1930s, the "Good Luck of Flanders" one of these mentioned bad luck too, if you didn't pass it on

More like "tangled up in green"! Around 600 songs, selling for $300 million; that's 1/2 million a tune for this singer-songwriter

Elected in Chicago in 2019, this alliterative mayor made news when she had different views from the teachers' union in 2021

"Daybreak-2250 A.D." is by prolific author Alice Mary Norton, better known to sci-fi fans by this first name

To the sadness of guitar players, this "flowery" wood prized for fretboards comes from an endangered tree

A letter of marque was a government grant to a private individual to engage in naval operations otherwise considered this

In 2021 the estate of this "Dance With My Father" R&B singer who left us far too soon at 54 made a $40 mil. deal with Primary Wave
Scores at the first commercial break (after clue 15):
| | | |
| --- | --- | --- |
| Ryan | Kenny | Carissa |
| $4,000 | -$400 | -$800 |
Scores at the end of the Jeopardy! Round:
| | | |
| --- | --- | --- |
| Ryan | Kenny | Carissa |
| $9,600 | $1,600 | -$600 |
Double Jeopardy! Round
IT ONLY BORDERS ONE COUNTRY

GOING "PRO"
(Mayim: Those three letters begin each response.)

"Shooting at the butts" (man-made mounds of earth) was a popular way to practice this discipline

If it wasn't for its access to this ocean, the Gambia would be completely surrounded by Senegal

Though it doesn't have airplanes, Saturn has this band of 200-mph winds moving around its North Pole in a hexagonal pattern

All babies have flat feet, but if you develop the condition later in life, it's called fallen these

If they gain the readers' sympathy, even a villain can be this main character of a story

This European nation has been nicknamed "The Land of the 3 F's: Fado, Fatima & Futebol"

The largest known of these compounds, titin has over 34,000 amino acids; its full chemical name has more than 34,000 characters

Please pass over this bread in unleavened form or now that I think of it, as a ball in some delicious soup

Instead of being passive about the situation, let's be this & take initiative in advance

A serf who could hide out in a town for this long, "un an et un jour" in French, became a free citizen

Technically an ecclesiastical state, it's found west of the Tiber

A study of these notorious bacteria, genus Escherichia, showed they swarm to fight antibiotics & even dead ones participate

"Tortilla Flat", a 1935 novel set in Monterey, established him as a successful author

It's the chief dignitary at some cathedrals, or a chief academic officer at a university

In 1279 these invaders ended China's Song Dynasty

The Islamic Sultanate of Brunei is in 2 parts, each of which borders only this nation, on the island of Borneo

Around 1911 Arthur Holmes postulated Earth's age could be estimated by measuring the decay of this radioactive element into lead

In 2021 a vehicle aptly named Speed Demon hit 466 mph at these salt flats in Utah

Based on how they move, these single-celled organisms can be divided into 4 major groups, including ciliates & flagellates

A sharp medieval thinker's name is attached to this rule of logic that says simple solutions are better than complex ones

One of the world's newest countries, its "West"ern counterpart is administered by Indonesia

The "Woodstock of Physics" was a 1987 conference on this phenomenon where electricity zips through certain very cold materials

Some Native Americans practiced skull binding for a rounded look; Lewis & Clark called the Salish this because they didn't

As Mila Kunis' best friend in "The Spy Who Dumped Me"

In the "Communist Manifesto", it's said that the fall of the bourgeoisie & the victory of this worker class is inevitable
Scores at the end of the Double Jeopardy! Round:
| | | |
| --- | --- | --- |
| Ryan | Kenny | Carissa |
| $28,400 | $6,800 | $4,200 |
| (lock game) | | |
Final Jeopardy! Round
Referring to the book's title, this character says, "I know it's a poem by Robert Burns"
Final scores:
| | | |
| --- | --- | --- |
| Ryan | Kenny | Carissa |
| $26,400 | $8,401 | $100 |
| 13-day champion: $252,700 | 2nd place: $2,000 | 3rd place: $1,000 |
Game dynamics: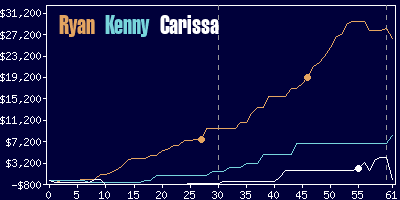 Ryan
Kenny
Carissa
$26,600
$6,800
$4,200
31 R
(including 2 DDs),
2 W
7 R,
1 W
9 R
(including 1 DD),
3 W
Game tape date: 2022-04-01