Show #8507 - Tuesday, November 9, 2021
Jeopardy! Round
ANOTHER ONE BITES THE CRUST

THE END
(Ken: You'll need to name each literary work from the last line.)

When the U.N. was founded, Gladwyn Jebb of the U.K. did this job in an acting capacity from October 1945 through January 1946

Jamal wins 20 million rupees after getting the final question right in this 2008 movie

After his wife had a terrifying jump with an automatically deploying parachute, Floyd Smith invented this manual release

I want some more key lime pie, especially with a crust made using these Honey Maid items

Tights & stockings
(7 letters)

"He had won the victory over himself. He loved Big Brother"

With about 240 athletes from 14 countries, the modern Olympics began in this year in Athens, Greece

In "Brave", Merida discovers a loophole & "wins" her own hand in marriage through a contest in this sport

Many Australians celebrate this holiday in a homegrown way with a chocolate bilby; that's a marsupial

In 1995 Pizza Hut introduced original stuffed crust pizza, stuffed with "100% real" this cheese

Songbook for Sunday
(6 letters)

"God bless us, every one!"

This body first assembled Feb. 1, 1790, but John Jay had to postpone actual proceedings a day as not all the members had made it

In a 1994 film this character receives a Medal of Honor from LBJ after being wounded "in the buttocks"

The 1921 book "The Witch-Cult in Western Europe" sets 13 as the number of members in this group

It's French for "in crust" & salmon is one food often prepared comme ça

God of the underworld
(5 letters)

"It was the devious-cruising Rachel, that in her retracing search after her missing children, only found another orphan"

A short film by these brothers of workers leaving a factory is considered the world's first motion picture

In "Never Say Never Again", this Bond actor settles for a dance with Kim Basinger after winning a game vs. the villainous Largo

Extremely cold & difficult to store, this gas is prone to shortages, like one in 2019 that made life tough for Party City stores

The Washington Post noted, "The thinner the wrapper, the flakier the crust" in this "seasonal" Chinese appetizer

A daily in Miami
(6 letters)

"Aunt Sally she's going to adopt me and sivilize me and I can't stand it. I been there before"

Around 650 B.C.Greek colonists founded a city on the Bosporus that they called this; it would later be the capital of empires

At the end of a 2009 movie this title guy is offered his dream job but instead continues to protect shoppers at the West Orange Pavilion

When MLB pitcher Jim Gott faced batter Tim Teufel, in German it was a confrontation of these 2 beings

A Pillsbury recipe offers up their original crescent rolls for a crisp crust enclosing tenderloin steaks in this dish for 2

Shaggy-haired & bewhiskered
(7 letters)

"Oh, my girls, however long you may live, I never can wish you a greater happiness than this!"
Scores at the first commercial break (after clue 15):
| | | |
| --- | --- | --- |
| Dane | Greg | Hillary |
| $4,000 | -$200 | $3,200 |
Scores at the end of the Jeopardy! Round:
| | | |
| --- | --- | --- |
| Dane | Greg | Hillary |
| $5,600 | $1,200 | $5,600 |
Double Jeopardy! Round
SOME CREATURES GREAT & SMALL

FIRST NAMES WITH CHARACTER

Silk from the orb-weaver type of this animal can be packed so densely that it has been used to make violin strings

In a 1435 essay Leon Battista Alberti declared that an art renaissance was occurring in this city of Leonardo

As the name implies, even for a giant company it can be a single page showing a business' assets & liabilities

This sister of Rumer & Tallulah Willis was named for a character in "To Kill a Mockingbird"

An important industrial center, this city is also home to the Welsh central government

Heavy poaching of Persian gazelles contributed to the near extinction of the Asiatic cheetah, mainly found in this country

After seeing a painting by Monet, critic Louis Leroy derisively gave this movement its name

If rate of yield fails to increase in proportion to investment beyond a certain point, you get these declining 2-word profits

The daughter of Michelle Williams & Heath Ledger is named for this Roald Dahl book

Mohammed V Square is the central plaza in this city but you probably won't find any gin joints there

A guanaco relative's shopping complex

With feathers that look like quills sticking from its head, a predatory bird of Africa had this office worker name

Lawrence Alloway is credited with this 2-word term for work that uses comic strips, soup cans & the like as subject matter

It's the horticultural term for a largely unregulated private partnership group using speculative investment strategy

In the U.S., this first name from "Gone with the Wind" is more often given to girls, but boy band & Broadway star Parker Angel has it

Seen here is the coat of arms of this German city whose name derives from a 10th century stud farm

An eager female opera star

The black species of this African mammal vulnerable to poaching is recovering from a 98% drop in its numbers

Christopher Knight criticizes museums as shortsighted for funding operations by selling art

--

in museum-speak, this "de"-verb

As the name suggests, when buying a home it's a deposit paid to the seller to demonstrate a buyer's good faith

Dwayne Johnson named a daughter this, also the first Black Disney princess

In 1961 Stalingrad was renamed this, for the river on which it lies

This duck seen here sounds like it's named for a Russian place

Clement Greenberg said the 1943 work "Mural" showed this man was the greatest painter the U.S. had produced

Some traders specialize in this, the simultaneous buying & selling of the same asset at different prices in different markets

Known for period dramas like George Eliot adaptations, actress Garai has this first name of an Eliot title character

Argentina's second-largest city is named for this Spanish city; both are known for their leather
Scores at the end of the Double Jeopardy! Round:
| | | |
| --- | --- | --- |
| Dane | Greg | Hillary |
| $16,600 | $4,800 | $16,800 |
| | | |
Final Jeopardy! Round
In 1976 "Bohemian Rhapsody" was replaced at No. 1 on the U.K. charts by this Europop song whose title is heard in Queen's lyrics
Final scores:
| | | |
| --- | --- | --- |
| Dane | Greg | Hillary |
| $6,799 | $4,800 | $199 |
| 2-day champion: $34,799 | 2nd place: $2,000 | 3rd place: $1,000 |
Game dynamics: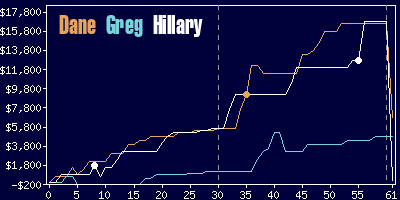 Dane
Greg
Hillary
$14,800
$4,800
$15,200
19 R
(including 1 DD),
2 W
12 R,
2 W
16 R
(including 1 DD),
1 W
(including 1 DD)
Game tape date: 2021-09-27