Show #8364 - Thursday, March 25, 2021
Champion's winnings & consolation amounts matched to HealthCorps.
Jeopardy! Round
CELEBRITY SIBLING SURNAMES

GOOD "BI"
(Mehmet: These responses start with the letters "B-I".)

The icon of this button has a one & a zero to show its binary nature

Estragon & Vladimir meet up with Lucky & Pozzo but not the title character of this play, a real Beckett of laughs

Florida's Bahia Honda State Park covers an entire island in this chain in the Gulf of Mexico

Goldie's kids Kate & Oliver

Studies show that drinking an herbal tea made from this flower may have heart-healthy benefits

Around 1850 in Kenya, missionary Ludwig Krapf translated this book into Swahili

A 3-letter icon on a piece of technology says that it has been okayed by this government commission

What Willy Loman tries to sell for the Wagner Company is not specified in this drama

Fort Griswold Battlefield State Park marks Conn.'s largest battle of the Revolution, with this traitor helping the Brits to victory

In an idiom, a big to-do over a tiny matter is described as this "in a teacup" or "teapot"

Zoologists don't consider the American buffalo a buffalo; they use this word instead

A series of three connected dots is an icon for this 7-letter action with files, not toys

He created strong female characters in "Hedda Gabler" & "A Doll's House"

With boating, camping & fishing, Alabama's Meaher State Park is on this bay that's an arm of the Gulf of Mexico

British stage & film stars Ralph & Joseph

Yup, it's a teacup one of these terrier breeds in a teacup

In 2009 the Supreme Court tackled a case on judicial this type of favoritism

On the road, the icon here means this 4-letter staple of modern life is available

James Earl Jones & Jason Robards have both played Hickey in this chilly play by Eugene O'Neill

Bothe-Napa Valley in California has the farthest inland groves of the giants called "Coast" these of any state park

Race car drivers Kyle & Kurt

Reese Witherspoon pays homage to her grandmother & her southern heritage in the lifestyle book called this booze "in a Teacup"

Tundra is an example of this unique type of habitat with a 5-letter name

In many systems, a machinery part is the icon for this basic function of customizing your device with your preferences

In a 2016 Broadway revival, Diane Lane starred as the woman who must sell her family's estate in this Chekhov play

First held in 1954, this annual jazz festival moved to Rhode Island's Fort Adams State Park in 1981

Carnie & Wendy, 2/3 of a pop trio

A house one of these birds enjoys some seeds & rest in a teacup bird feeder

From Latin for "two-forked", it means to divide into 2 branches, like a river
Scores at the first commercial break (after clue 15):
| | | |
| --- | --- | --- |
| Amal | Doug | Lisa |
| $600 | $1,800 | $2,800 |
Scores at the end of the Jeopardy! Round:
| | | |
| --- | --- | --- |
| Amal | Doug | Lisa |
| $1,600 | $3,200 | $8,600 |
Double Jeopardy! Round
BORN DURING THE CIVIL WAR

Here's something to chew on

--

this Civil War baby would grow up to create a chewing gum empire

Poseidon, the Greek god of the sea, is usually depicted holding this weapon

While "The Walking Dead" takes place primarily in the South, "Fear the Walking Dead" started in this city

It's the 4-letter nickname for London's subway system

Queens of this "sweet" insect species emit a "queen substance" that attracts males from other hives

Alone or preceded by "molly", this verb means to treat in an overindulgent way

Ernest Lawrence Thayer, who was born in 1863, would hit a home run with this poem published in 1888

In Hawaiian religion, she is the goddess of volcanoes & fire

Like "Breaking Bad", "Better Call Saul" is set primarily in this U.S. state

In Laughlin, Nevada water taxis will take you from one casino to the next along this river

A pheromone in the "desert" type of these insect pests leads to them forming swarms of biblical proportions

The Bible, including the book of Proverbs, gives us "gird one's" these

Across the pond Joseph Merrick developed deformities that cruelly earned him this nickname

A top Mayan deity, Kukulkan is sometimes depicted as a feathered one of these real-life creatures, also the meaning of his name

The first season of "Narcos" tells the story of Pablo Escobar's rise to the top of the drug world in this country

Atlanta's metropolitan area has this rapid transit rail system, similar to the Bay Area's BART

Some evidence indicates that androstadienone found in this human skin excretion boosts women's moods

The name of this job that provides child care is a French phrase meaning "equal"

This president's first wife Alice & his second wife Edith were both born during the early days of the war in 1861

All's fair in love & war, 2 things this Babylonian deity, Astarte's counterpart, is goddess of

Amidst odd happenings on this show, agent Dale Cooper ate delicious cherry pie at the Double R Diner

You & your car can travel by ferry from Washington State to the town of Sidney, British Columbia on this island

To attract mates female moths emit a plume of pheromones, which are in turn detected by this body part on males

Mawashi is the name for the garment worn by this athlete

The son of a Civil War officer, he would become famous for his Wild West artwork like "The Bronco Buster"

This Egyptian deity of mummification & the dead shared canine traits with the jackal god Wepwawet

Priyanka Chopra played an FBI recruit when this ABC drama with a place name title debuted in 2015

A New York City tramway carries passengers between Manhattan & Roosevelt Island over this river

Pheromones of these eel-like fish are used to lure them into traps, helping curb their invasion of the Great Lakes

This dish in which chicken is simmered with herbs gets its name from the Italian for "hunter"
Scores at the end of the Double Jeopardy! Round:
| | | |
| --- | --- | --- |
| Amal | Doug | Lisa |
| $8,000 | $14,800 | $14,600 |
| | | |
Final Jeopardy! Round
The now-debunked theories of Luigi Galvani influenced the science in this 1818 novel
Final scores:
| | | |
| --- | --- | --- |
| Amal | Doug | Lisa |
| $15,999 | $199 | $16,100 |
| 2nd place: $2,000 | 3rd place: $1,000 | New champion: $16,100 |
Game dynamics: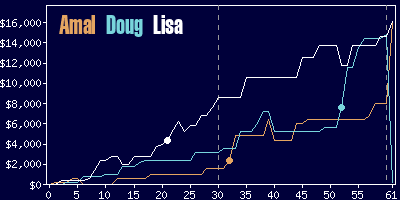 Amal
Doug
Lisa
$6,800
$12,400
$14,200
12 R
(including 1 DD),
2 W
17 R
(including 1 DD),
1 W
20 R
(including 1 DD),
3 W
Game tape date: 2021-02-01