Show #262 - Tuesday, September 10, 1985
Returning champions were placed at the far right lectern.
Numerous scorekeeping errors made throughout the game.
Jeopardy! Round
| | | | | | |
| --- | --- | --- | --- | --- | --- |
| | | | | | |
| A gravedigger hands Hamlet this person's skull | Though a she, on screen this collie was always played by a he | Both the U.S. & Canada draw electricity by harnessing this natural wonder on their border | The livers of chickens & these gilled animals are good sources of vitamin A | It means "dancing" in Hawaiian | Fairies like privacy & respect people who can keep one of these |
| Hamlet says, "Let Hercules himself do what he may, the cat will mew & the dog will have" this | This dolphin was played by Mitzi, the 1st one trained to work in water with people | | Parsley, turnip greens, & guava have a much higher content of this vitamin than oranges do | Because they were taken down in small fast writing, notes of a meeting were called this | Brownies wear brown but pixies wear this color |
| He won Best Actor Oscar for 1948 film version of "Hamlet", which also won Best Picture | Cowboy actor Chill Wills made sort of a jackass of himself doing this voice | The 2 utilities in "Monopoly" | A sunscreen when applied externally, B vit. para-amino benzoic-acid is better known as this | From Spanish "juzgado", meaning courtroom, comes this nickname for jail | According to Elwood P. Dowd, this 6 ft. rabbit is a pooka |
| Tom Stoppard wrote a version of Hamlet in which these 2 minor characters are central & "Dead" | Borrowing him for "Our Gang", they did this to Pete the pup to change his looks | | A lack of protein & this mineral contribute to anemia | Meaning "cord fit for a king", it's now a fabric for us commoners | Leprechauns supposedly make these items for fairies to wear |
| He advises his son Laertes, "Neither a borrower nor a lender be" | This 1965 film starred a big cat with an ocular oddity | World's largest landfill, receiving 10,000 tons of new garbage daily, is in this NYC borough | Lack or this B vitamin causes pellagra in humans & black-tongue in dogs | Scottish "twill" pronounced "tweel", was misread by a London cloth merchant & became this | Some fairies don't like this common expression of gratitude |
Scores at the first commercial break (after clue 12):
| | | |
| --- | --- | --- |
| Sara | Dave | Susan |
| $500 | $1,300 | $300 |
Scores at the end of the Jeopardy! Round:
| | | |
| --- | --- | --- |
| Sara | Dave | Susan |
| $2,500 | $600 | $1,200 |
Double Jeopardy! Round
Pharaoh Ikhnaton caused an uproar by allowing the worship of only this many gods

St. Ambrose advised St. Augustine to live this way "when in Rome"

Until 1964, only this network offered a regular schedule of programs in color

Its popular calls include "promenade" & "swing your partner"

Both South Dakota & Florida have this same nickname

According to Noel Coward, they "go out in the midday sun"

Long before Muhammad Ali claimed the title, she was "The Greatest" to Jackie Gleason

Nationality of Nijinsky & Pavlova

State usually called 1st at presidential conventions because it's 1st in alphabetical order

"There is no substitute for hard work", said this inventor

Wo Fat was this Hawaiian policeman's archenemy

Originally called the "weller" or "spinner", this dominated 19th c. ballroom dancing

With NYC & Philadelphia in mind, Ben Franklin called this state "a rum keg tapped at both ends"

This paraphrased line from "The Star Spangled Banner" 1st appeared on coins in 1864

Phrase 1st used in 1461 to proclaim death of French king & arrival of his successor

Crime show which ran 21 yrs. on radio, but only 1 year on TV, failing to "come on like" its name

Musical for which Agnes DeMille created a dream sequence danced by doubles of Curly & Laurey

State with highest average wage, $9,000 higher than 2nd-highest state

The Bessemer method is the oldest modern process for making this

His riches didn't prevent this last king of Lydia from being subjugated by the Persians

The first 7 words ever spoken over a telephone

Nickname of Dr. Tom Reynolds, as played by Jon Hall

He designed decor for ballet "The 3-Cornered Hat" in 1919, before painting the "3 Musicians" in 1921

State in which this song takes place:

"And I dreamed about them cottonfields 'n' home /
I dreamed about my mother /
Dear old sister and papa and brother /
Dreamed about that sweetheart who's been waitin' for so long /
I wanna go home..."
Scores at the end of the Double Jeopardy! Round:
| | | |
| --- | --- | --- |
| Sara | Dave | Susan |
| $6,100 | $3,800 | $1,600 |
| | | |
Final Jeopardy! Round
His daughter & grandson have also served as India's prime minister
Final scores:
| | | |
| --- | --- | --- |
| Sara | Dave | Susan |
| $9,100 | $7,500 | $4,498 |
| New champion: $7,800 (because of scorekeeping errors) | 2nd place: Buck wood-burning stove + Knight of New Zealand four-lambskin rug | 3rd place: Skyway luggage |
Game dynamics: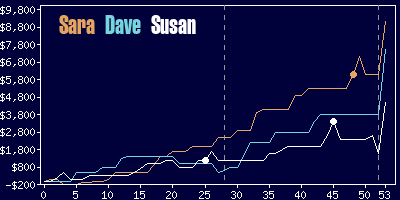 Sara
Dave
Susan
$5,900
$3,800
$2,400
17 R
(including 1 DD),
2 W
11 R,
2 W
15 R
(including 1 DD),
5 W
(including 1 DD)
Game tape date: 1985-07-01