Show #8282 - Tuesday, November 17, 2020
Andy Wood game 2.
Jeopardy! Round
The name of this wide-brimmed hat popular in Mexico comes from Spanish for "shade"

Starbucks Reserve Roastery & Tasting Room,
Kurt Cobain's benches in Viretta Park

In "The Thin Red Line", Jim Caviezel, Sean Penn & Woody Harrelson fight this war's Battle of Guadalcanal

The National one, located in Baltimore's Inner Harbor, has a water capacity of more than 2.2 million gallons

Sworn in on the Koran, Keith Ellison was the first person of this faith elected to congress

The big ending of "Alice in Wonderland" is a bizarre court case over who stole these baked goods

Hats with four dents in the crown have been adopted by forest rangers & are named for this ursine ranger

Delta Flight Museum,
Centennial Olympic Park

Dancers clash over the lead role in a Tchaikovsky ballet in this 2010 thriller

A TV P.I., or a large wine bottle

Sci-fi author Harlan Ellison wrote the story for the "City on the Edge of Forever" episode of this 1960s series

Alice "had never before seen a rabbit with either a waistcoat-pocket, or" this object "to take out of it"

Slouch hats are associated with this country; World War I cavalry soldiers from there would wear emu feathers on them

The Mary Tyler Moore statue,
the "Purple Rain" house

The title of this 1999 film comes from the linoleum floor of death row

All hell broke loose in 1882 when 3 members of this family were executed for killing Ellison Hatfield

A confounded Alice uttered this repetitive phrase when the cake made her grow taller

Move the tassel on this hat from right to left when you graduate, then toss it skyward

Riverwalk,
Alamo Heights Bark Park

Walt Disney received a special Oscar for this 1937 film the Academy called "a significant screen innovation"

In an old-fashioned grandfather clock, it swings back & forth regulating the time & causing the tick tock, tick tock

Named for the first Asian American in space, Ellison Onizuka Kona International is the main airport on this island

The Caterpillar sits atop one of these that's as tall as Alice, smoking a hookah

Samuel L. Jackson has his own line of this brand of caps that is an abbreviation of "knitted angora wool"

Carnegie Science Center,
Duquesne Incline

Director David Lynch explored the underside of small-town America in this disturbing 1986 film

This component of plaster of Paris is hydrous calcium sulfate

Although he joined in the mutiny aboard this ship, Thomas Ellison didn't continue on to Pitcairn Island

This feline says that unlike a dog, "I growl when I'm pleased and wag my tail when I'm angry"
Scores at the first commercial break (after clue 15):
| | | |
| --- | --- | --- |
| Andy | Dan | Holly |
| $6,200 | $2,800 | -$600 |
Scores at the end of the Jeopardy! Round:
| | | |
| --- | --- | --- |
| Andy | Dan | Holly |
| $10,200 | $3,000 | $1,200 |
Double Jeopardy! Round
| | | | | | |
| --- | --- | --- | --- | --- | --- |
| | | | | | THE TV SPIN-OFF'S PARENT SHOW |
| | Set your phone to quiver, or this synonym | If you know that E = mc2, you should know that this element, number 99, was first produced in nuclear blasts | Around 1494 he deluded himself into believing Hispaniola was the biblical "land of Sheba"; he'd later leave his brothers there | The "weed" or leaves of this herb are very useful for pickling | |
| | To grapple, Greco-Roman style | Last name of philosopher George, who gave his name to a California city that gave its name to an element | The Spanish Inquisition began by asking those seen as religious offenders to do this, from the Latin for "sing again" | In the espalier method, a plant is trained to grow against a flat surface like this crisscross of wood or metal | |
| | To put a sword in its case | This element is named for a Polish-born scientist & her husband | In 1458 the Ottoman Turks took the Acropolis & soon turned the Parthenon into one of these | These colorful flowers bring as much joy to the garden as the ice cream brand of the same name | |
| | The offspring of a deity & a mortal | Seaborgium is named for Glenn, who discovered elements, won a Nobel Prize, helped found the Pac-12, & chaired the AEC, this | Putting to work hundreds of mounted couriers, Louis XI in 1477 created a "royal" type of this | | |
| | Medically this pain is otalgia | In 2010 the official naming of Cn was announced on February 19, the day this man was born in 1473 | This "lame" conqueror blew into Damascus in 1401, massacring & pillaging | The diamond-shaped red & green leaves of this plant, named for tiled art, made it a popular choice to float in your pond | |
Scores at the end of the Double Jeopardy! Round:
| | | |
| --- | --- | --- |
| Andy | Dan | Holly |
| $19,800 | $9,400 | $8,000 |
| (lock game) | | |
Final Jeopardy! Round
An 1862 novel says this character "would have arrested his own father... and would have denounced his mother"
Final scores:
| | | |
| --- | --- | --- |
| Andy | Dan | Holly |
| $20,799 | $9,400 | $15,999 |
| 2-day champion: $47,598 | 3rd place: $1,000 | 2nd place: $2,000 |
Game dynamics: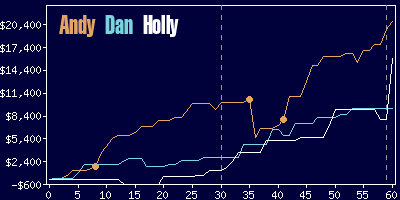 Andy
Dan
Holly
$21,800
$9,400
$8,000
28 R
(including 2 DDs),
3 W
(including 1 DD)
14 R,
2 W
10 R,
2 W
Game tape date: 2020-09-09