Show #1834 - Thursday, July 16, 1992
1992 Seniors Tournament final game 1.
Jeopardy! Round
| | | | | | |
| --- | --- | --- | --- | --- | --- |
| | | | | | |
| Named for the Atlas Mountains, it's the second-largest body of water in the world | Sgt. Friday worked for the L.A.P.D. & Sgt. Preston worked for them, the N.W.M.P. | This animal that forms atolls doesn't have to be the color of the same name | A Texas city, county & national forest are named for this frontier hero who died at the Alamo | Miss Manners says you should eat every egg given to you on this holiday & not pass them on to someone else | Whether he's admirable or not, a mayor gets this title, abbreviated Hon., in front of his name |
| Situated between Quebec & Ontario, James Bay is the southern extension of this bay | "Mr. District Attorney" was sponsored by Ipana, this type of product | In heraldry, this color is known as purpure | Civil War soldiers were among the first to benefit from his invention of condensed milk | Miss Manners prefers to eat this "vegetarian" course after her entree, as many Europeans do | You don't have to have ESP to know that this adverb is abbreviated esp. |
| This sea's greatest depths, about 13,500 feet, occur at the western end of the Aleutian Islands | Radio "feuds" included Jack Benny & Fred Allen's & W.C. Fields' with this wooden star | Dove & slate are 2 shades of this | Only 200 sets of the 1st edition of his "Birds of America" were printed as each had 435 hand-colored pictures | It is "a firm tenet" of Miss Manners' life that these necklaces must have odd numbers of strands | Visc. is an abbreviation of this word for a nobleman who ranks above a baron |
| This sea separates the Scandinavian Peninsula from the rest of continental Europe | 1 of the 2 Arts who hosted "People Are Funny" | It's the color of the outer border around Time magazine's current covers | On Dec. 4, 1991, after 2,450 days, he became the last American hostage released by Lebanese captors | Miss Manners thinks these look better in the refrigerator than they do on the chest or the wrist | This musical term can be abbreviated ff or fff |
| According to tradition, the Incas originated on an island in this lake, the world's highest navigable one | Among the regular characters on his show were Honey Chile, Vera Vague & Prof. Colonna | The Teutonic Knights of the Crusades wore crosses of this color on their cloaks | This man invented the carpet sweeper in 1876 to clean up dust in his China shop | When asked if it's proper to do this during social events, Miss Manners said, "Madame Defarge did" | The official U.S. Postal service abbreviation for this territory is GU |
Scores at the first commercial break (after clue 14):
| | | |
| --- | --- | --- |
| Hansford | Leonard | Carolyn |
| $600 | $2,000 | $0 |
Scores at the end of the Jeopardy! Round:
| | | |
| --- | --- | --- |
| Hansford | Leonard | Carolyn |
| $2,200 | $4,100 | -$400 |
Double Jeopardy! Round
| | | | | | |
| --- | --- | --- | --- | --- | --- |
| | | | | | |
| This heavy metal used in storage batteries is extracted from galena, a gray metallic ore | The only well-known poem by Ernest Lawrence Thayer, it describes a baseball defeat | In the 1940s politician Daniel Francois Malan instituted this policy of "separateness" in South Africa | This rock singer's birthplace in Tupelo, Miss. is preserved in a small park named for him | In March 1968, in the midst of the Vietnam War, he announced his decision not to seek reelection | This perfume was such a phenomenon it became the financial basis of Chanel's fashion empire |
| Also known as wolfram, this metal was first commercially used as lamp filament material | John Donne's "Song" begins, "Go and catch a falling" one of these | This symbol of the Reign of Terror was originally called the Louisette in its inventor's honor | To visit Daniel Boone's burial site, travel to this state capital | While an Illinois lawyer, he patented a boat-lifting device | "Attar of" these flowers is often made from the Damask variety |
| Except for iron & steel, the world uses more of this metal than any other | Robert Herrick wrote a "Prayer to" this poet in which he called him "Saint Ben" | Maximilian I, Duke of Bavaria, played a major role on the Catholic side of this 3-decade war | A newly-issued U.S. adult passport is valid for this number of years | For six months in 1939, he served as secretary to his father, then U.S. Ambassador to Great Britain | The word perfume comes from the Latin "per fumum", meaning "through" this |
| The name of this metal widely used to plate other metals is from a Greek word meaning "color" | Scotsman who wrote about his wife, "There's not a bonie bird that sings, but minds me o' my Jean" | He was imprisoned 9 times before he became prime minister of India in 1947 | The only imported operating Dutch windmill in the U.S. is located in this Michigan city | He was nicknamed "Old Buck" & "The Bachelor President" | "Essential" ones of these obtained from plants such as jasmine are the foundation for perfumes |
| This light, strong metal is used to whiten leather & to make jet engines | Rainer Maria Rilke wrote a cycle of sonnets about this musician who journeyed to Hades | She became Great Britain's queen 349 years after the death of Good Queen Bess | This building complex in New Castile, Spain houses the tombs of Spanish monarchs since Charles V | The Gadsden Purchase of 1853 was during this New Hampshirite's term in office | It's by far the largest animal from which we get a common perfume |
Scores at the end of the Double Jeopardy! Round:
| | | |
| --- | --- | --- |
| Hansford | Leonard | Carolyn |
| $8,200 | $6,700 | $1,000 |
Final Jeopardy! Round
One of the 1st lines in this William Holden film is "The poor dope. He always wanted a pool."
Final scores:
| | | |
| --- | --- | --- |
| Hansford | Leonard | Carolyn |
| $10,200 | $11,200 | $2,000 |
| | | |
Game dynamics: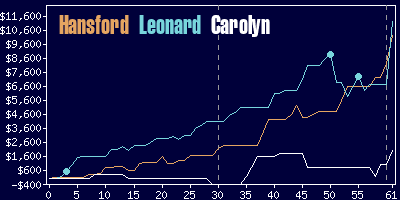 Hansford
Leonard
Carolyn
$8,200
$9,600
$1,000
22 R,
3 W
27 R
(including 1 DD),
5 W
(including 2 DDs)
6 R,
4 W
Game tape date: 1992-02-25