Show #8137 - Tuesday, January 14, 2020
Veronica Vichit-Vadakan game 2.
Jeopardy! Round
NOW, THE EXCHANGE OF VOWELS
(Alex: Each correct response will be two words differing by one vowel.)

Giving new meaning to the word "mass", he was the headliner of one held in Manila in 2015 that drew 6 million people

Hippolyta is the queen of these women

Richard Hooker's "Novel About Three Army Doctors" was the basis for a film & a TV show, both with this name

At the Council of Trent in 1563, the Catholic church said one of these had to perform the wedding to make it legal

I to O: to lose your foothold, perhaps in a type of pig food

In 2007 the long-disbanded Rage Against the Machine got together & drew 100,000 at this California festival

Dryads were the tree-dwelling version of these creatures

In season one of this series based on Jay Asher's novel, Clay tries to figure out what made Hannah Baker kill herself

Emily Post says the person with this title "offers the first toast to the bride & groom at the reception"

A to U: a tree part enjoys a late-morning meal, as tree parts do

In 2016 an estimated 1 million people protested in Caracas against this president of Venezuela

Opposite the cave of the sea monster Scylla, you'd find this monstrous personification of a whirlpool

The good times roll in Bon Temps, Louisiana, the setting for this drama where some folks really vamped it up

If the person chosen as maid of honor is already married, traditionally the title gets changed to this

A to O: a work of drama on a stage employs a maneuver to gain a strategic advantage

On April 22, 1990 around 750,000 people hit Central Park to celebrate this annual event

Echo's love for this lad was unrequited; he only had eyes for himself

Blake Lively & Penn Badgley starred in this CW series based on Cecily von Ziegesar's book series about privileged NYC teens

In England this rhyme about wedding attire ends with "and a silver sixpence in your shoe"

A to I: to quickly seize something like a purse gets you busted because someone did this, to tattle

In 2018 around 1.7 million people trekking from all over the world made this pilgrimage to Mecca

At his death, this great hunter was changed into a constellation

Jeff Lindsay's books about a very different Miami CSI were the basis for this Showtime series

During this part of a military wedding, swords are drawn & the bride & groom pass through the arch

U to A: to sing in the street for money, then do this in the resulting applause
Scores at the first commercial break (after clue 15):
| | | |
| --- | --- | --- |
| Veronica | Alissa | Marlan |
| $2,600 | $800 | $5,800 |
Scores at the end of the Jeopardy! Round:
| | | |
| --- | --- | --- |
| Veronica | Alissa | Marlan |
| $6,600 | $4,200 | $7,400 |
Double Jeopardy! Round
FOREIGN-BORN OSCAR WINNERS

Like Madame Tussauds, Paris' Musée Grévin primarily deals in exhibits of these

New Zealand-born Russell Crowe received 3 straight Best Actor nominations, winning in 2001 for this film

Around 1080 Chinese scientist Shen Kuo made the first scientific mention of one of these magnetic devices

In line 2 of this poem, "The score stood four to two with but one inning more to play"

Natural insulation found on a seal or whale

The Ancients associated this star's pre-dawn rising with the hottest months, giving rise to the term "dog days"

Ruins from 2 Ancient Wonders of the World, the Temple of Artemis & the Mausoleum of Halicarnassus, are in London here

This Welsh-born man won a Supporting Actor Oscar for "The Fighter"

In 1040 Scottish King Duncan I was slain in battle & this man known to readers of Shakespeare succeeded him

In a poem by William Blake, these 4 words precede the second line, "In the forests of the night"

Adjective for a brook making a low, continuous murmur

One of the closest stars to the Sun, Barnard's Star can't be seen with the naked eye; it's in this colorful class of small, dim stars

Zaragoza, Spain is home to a museum dedicated to this painter of "The Naked Maja"

Born in Vienna, he won a Best Supporting Actor Oscar for his role as Col. Hans Landa in "Inglourious Basterds"

The Arabic-language "Canon of Medicine" recommends willow oil for head pain

--

willow, genus Salix, as in this common medicine of today

Second line: "I love thee to the depth and breadth and height..."; first line: this

It means to mishandle a football or baseball

On the morning of February 24, 1987 SN 1987A, one of these, appeared in the large Magellanic Cloud

Originally serving as a private gallery of art, the Hermitage Museum was founded by her in 1764

Though born in Sweden, she won an Oscar for her supporting role in 2015's "The Danish Girl"

This fortress & prison complex was begun around 1078 by William the Conqueror

Its second line is "Over many a quaint and curious volume of forgotten lore"

Clothing articles that gave their name to 1940s adolescent girls

In 2016 the IAU renamed this 3-star system just 4.3 light years away Rigel Kentaurus

The freeform titanium-sheathed Guggenheim Museum in this Spanish city is a work of art in itself

Jean Dujardin didn't have much to say in becoming the first Frenchman to win Best Actor, for this 2011 film

Around 1071 construction was completed on this Venetian basilica said to house the remains of a Gospel writer

Title of the poem with the second line "He is trampling out the vintage where the grapes of wrath are stored"
Scores at the end of the Double Jeopardy! Round:
| | | |
| --- | --- | --- |
| Veronica | Alissa | Marlan |
| $17,200 | $10,600 | $15,000 |
| | | |
Final Jeopardy! Round
About the size of West Virginia, Devon Island is the largest uninhabited island in the world & a possession of this country
Final scores:
| | | |
| --- | --- | --- |
| Veronica | Alissa | Marlan |
| $30,001 | $3,100 | $30,000 |
| 2-day champion: $52,000 | 3rd place: $1,000 | 2nd place: $2,000 |
Game dynamics: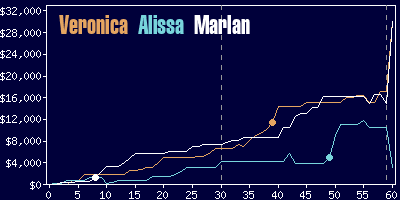 Veronica
Alissa
Marlan
$15,800
$8,200
$14,600
21 R
(including 1 DD),
2 W
15 R
(including 1 DD),
3 W
20 R
(including 1 DD),
2 W
Game tape date: 2019-11-12