Show #1454 - Thursday, December 20, 1990
Jeopardy! Round
| | | | | | |
| --- | --- | --- | --- | --- | --- |
| | | | | | |
| In Joshua, when the 12 men carrying the Ark of the Covenant set foot in this river, the river parted | This word for a football is a misnomer, since it's not made of that material | In '86, this actor's "Crocodile Dundee" was the top money-making foreign film in the U.S. | This flying mammal is not blind; some can see almost as well as humans | In the story "The Wolf and the Seven Little Kids" the kids were these animals | It has been improved since the 1960s by leakproof liners & baffles for wave control |
| The second time Moses climbed Mount Sinai he had to bring a new pair of these with him | Of bantam, fly & feather, the word used to describe the lightest boxing weight | His father, Apollos de Revoire, anglicized his name to make it easier on the "bumpkins" | These "sluggish" tree-dwelling mammals rarely descend to the ground | She pushed the witch who lived in the edible abode into the oven | Any pretense, or a pillow cover that's a pretense for the pillow itself |
| The stories of Deborah, Gideon & Samson are found in this book | A horse's gait, so named because it was the favorite of pilgrims riding to Becket's cathedral | His company "will sell no wine before its time" | Macaques, marmosets & mandrills are all varieties of this primate | His fee the first time was a necklace, the second, a ring, the third, the firstborn child | Latin for "mosquito net", it's now the name for the decorative cloth suspended over a bed |
| Solomon also ordered fir & algum trees from this country for the temple | Sportscaster Chick Hearn coined this phrase for W. Chamberlain's forceful scoring shot | Grofe's "Grand Canyon Suite" was first performed by this "King of Jazz" & his orchestra | | Her punishment for letting a prince into the tower was a haircut & a one-way ticket to the desert | This bed, named for its inventor, has come out of the closet for years |
| Though Romans comes 1st in the Bible, chronologically the earliest of his epistles is I Thessalonians | A golf fairway laid out at an angle, named for a canine's appendage | Germany's supreme military commander during WWI; he later became its president | Though called a honey bear, this mammal, native to Latin America, is a member of the raccoon family | When the king's daughter dropped her golden ball down the well, this animal retrieved it | The American empire style of bed named for the horse-drawn vehicle it resembles |
Scores at the first commercial break (after clue 13):
| | | |
| --- | --- | --- |
| Mitch | Elaine | David |
| $400 | $1,300 | $900 |
Scores at the end of the Jeopardy! Round:
| | | |
| --- | --- | --- |
| Mitch | Elaine | David |
| $1,000 | $2,800 | $1,300 |
Double Jeopardy! Round
William Adams, the first Englishman to visit this country, was made a nobleman by the Shogun

Che, Peron, People of Argentina

His novel, "Islands in the Stream" was published posthumously in 1970

The renminbi of this country is commonly known as the yuan

The name of this brief, violent windstorm with rain or snow may be from the Old Norse "skvala", squeal

It finishes George Young's warning, "The lips that touch liquor must never..."

King Charles of Spain made him a marques, but refused to make him Governor of Mexico in 1528

Sir Dinadan,
Sir Sagramore,
King Pellinore

Umberto Eco's 1980 novel "Il nome della rosa" translates to this

The pataca is the currency of this Portuguese territory west of Hong Kong

This abrupt shift in wind speed was found to be a cause of a 1985 crash at Dallas-Ft. Worth Airport

This title of a cautionary film with Jack Lemmon & Lee Remick is from a poem by Ernest Dowson

In 1851 David Livingstone discovered this river on the Zambia-Zimbabwe border

Lady Thiang, Anna Leonowens, Lun Tha

In 1920, at age 24, this author established his reputation with "This Side of Paradise"

This republic in the Apennines uses the Italian lira

Thanks to ocean winds from the west, this state produces over 90% of U.S. wind-generated energy

2 items that accompany Omar Khayyam's "Jug of Wine"

Portuguese explorer Pedro Cabral is credited with discovering this South American country

Sheriff Ed Earl Dodd, Melvin P. Thorpe, Miss Mona's girls

"Whistle", published in 1978, completed the James Jones trilogy that began with this novel

This monetary unit of El Salvador is named for Christopher Columbus

Island group in the West Indies named for the fact that they're sheltered from the trade winds

It' completes the rhyming proverb, "What soberness conceals..."

After claiming the Mississippi Valley for France, he named the region Louisiana

Action, Gee-Tar, Big Deal, Diesel, Tiger, Riff, Tony

Richard Wright's first novel, it tells of a Black youth named Bigger Thomas

These 2 countries have units called the won

In classical mythology, the west wind

A character in his "Candida" admits, "I'm only a beer teetotaler, not a champagne teetotaler."
Scores at the end of the Double Jeopardy! Round:
| | | |
| --- | --- | --- |
| Mitch | Elaine | David |
| $3,600 | $4,000 | $7,700 |
| | | |
Final Jeopardy! Round
2 of the 4 Americans who negotiated the Treaty of Paris with the British in 1782
Final scores:
| | | |
| --- | --- | --- |
| Mitch | Elaine | David |
| $7,200 | $1,000 | $8,100 |
| 2nd place: trip on America West to New York City & stay at Halloran House + Jeopardy! home game or computerized version | 3rd place: Jean d'Eve watch + Jeopardy! home game or computerized version | New champion: $8,100 |
Game dynamics: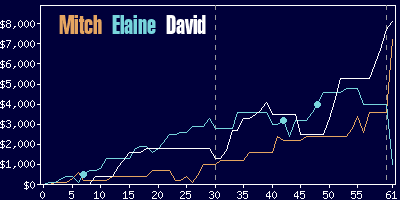 Mitch
Elaine
David
$3,600
$4,900
$7,700
15 R,
5 W
22 R
(including 2 DDs),
6 W
(including 1 DD)
17 R,
3 W
Game tape date: Unknown