Show #7970 - Friday, April 12, 2019
James Holzhauer game 7.
Jeopardy! Round
GOOGLE'S TOP SEARCHES, 1999-2018
(Alex: As they celebrate their 20th anniversary. We're talking about searches in English.)

In the DC universe, they're the dynamic duo

This Brit has been dubbed "Madam Brexit"

Ms. Winfrey asks, would you like to subscribe to this magazine that asks you to "live your best life"?

This Washington Irving character "fell asleep on the mountain...and every thing's changed

--

and I'm changed"

Of or from Europe's "City of Lights"

Every year, this best pal has been the most searched-for type of animal

Appropriately, it's the 3-letter symbol of the company that makes Scotch tape & Scotch-Brite products

This first name of California senator Harris means "lotus" in Sanskrit

I think you need tablets of the element with this symbol

--

it will help you with your goiter

George & Nick are professors in the college town of New Carthage in this play by Edward Albee

Cantabrigian means from one of 2 noted college cities named this

The top movie searches of 2006 & 2016 were for this franchise with "The Last Stand" & "Apocalypse" installments

At 969, this son of Enoch was the Bible's longest-lived person

Tortured under the Pinochet regime, Michelle Bachelet became the first female president of this country in 2006

I don't have any Ford Model T's B's, F's or R's, but I do have this other 20th century model

Her alter ego Jo March gets $100 for a story she has written

Coming from the Fab Four's hometown, like their accents

Each year the most searched-for author has been not a novelist but this man who penned "Letter from Birmingham Jail"

In 2011 a newly revised 11th edition of this book on parliamentary procedure was published

Kay Hagan beat her in North Carolina in 2008, making her the first female incumbent to lose a Senate seat to a woman

You can have this Cirque du Soleil show staged in your basement if you have room for a 1.5-million-gallon tank

"More obscene than anything is inertia" is a line from this Henry Miller book some consider obscene

"C"oming from an ancient Peloponnesian city, like an order of architecture

For 2016 & 2017 the most searched athlete was this Dublin-born MMA fighter

With this kitchen gadget that sounds more like a musical instrument, you can slice up a potato, paper thin, in seconds

This Bronx native with a hyphenated name wowed politicos with a Big Apple win in 2018

I'll sell you 2 vowels

--

this network with shows like "Born This Way" & "Intervention"

This O. Henry story about a poor husband & wife trying to buy each other Christmas presents has a twist ending

Of or relating to a northern Italian city, like veal coated with breadcrumbs

Since 2005 the Bible has been the most searched book & No. 2 has been this somewhat more recent sacred text
Scores at the first commercial break (after clue 15):
| | | |
| --- | --- | --- |
| James | Ali | Mike |
| $8,600 | $3,200 | $800 |
Scores at the end of the Jeopardy! Round:
| | | |
| --- | --- | --- |
| James | Ali | Mike |
| $22,012 | $3,600 | $1,800 |
Double Jeopardy! Round
A "B"6 SHOT
(Alex: Each correct response will be a 6-letter word beginning with the letter B.)

For the sake of our currency, Tim Geithner & Jack Lew both underwent signature remediation before taking this job

When exposed to electricity, this mineral vibrates at regular intervals, so it's used in wristwatches to keep accurate time

A narrative folk poem, or a simple, romantic song

A major tourist attraction, the Tequendama Falls are on this river that shares its name with Colombia's capital

A line from this 1972 classic:
"It's a Sicilian message. It means Luca Brasi sleeps with the fishes"

16-year-old Euphemia Allen composed this easy piano piece with the name of eating utensils

This bill is sometimes called a fin, from finf, the Yiddish word for its numerical value

The largest one of these ever recorded was 1,720 feet high & slammed into the Alaskan panhandle in 1958 following an earthquake

A government reward, perhaps put "on your head"

The world's highest-paid TV actress, this U.S. sitcom star was born in Barranquilla, Colombia, in 1972

This 1994 prison drama starring Tim Robbins & Morgan Freeman reminds us that hope can set you free

Just switch 2 letters in a word for "60 seconds" & you'll have this type of dance

Something unimportant is said to be this 2-word miniscule poker bet

These objects that collide with the earth are divided into 3 major types: stone, iron & stony-iron

It's the printed name of the author of an accompanying news story

The Orinoco River flows northwest towards Colombia, where it forms part of the border between Colombia & this country

She won an Oscar for playing Clarice Starling in "The Silence of the Lambs"

This simple little Beethoven piece may be just what you were looking für

The mint in this western city produces about half of U.S. coinage & is the USA's second-largest gold depository

2.54 million light-years away, the nearest major galaxy to ours is this one named for a mythological maiden

It's the crime of having 2 wives at once

Aracataca, the birthplace of this Nobel Prize winner, once held a vote to add its name to Macondo, a town in one of his novels

1930s comedy classics starring this zany trio include "A Day at the Races" & "A Night at the Opera"

This composer's "Dance of the Sugar Plum Fairy" is so easy to learn, even the mouse king will stand to applaud

This 5-letter word refers to a special non-circulating coin that collectors prize for its fine detail & mirror-like finish

This structure in the respiratory tract forms the Adam's apple in males & is used in making sounds

Job title of a college treasurer

There are great beaches at the walled city founded as this de Indias, meaning "Carthage of the Indies" in English

In the U.S. Sergio Leone's spaghetti western "Il Buono, il Brutto, il Cattivo" has this title

If playing this 6-letter kind of piece, choose an easy one like Mozart's Facile, meaning "easy"
Scores at the end of the Double Jeopardy! Round:
| | | |
| --- | --- | --- |
| James | Ali | Mike |
| $58,148 | $13,200 | $7,400 |
| (lock game) | | |
Final Jeopardy! Round
The director of the 2018 TV version of this 1953 classic said, yes, books were harmed in the making of this motion picture
Final scores:
| | | |
| --- | --- | --- |
| James | Ali | Mike |
| $89,158 | $14,801 | $7,100 |
| 7-day champion: $415,035 | 2nd place: $2,000 | 3rd place: $1,000 |
Game dynamics: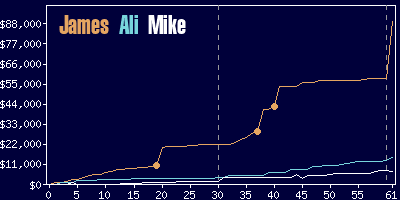 James
Ali
Mike
$29,400
$13,200
$7,400
32 R
(including 3 DDs),
0 W
16 R,
0 W
12 R,
2 W
Game tape date: 2019-02-11