Show #7836 - Monday, October 8, 2018
Jeopardy! Round
AT LEAST 20 MILLION TWITTER FOLLOWERS

LET US FLOAT SOMETHING BY YOU

The 1814 bombardment of this Maryland fort almost made it to a second night, but the flag was still there

102 million:
His Twitter bio is just 4 words

--

"Dad, husband, president, citizen"

Perhaps a budding entomologist, Muhammad Ali used this 4-word phrase before "sting like a bee"

Bill Bryson's "In a Sunburned Country" takes us to this continent with its unique animals & friendly people too

In slang, it follows "easy peasy lemon"

It's the good stuff

--

I mean the hard stuff

--

in a classic daiquiri

Before this war had even started, Austrians took a Serbian fortress in a midnight attack in July 1914

22 million:
Hi! My name is... what? My name is... who? My name is this Detroit rapper

The two elements seen here make up a reportedly 130-year-old one of these discovered in 2018

Modern travel book writing got a boost in 1977 with Bruce Chatwin's account of his trip "In" this southern Argentine region

To breathe with difficulty & with a whistling sound

It's a special birthday; let's celebrate with a glass of 30-year-old this from Glenfiddich

In 1756 only 23 of the 146 British soldiers survived the night in the "black hole" of Fort William in this Indian city

46 million:
The fight against malaria is a big topic for this Seattle tweeter worth many billions

This brand of soap was advertised, "It floats"

"Letters from Egypt" is a book of this future British nurse's letter while traveling on the Nile in 1850

Call me this derisive term for an elderly man & see what happens

I'll have a Tom Collins, hold the seltzer, lemon juice & syrup

--

heck, just give me a glass of this

David Farragut sent 1,500 soldiers in a nighttime assault on Fort Gaines to begin the Civil War battle of this bay

29 million:
This "Harry Potter" actress is a champion for women both on & off screen

It's said that one of these "lifts all boats"

He wrote about a bus trip & other kinds of trips in 1968's "The Electric Kool-Aid Acid Test"

From the name of a movie monster, it's a woman who is obsessive about wedding planning

Dilute my bourbon with vermouth? Go straight to Hell's Kitchen! I didn't ask for one of these cocktails

In 1779 this "Mad" revolutionary led a daring midnight raid to take the fort at Stony Point

27 million:
This rapper expanded "Mr. 305" (Miami's area code) to "Mr. Worldwide"

Ask Robinson Crusoe

--

the dessert seen here is known as a floating this

Alfred Lansing wrote "Endurance", about this man's 1915 escape from Antarctica

Containing a small scroll, it's put on door frames in Jewish homes

If you can handle this Italian stuff made from distilled grape seeds & skins, you're a better man than I am
Scores at the first commercial break (after clue 15):
| | | |
| --- | --- | --- |
| Adam | Alex | Lee |
| $3,800 | $2,800 | $1,600 |
Scores at the end of the Jeopardy! Round:
| | | |
| --- | --- | --- |
| Adam | Alex | Lee |
| $6,000 | $7,800 | $4,600 |
Double Jeopardy! Round
BRITISH PLAYS & PLAYWRIGHTS

It shares its name with a U.S. state

A reported $600,000 fell out the back of a Brink's truck on the interstate in this Indiana capital, causing 1 or 2 traffic issues

The working class characters in a 1957 John Osbourne play "Look Back" this title way at British society

Last name of Carmine, who provided music for all 3 "Godfather" films

--

he may have had an in with the director

There's a bivalve mollusk in this 2-word idiom meaning to become silent

The first close-up images sent back to Earth from another planet were from a Russian probe on this planet in 1975

Check it out

--

it's the national library of this country, which opened its doors in Minsk in 2006

In the highest-scoring FIFA World Cup final in 52 years, this country prevailed 4-2

A psychiatrist works to bring a young man back from the brink of madness in this beastly Peter Shaffer play

Since 1974 John Williams has scored more than 25 films from this "Minority Report" director

If you're reticent to speak, you "wouldn't say" this word meant to scare

This Zodiac constellation has only one bright star, Hamal

--

Arabic for "sheep"

After Russia, this "stan" is the largest republic in area

In 2018 this "Sex & the City" actress made a bid for New York governor

Peter Morgan's "Frost/Nixon" takes place during interviews in this year, 3 years after Nixon's resignation

This movie series featured the 4-note mockingjay call heard here

A British WWII slogan punned, "Be like Dad, keep" this word for quiet

The 2 main types of optical telescopes are reflectors & these, which use lenses to magnify objects

The first republic alphabetically, it also claims to have been the first country to adopt Christianity as its official religion

Caught up in a sex scandal, the Swedish Academy announced it would not give this Nobel Prize in 2018

In this Noel Coward play, a man's life is upended by the jealous ghost of his first wife

Mark Mothersbaugh of this "Whip It" group wrote the 1980s-sounding music for "Thor: Ragnarok"

A sign on some restaurant tables, or a noncommunicative disposition

Undetected until the 1990s, this belt is a zone of space past 30 A.U. & home to objects like dwarf planets & icy centaurs

Kaunas & Marijampole are 2 of the counties or administrative divisions of this country

This major figure of Iran-Contra

--

actually, a lt. colonel figure

--

was named president of the NRA

You can see the second king of this name as a prince in "Braveheart", or see his downfall in a Christopher Marlowe play

The director of "The Third Man" was entranced by a local playing this instrument & hired him to compose the score

This game, a forerunner of bridge, is also an interjection meaning "Hush!"
Scores at the end of the Double Jeopardy! Round:
| | | |
| --- | --- | --- |
| Adam | Alex | Lee |
| $20,000 | $18,600 | $8,200 |
| | | |
Final Jeopardy! Round
Of the 23 lawgivers depicted on marble portraits over doors in the U.S. House chamber, he's the only one in the Bible
Final scores:
| | | |
| --- | --- | --- |
| Adam | Alex | Lee |
| $2,799 | $20,798 | $16,399 |
| 3rd place: $1,000 | New champion: $20,798 | 2nd place: $2,000 |
Game dynamics: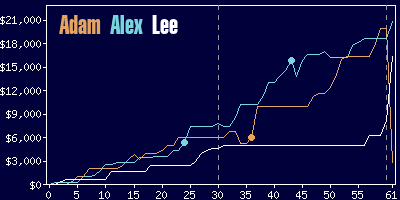 Adam
Alex
Lee
$17,200
$19,600
$8,200
21 R
(including 1 DD),
2 W
25 R
(including 1 DD),
3 W
(including 1 DD)
11 R,
0 W
Game tape date: 2018-08-14