Show #7821 - Monday, September 17, 2018
Kyle Jones game 4.
Jeopardy! Round
SHOW BOATS
(Alex: We'll give you the boat. You tell us the show.)

STATE SONGS
(Alex: And we want you, of course, to identify the state.)

We'll begin by washing the lettuce & drying it in this alliterative item

An alternate title of this Agatha Christie mystery was "Murder in the Calais Coach"

The S.S. Minnow, not long afloat

Ice cream compan"ee"s include Tastee Freez, Fosters Freeze & this regal one founded in 1940

In parts of the South, bapsousing means to do this by dunking

"The skyline piercing Providence, the state house dome so rare"

Lettuce begin with a wedge salad, traditionally made with a hunk of this crisp, cold lettuce

This 14th century poet created the oft-widowed wife of Bath

Sonny Crockett's boat, the St. Vitus Dance

A 1995 merger added "Martin" to the name of this aerospace company

In some places you ditch or skip; in Utah sluff is what you do if you don't go to this

"God, in his great love and wisdom, made the rugged Granite State"

We'll dress our lettuce with extra virgin olive oil & this vinegar from Modena, Italy

In a Thomas Hardy novel, this "Obscure" guy is warned that "the Fawleys were not made for wedlock"

A reality show debuting in 2005:
A bunch of boats operating out of Dutch Harbor, Alaska

This chain's first drugstore opened in Chicago in 1901

A big-in-Wisconsin alternative to "yard sale" or "garage sale", it implies that you pick through the offerings

"I love your old gray missions, love your vineyards stretching far"

The owner of the Brown Derby in Hollywood got his name on this salad with lettuce, bacon, chicken, eggs & blue cheese

In 1907 this Bombay-born Englishman who celebrated the empire won the Nobel Prize for Literature

The USS Nathan James, whose crew has survived a global pandemic

This seed seller says it never has & never will sell GMOs

In the Plains states, a black blizzard was one of these storms

"In its fair western home, may the columbine bloom til our great mountain rivers run dry"

Here's a bunch of this lettuce named for its soft texture

Arrr! He's the leader of the pirates in Robert Louis Stevenson's "Treasure Island"

The Pacific Princess, exciting & new in 1977

In 1933 R.G. Dun & Company merged with this rival

Folks in Portland, Oregon may not go to the beach or to the shore but to this

--

presumably the left one

"Tell me of that Treasure State, story always new, tell of its beauties grand and its hearts so true"
Scores at the first commercial break (after clue 15):
| | | |
| --- | --- | --- |
| Kyle | Christine | Reese |
| $5,200 | $1,200 | $200 |
Scores at the end of the Jeopardy! Round:
| | | |
| --- | --- | --- |
| Kyle | Christine | Reese |
| $8,800 | $3,600 | $3,200 |
Double Jeopardy! Round
RHYMING TERMS STARTING WITH "H"

A brigadier gen. at 23, he distinguished himself at Gettysburg, but things didn't go as well for him in the Montana territory

Beware of dog, especially this wild predator of Australia

The long-haired flower children of the 1960s were sometimes described this way

The Gambia's flag has stripes of red, green & this color that represents the Gambia River

The history of this judicial body's work is on view at oyez.org

In the title of a 1979 No. 1, Peaches & Herb were this, like East & West Germany 11 years later

This general got his 5th star in December 1944, but that wouldn't be his last government job

This largest South American member of the camel family makes a good guard animal for sheep & other livestock

A magician might say these magic words

Stripes were added for Vermont & Kentucky, so the star-spangled banner that flew over Fort McHenry had this many

This music trade magazine that dates back to 1894 has an online database of historical record charts

"Oh, baby, give me one more chance", the Jackson 5 sang in this plea, their first No. 1 hit

Known by a "colorful" nickname, he got the rank of General of the Armies of the U.S. in September 1919

In the 1920s the University of Michigan tried using a live pair of these as its mascots; not a great idea

If the camera is moving around way too much, the image is said to be this; I'm getting sick

It's 3 times the fun

--

the flags of these 3 Baltic states all have 3 stripes

In 2010 a reference work by this naturalist with 435 hand-colored prints sold for a record $11.5 million

1, 2, 3, they gonna run back to her:
Elle King's former lovers all wanted to be reinstated in this 2015 hit

In March 2018 this 3-star general advised the nation he'd no longer serve as national security advisor

Found at high elevations, it's the 4-letter rabbit & hare relative seen here

Quit looking at me that way! It's creepy & it's giving me these

Used since 1790, France's tricolor may stand for the colors of Paris & this royal house

Examine 250,000 research studies on conditions from asthma to Zika at thesetrials.gov

"I just called to say I love you, come back home", she duetted with Kid Rock in the 2002 hit "Picture"

He said overseeing writing of the war history in Europe in 1945 was like being an "undertaker at my own funeral"; it wasn't far off

Sadly, less than 30 years after it was discovered, Steller's this aquatic mammal was hunted to extinction

An adjective for a gadget that's extra useful & convenient

Head toward central Asia & the far end of the alphabet to get to this former Soviet republic & now independent nation

What's another word for lexicon? Look one up in this landmark book of synonyms from 1852

"Got him back in my arms again, so satisfied", sang this trio in a 1965 chart-topper
Scores at the end of the Double Jeopardy! Round:
| | | |
| --- | --- | --- |
| Kyle | Christine | Reese |
| $17,600 | $9,000 | $12,400 |
| | | |
Final Jeopardy! Round
"I've killed my brother" is said near the end of this 1952 book with a Biblical title & a plot echoing a Biblical story
Final scores:
| | | |
| --- | --- | --- |
| Kyle | Christine | Reese |
| $24,801 | $2 | $0 |
| 4-day champion: $83,601 | 2nd place: $2,000 | 3rd place: $1,000 |
Game dynamics: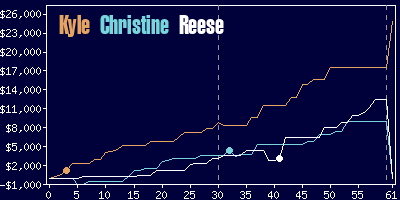 Kyle
Christine
Reese
$17,200
$10,000
$10,000
20 R
(including 1 DD),
1 W
15 R,
2 W
(including 1 DD)
16 R
(including 1 DD),
1 W
Game tape date: 2018-07-18