Show #7811 - Monday, July 23, 2018
Jeopardy! Round
| | | | | | |
| --- | --- | --- | --- | --- | --- |
| | | | | | |
| The "phyto" type of this algae is a major food source directly or indirectly of many sea organisms | An Aug. 12, 1961 decree by the East German Volkskammer led to the start of building this land-mark that night | The pelt or coat of a large animal, or to conceal from sight | The 17th-century painting seen here shows a game of tric-trac, a variant of this dice & counters game | The Gherkin, aka 30 St. Mary Axe | Orson Welles, atop this ride in "The Third Man": "Would you really feel any pity if one of those dots stopped moving forever?" |
| Algae range from microscopic organisms up to giant species of this saltwater type that reaches 200 feet in length | From Dec. 19, 1777 to June 19, 1778, camping was pretty rough for the Continental Army at this location | A soft chocolate candy, or to avoid being specific about details | "Give Up The Funk" is a classic from this band that sounds like the legislature of Great Britain | | If you've summited this "royal" kids' game, survey your subjects below as they try to knock you off |
| Like virtually all photosynthetic organisms, algae contain this pigment that absorbs energy from light | Charles I, Spain's king from 1516 to 1556, also moonlighted as Charles V of this empire | A plate on a lizard, or to climb up | To avoid getting bumped back to start, you can hide in your color's safety zone in this board game | | In the Civil War the Union got valuable intel from over 3,000 missions by these, with Thaddeus Lowe in charge |
| | On Dec. 2, 1954, at long last, decency prevailed in a 67-22 Senate vote condemning this member of the body | A tree, or a word preceding "up" meaning "to neaten" | In the early 1800s a tenth one of these was added to a popular game to circumvent gambling laws | | This mongoose relative, also called a suricate, emerges from its burrow, sits up tall & scans the horizon |
| Some algae have been classified in this kingdom neither fully plant nor animal | 5 years after a successful 1971 military coup, Idi Amin became life president of this nation | A dull person, or the caliber of a firearm | A "Part-Time Lover" of funk, this superstar recorded "Higher Ground" prior to a near fatal car crash | | In ballet versions of this Ravel piece, the ballerina dances high atop a large table surrounded by men |
Scores at the first commercial break (after clue 15):
| | | |
| --- | --- | --- |
| Dave | Hollie | Neel |
| $1,800 | $1,000 | $5,200 |
Scores at the end of the Jeopardy! Round:
| | | |
| --- | --- | --- |
| Dave | Hollie | Neel |
| $3,600 | $4,200 | $7,200 |
Double Jeopardy! Round
LITERARY TITLE REFERENCES

"The Three Musketeers"

--

Athos, Porthos & him

In 1935 a race car went 277 MPH on this Florida beach; now there's an international speedway in town

Chicago Bulls legend & longtime comedy partner of Keegan-Michael Key

This victimized item at a birthday party likely gets its name from a word for "pine nut"

David Lean appears as a motorcyclist at the Suez Canal in this 1962 epic

In 1917 African Americans marched in NYC silently to protest this then-epidemic type of extrajudicial capital punishment

The British 50th Infantry Division landed 25,000 men on Gold Beach on this day in 1944

Voice of Mr. Incredible who shared a Nobel Peace Prize with F.W. De Klerk

Seen here, the rectangular bar is a rack meshed with this gear

This onetime TV "meathead" turned film auteur plays a helicopter pilot in the film "Misery"

Thousands marched from 57th Street to 23rd Street down this numeric Manhattan avenue & famous parade route

"The Hunchback of Notre Dame"

Edisto Beach, S.C. says no lights on the beach after dusk in summer to protect these sea turtles named for their big "heads"

Sophocles drama about the king of Thebes becoming CEO of Exxon Mobil & Secretary of State

In architecture a spire or buttress isn't topped with an apex or an acme but this synonym

Ah, ah, ah, ah, director Sylvester Stallone bumps into John Travolta in this sequel to "Saturday Night Fever"

One of the first major civil rights demonstrations, the parade was organized by this rights org. founded in 1909

"The Once and Future King"

This California beach town & surfing mecca is named for 19th century railroad magnate Henry

Female rapper with the album "The Naked Truth" who became the leader of North Korea in 2011

The little girls in the painting are wearing this type of dress

The annoying saxophone player in "Night Shift" is this child star & sitcom actor turned director

Paraders carried the flags of the U.S., Britain, Haiti & this West African country

"The Old Man and the Sea"
(the man)

It's the activity of gathering quahogs & longnecks, maybe on the beaches of Martha's Vineyard

Star of the "Hunger Games" films who wrote Beat poetry & founded City Lights Bookstore in San Francisco

I am the walrus & therefore part of this aquatic suborder

He cast himself as a man reading a newspaper in 1959's "Plan 9 From Outer Space"

One sign said, "The first blood for American independence was shed by a Negro"

--

this Boston Massacre victim
Scores at the end of the Double Jeopardy! Round:
| | | |
| --- | --- | --- |
| Dave | Hollie | Neel |
| $22,600 | $5,000 | $11,200 |
| (lock game) | | |
Final Jeopardy! Round
Paramnesia is another term for this French-named phenomenon

--

sound familiar?
Final scores:
| | | |
| --- | --- | --- |
| Dave | Hollie | Neel |
| $22,600 | $9,995 | $11,550 |
| 2-day champion: $48,800 | 3rd place: $1,000 | 2nd place: $2,000 |
Game dynamics: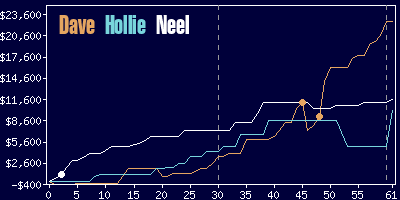 Dave
Hollie
Neel
$23,200
$5,000
$11,000
25 R
(including 1 DD),
3 W
(including 1 DD)
10 R,
2 W
18 R
(including 1 DD),
1 W
Game tape date: 2018-04-04