Show #7784 - Thursday, June 14, 2018
Jeopardy! Round
WHAT'S THAT ON YOUR HEAD?

A kitchen fixture is in the name of this slang term for a tall, usually black silk top hat

Colorado's John Hickenlooper claims to be the first brewer/state governor since this Founding Father

To give up a criminal to another nation for prosecution

Edwin Starr:
"____", adding "What is it good for?"

Native Hawaiians are part of this ethnic group whose name means "many islands"

The D.O.E. found that 4 extra weeks added to this period in 2007 saved 0.5% of electricity per day, 1.3 billion KWH in total

"A" is the only vowel in this cold-weather mask & cap combo

In the '90s this ex-husband of Cher was mayor of Palm Springs & a 2-term Republican congressman

Resembling a clumsy pachyderm

Rage Against the Machine:
"____ In The Name"

Javanese are the largest ethnic group of this nation

Also called "New Style", this calendar was proclaimed by the pope in 1582 as a reform of the Julian one

Wonder Woman wears this type of small crown that she can use like a boomerang

Then a New Jersey prosecutor, this future governor helped jail Jared Kushner's father in 2005

A supposed secret sect of world dominators, of which I am totally not a member

Staff sergeant Barry Sadler:
"The Ballad Of" these special forces

Afrikaners were once called by this name meaning "farmer"

In 1883 the scheduling of these made the adoption of standard time zones a necessity

Here's Jackie Kennedy wearing one of these lace veils with a diminutive Spanish name

An Iraq War veteran & a Purple Heart recipient, she represents Illinois in the Senate

Pere Ubu:
"30 Seconds Over ____"

The homeland of the Basques is this border-straddling mountain range

The moving shadow of a gnomon on this is what led to the use of the word clockwise

You say hairnet, I say this 5-letter word, a decoration for women's hair in the Victorian era

A rough start to 2008 for this Dem. of North Carolina

--

he was third in South Carolina's primary, & scandal made things worse

Ayers Rock is also known as this, with the same vowel front, back & middle

Elvis Costello:
"____ Forces"

The Pashtun mostly call these 2 countries home; you'll find over 30 million of them there

The Pleistocene is an example of this subdivision of a period, itself subdivided into ages
Scores at the first commercial break (after clue 15):
| | | |
| --- | --- | --- |
| Diana | Adam | Katherine |
| $5,200 | $400 | $2,800 |
Scores at the end of the Jeopardy! Round:
| | | |
| --- | --- | --- |
| Diana | Adam | Katherine |
| $7,200 | $5,000 | $3,200 |
Double Jeopardy! Round
COMPLETE THE RHYMING PHRASE

A great place to go spelunking is the limestone caverns in Montana named for this pair of expeditioners

Perrault's "Tales of Mother Goose" includes early versions of "Sleeping Beauty" & this shoe-losing lass

Sherwin-Williams paint colors include a delectable brownish yellow called "Cut the" this

Larry Hagman's mom, Mary Martin, said that of all her stage roles, this one was her favorite

During polar excursions, Robert Peary relied on the native people he referred to as "my" these

Caverns in Indiana bear the name & the bones of this trailblazer's brother Squire, who was laid to rest there in 1815

Francis Bacon penned a vision of society based on 17th century science, "The New" this fabled lost land

"Little strokes fell great..."

Careful

--

adding "ide" to this greenish-blue color produces a deadly poison

In a revival of this musical, Alan Cumming played the Emcee to Michelle Williams' Sally Bowles

Britain's Natural History Museum houses an egg collected in Antarctica in 1911 from this "royal" bird

Warren's Cave in Florida is named for Colonel John Warren, who led troops during the second of these Indian wars

This French playwright had a flop with his 1665 take on the Don Juan legend

These intensely colored compounds used in paints get their name from the Latin for "paint"

She originated the role of Elphaba in "Wicked"

Occasionally having to get off & push, Daniel Burton recently became the first to reach the South Pole via this, a "fat" type

This ancient playwright's cave on Salamis is believed to be where he wrote tragedies like "Trojan Women"

An allegorical play about human destiny, Pedro Calderon's "La Vida es Sueño" translates as "Life is" one of these

This color obtained from a plant dye is also known as blue-violet

In 2017 this rock icon became a Broadway name when he starred in a series of autobiographical acoustic shows

The first nuclear sub to visit the North Pole was this one that shared a name with a fictional submersible

A cave on Mount Carmel is named for this prophet who may have lived & hid there before whirlwinding up to heaven

For imagery about the nature & meaning of the universe, John Donne & others were dubbed these poets

Lord Rayleigh explained that scattering of sunlight is what does this

--

now stop asking questions, Junior!

In 1980 she won a Tony for "Evita"; in 2008 she won for "Gypsy"
Scores at the end of the Double Jeopardy! Round:
| | | |
| --- | --- | --- |
| Diana | Adam | Katherine |
| $29,600 | $8,600 | $10,800 |
| (lock game) | | |
Final Jeopardy! Round
This Zodiac constellation includes 2 lines (or strings) that terminate in a star called Alrescha, the knot
Final scores:
| | | |
| --- | --- | --- |
| Diana | Adam | Katherine |
| $20,600 | $1 | $4,399 |
| 2-day champion: $44,601 | 3rd place: $1,000 | 2nd place: $2,000 |
Game dynamics: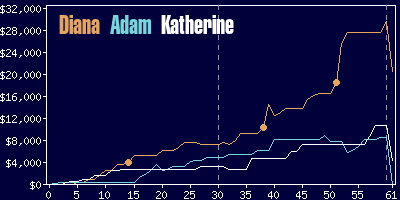 Diana
Adam
Katherine
$21,000
$8,600
$10,800
24 R
(including 3 DDs),
3 W
19 R,
3 W
12 R,
1 W
Game tape date: 2018-02-14