Show #4601 - Monday, September 13, 2004
Ken Jennings game 44.
Jeopardy! Round
WHAT A CHARACTER!
(Alex: Name the work that introduces each character we will give you.)

If you're rowin' the Rhone from start to finish, you begin in this mountain range

The Continental & the Town Car are models from this Ford division

A murder suspect named Injun Joe

The Harlem Globetrotters were founded in this city famous for its blues & its fire

November 16, 1952:
For the first time, she holds a football for Charlie Brown to kick

The USA's tallest bridge towers are the 746-foot steel peaks of this structure

The Krishna starts near one coast of this country & flows almost all the way across it

In a Stephen King-based movie, this title vehicle was a red 1958 Plymouth Fury

Troubled Air Force Captain John Yossarian

In the 1940s if you weren't commie enough to be "red" people used this 5-letter epithet that was a shade lighter

July 20, 1971:
Marcie first calls this character "Sir"

This NBA team took the 1975 championship

It doesn't have its distinct color yet when it emerges in Qinghai Province

In 1964, the first year of its release, this popular muscle car was the Indy 500 pace car

A small slave girl named Topsy

Object associated with the Lone Ranger & with Bob Seger's Band

August 23, 1959:
She joins Charlie Brown's family as his younger sister

It's the second-most registered dog breed at the American Kennel Club

It's formed by the junction of the Luvua & Lualaba in the country named for it

The LS 400 and the ES 250 were the first models of this luxury car line from Toyota

In alphabetical order, the 3 spokesmen for Rice Krispies

September 24, 1990:
This hygiene-challenged boy runs for class president

Jason stole it for his Uncle Pelias

This Mideastern boundary river rises on the slopes of Mount Hermon

The Rio is from Kia, which is owned by this South Korean automaker

The Winchester '73 and the Colt .45 have both been referred to as "the gun that" did this

September 1, 1991:
This young virtuoso becomes a spokesman for National Piano Month

Sir James Frazer compared mythologies & religions in this work
Scores at the first commercial break (after clue 10):
| | | |
| --- | --- | --- |
| Ken | Dana | Bruce |
| $6,000 | $0 | $0 |
Scores at the end of the Jeopardy! Round:
| | | |
| --- | --- | --- |
| Ken | Dana | Bruce |
| $16,600 | $0 | $1,800 |
Double Jeopardy! Round
RELIGIOUS TITLES
(Alex: We want you to name the religion that fits the clue.)

This rock from Georgia was used to sculpt the statue of Lincoln in the Lincoln Memorial

In a Billy Joel hit, she's "looking for a downtown man"

This movie heartthrob isn't "From Hell" or from "Sleepy Hollow"; he's from Owensboro, Ky.

This veggie was almost uneaten in the U.S. until the D'Arrigo Bros. Produce Company started marketing it in the 1920s

The branch of linguistics dealing with the sounds of speech

Crude oil can be extracted from this rock, the most abundant sedimentary rock in the Earth's crust

Critics love this 10-letter adjective to describe music resembling "Lay Lady Lay" or "Like A Rolling Stone"

If your stylist puts humectant conditioner in your hair, it's most likely because your hair is this

2 words that sound alike but are spelled differently

The Hawaiian islands consist mostly of this hard, dark volcanic rock

(Typewriter) keyboardist Paul Ackerman entered the R&R Hall of Fame by editing this music journal for 30 years

Her brother Nick, nephew George & friend Al Pacino all attended her 2002 funeral in Maysville, Ky., her hometown

At an estate sale, Carl Rice spent $60 on 2 of these by Martin Johnson Heade; they later sold for over $1 million

Daughter of Zeus & Demeter

Due to its luster, German miners gave this "pleasant" rock its name, which means "spark"

The riff heard here kicks off a recent album by this band

Good morning to this newswoman, who's seen here in 1963, when she was America's Junior Miss

Oaxaca is "the land of 7" of these rich sauces, including the negro & verde types

An English language speaker

The Pilgrim Monument in Provincetown is the tallest structure in the U.S. made entirely of this

"Stoned" is a memoir of '60s London by this then-manager of the Rolling Stones

In the '40s & '50s this Kentucky-born hunk starred in biblical films like "The Robe" & "Samson and Delilah"

These political "issues" get their name because they can split apart a unified movement

The smallest unit in a language capable of conveying distinction in meaning
Scores at the end of the Double Jeopardy! Round:
| | | |
| --- | --- | --- |
| Ken | Dana | Bruce |
| $38,800 | $2,000 | -$4,800 |
| (lock game) | | |
Final Jeopardy! Round
A Spanish dictionary defines it as "circulo maximo que equidista de los polos de la tierra"
Final scores:
| | | |
| --- | --- | --- |
| Ken | Dana | Bruce |
| $45,000 | $3,999 | -$4,800 |
| 44-day champion: $1,477,461 | 2nd place: $2,000 | 3rd place: $1,000 |
Game dynamics: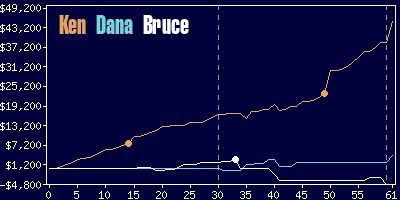 Ken
Dana
Bruce
$32,200
$2,000
-$1,800
41 R
(including 2 DDs),
2 W
4 R,
2 W
10 R,
5 W
(including 1 DD)
Game tape date: 2004-04-23