Show #7639 - Thursday, November 23, 2017
Jeopardy! Round
I LIKE TO BE IN NUMERICAL ORDER

In 1967 this Cuban citizen got himself shot to death by Bolivian soldiers

The left side of the ship was usually alongside the quay when docked, so they called the left side this

1997:
Original Screenplay, Matt Damon & Ben Affleck

They include Anguilla & Aruba

The Concorde sported the designation SST, which stood for this

Like these first 2 wives of Henry VIII

I'm this man from Thrace who led a 90,000-man slave rebellion vs. Rome until his death in 71 B.C.

--

No! I'm this man!

The 1941 Boston Globe story about pitcher Lefty Grove's 300th win called him "the gaunt" this directional word

2010:
Actor Colin Firth & director Tom Hooper

Its motto is montani semper liberi, "Mountaineers are always free"

Mako sharks don't have a swim bladder, so this is true of them & is often also said of very busy people

Like presidential succession, with vice president 1, House speaker 2 & this Senate position 3

In 1884, 14 years after Robert E. Lee died, this city put up his statue; to Mayor Landrieu's approval, it was removed in 2017

This French word for "left" means clumsy or awkward to us

2002:
Supporting actress Catherine Zeta-Jones & Costume Design, Colleen Atwood

Mayfair & Soho are neighborhoods in this fashionable London district

The first aerial victories for American military jets came during this war

Like these US. states that start with the same letter, Nos. 48 & 49

John J. Pershing's foray into Mexico didn't get this rebel general, but a hail of gunfire a few years later in 1923 did the trick

When an organ is medically referred to as this, it's not evil, it's just on the left side of the body

2013:
Cinematography, Emmanuel Lubezki & director Alfonso Cuaron

The Allenby Bridge takes travelers into this territory

Most sharks have 5 pairs of these

--

those with 7 are among the oldest shark species in existence

Who? Wat! When? 1381! Where? England! Why? Wat, with this last name, died leading a rebellion vs. forced labor

Lurz, an Old German word for "left", led to this phrase for being stuck in a difficult situation

1982:
Supporting actor Louis Gossett Jr. & Song, "Up Where We Belong"

This Indiana city is home to Purdue University

The first jetliner, the Comet, came in 1949 from this British company that could be in the cast of "Gone With the Wind"
Scores at the first commercial break (after clue 14):
| | | |
| --- | --- | --- |
| Kiana | Liz | Jesse |
| $1,000 | $2,000 | -$600 |
Scores at the end of the Jeopardy! Round:
| | | |
| --- | --- | --- |
| Kiana | Liz | Jesse |
| $1,200 | $3,600 | $1,400 |
Double Jeopardy! Round
| | | | | | |
| --- | --- | --- | --- | --- | --- |
| | | | | | |
| He took his continuous line drawings into 3 dimensions with sculptures that got him nicknamed "King of Wire" | Alan Paton's novel "Cry, the Beloved Country" focused on the fight for freedom & justice in this country | A phlebotomist is the lab professional who takes this from a patient & processes it | In 1942 FDR cabled this British leader, "It is fun to be in the same decade with you" | "When We Were Young" is found on her album "25" | Intentionally allowing a chess piece to be captured for strategic reasons |
| Parallel lines in a painting converge in a single vanishing point in the system known as linear this | Joseph Mbele's "Matengo Folktales" includes a story about one of these long-eared beasts outwitting a lion | From the Latin for "growing plants", it's a lab specimen proliferated to identify the possible source of a disease | In May 2017 this man soon to be fired said he was "mildly nauseous to think we might have had some impact on the election" | In 2016 Jimmy Page & Robert Plant testified in an L.A. court that they did not plagiarize when they wrote this classic song | Adjective meaning very valuable & impossible to replace |
| | Naguib Mahfouz' novel "Midaq Alley" brings to life the bustling atmosphere of this largest north African city | A revolutionary gene-editing tool is called by this acronym, sounding just like a refrigerator drawer | In a letter to James Madison, he wrote that "a little rebellion, now and then, is a good thing" | Roy Orbison recorded this song years before Van Halen's 1982 hit | This original "Funny Girl" played Baby Snooks on radio |
| Picasso made many line drawings of this bird whose Spanish name Paloma he gave to one of his daughters | | This national laboratory in Tennessee is the Dept. of Energy's largest & a world leader in nuclear energy research | Politician seen here in 1984 | Ed Sheeran sang, "I'm in love with" this, the title of the song, "we push & pull like a magnet do" | It originates near the shoulder blade & is a conventional symbol of bodily strength |
| This man from Bern said, "Drawing is like taking a line for a walk", and here's one of his strolls | | Named for an Italian & used to calculate the number of atoms in a sample of a given substance, it's 6.022 X 1023 | In 1964 Barry Goldwater said, "I would remind you that" this -ism "in the defense of liberty is no vice" | In an Oasis song "someday you will find me, caught beneath the landslide, in a" this title "in the sky" | To lure another with promises or persuasion |
Scores at the end of the Double Jeopardy! Round:
| | | |
| --- | --- | --- |
| Kiana | Liz | Jesse |
| $6,900 | $3,600 | $7,800 |
| | | |
Final Jeopardy! Round
TURKEY WITH THE TRIMMINGS
(Alex: This is a category about geography, okay? That's the Turkey we're referring to.)
Of the 8 countries that border Turkey, these 2 extend the farthest east & west
Final scores:
| | | |
| --- | --- | --- |
| Kiana | Liz | Jesse |
| $9,900 | $1,199 | $11,000 |
| 2nd place: $2,000 | 3rd place: $1,000 | New champion: $11,000 |
Game dynamics: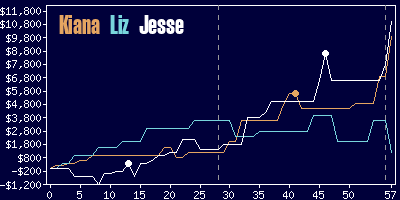 Kiana
Liz
Jesse
$8,000
$3,600
$10,800
12 R,
2 W
(including 1 DD)
9 R,
2 W
15 R,
5 W
(including 2 DDs)
Game tape date: 2017-08-22