Show #7607 - Tuesday, October 10, 2017
Austin Rogers game 11.
Jeopardy! Round
EXPLORING THE WORLD
(Alex: With Sven Lindblad, CEO of Lindblad Expeditions.)

FIRST NAMES IN THE DICTIONARY

(Sven Lindblad gives the clue.) My first visit to Lindblad Cove, which was named after my father who in 1966 led the first tourist expedition to this continent, it moved me deeply with its beauty & family history

Drawing, sculpture or painting, for example

"Experience the tale as old as time"

He was Caucasian by birth & birthplace

It's granted to the race car driver with the best qualifying time

"Passing away" is this kind of term, an indirect substitute for something harsh or offensive

(Sven Lindblad gives the clue.) On some of the 50 trips I've made to these islands, my kids accompanied me; seeing them interact with the wildlife there illustrates the term "giant tortoise"

When speaking, brief to the point of rudeness

"The future of justice begins with her"

A British submarine & a doomed fictional ocean liner shared this mythological name

"Uneven" 2-word term for an early version; Jefferson used it about one pass at the Declaration of Independence

(Sven Lindblad gives the clue.) Local fishermen have made areas where they used to fish off-limits in order to bolster the ecosystem making the diving experience off this Mexican peninsula the most spectacular I've ever had

This herb is a traditional symbol of remembrance

"Welcome to the secret world inside your phone"

A runabout is a small type of this, usually with an outboard or stern-driven engine

Aunt Grace wants 1 more copy; good thing you put out your poems using P.O.D., short for this

(Sven Lindblad gives the clue.) My journeys have taken me to Camp Leakey, a research facility which fights to rescue & protect the orangutan in its endangered habitat on this island shared by Indonesia, Malaysia & Brunei

To force open a window, as with the short crowbar of the same name

"Kevin has 23 distinct personalities. The 24th is about to be unleashed"

He originally trained for the priesthood

Its first venture transported an 1860 message from President Buchanan to California gov. John Downey

Add a dose of this quality to your novel, the incongruity between what was expected & what actually occurs

(Sven Lindblad gives the clue.) The rule of thumb for explorers is to not approach wildlife too closely as they can become fearful & angry... but on a lucky day in this Scandinavian nation's Svalbard archipelago a small herd of walrus seemingly welcomed me

It's paired with coo to mean whisper endearments

"Just because you're invited, doesn't mean you're welcome"

He was an avid stamp collector

Sea planes are called this type of plane when using special buoyant landing gear

Orson Scott Card said this is never solved by "writing through it" because you haven't solved the original problem
Scores at the first commercial break (after clue 15):
| | | |
| --- | --- | --- |
| Austin | Chris | Sarah |
| $2,800 | $600 | $800 |
Scores at the end of the Jeopardy! Round:
| | | |
| --- | --- | --- |
| Austin | Chris | Sarah |
| $6,000 | $3,400 | $600 |
Double Jeopardy! Round
IN DISPENSABLE
(Alex: Each correct response will be a word made up of the letters you can find in the word "dispensable".)

The pouch of this water bird can hold up to 3 gallons, 2 to 3 times what its stomach can hold

In 1878 the annual regatta between these 2 schools moved to the Thames River in Connecticut

This national paper color codes its sections; the Life section is in purple

Sir Galahad was the illegitimate son of this other knight

Act I of a Mozart opera begins with this character fleeing the home of Donna Anna after trying to seduce her

Throw that baby shower quick! Of mammals, this American marsupial has the shortest gestation, 12-13 days

Seen here is this man, who in 1891 came up with a new sport

Nautical term for the list of editors, owners & staff

A vehicle with 2 sets of wings

As well as being a knight, Sir Dagonet held this amusing other job at court

With a river in its title, this first opera of the "Ring" cycle features Flosshilde & 2 other river maidens

These desert arachnids bear live young that crawl onto their mothers' backs & stay there weeks to nourish

On June 6, 1892 he became the first president to attend a major league baseball game while in office

The Lagniappe is a helpful section in this city's Times-Picayune

To make possible or easy, perhaps a bad habit

Sir Gawain, a knight & nephew of King Arthur, battled this verdant foe

We hope you don't sleep through this Reginald de Koven folk opera based on an American story from 1820

The indri is the largest of these primates of which the ring-tailed species is better known

On Nov. 12, 1892, $500 from this city's Allegheny Athletic Assn. made Pudge Heffelfinger the 1st known pro football player

When fact-checking politics, the Washington Post has a 1 to 4 scale of illustrations of this character from an 1881 work

In heraldry, colors have special names; the black on the shield seen here is called this

This knight of the Round Table first shows up questing for the Holy Grail in a 12th century work

(I am Placido Domingo.) The Duke of Mantua sings one of the most famous arias of all time in this opera named for a hunchbacked court jester

On rare occasions this Arctic cetacean can grow 2 spiral tusks

In 1895 this Rhode Island city's country club held the first US. Open Golf Championships won by Horace Rawlins

A newspaper founded in London in 1855 was named for this, then the hottest new communication technology

Fired a gun from a hidden position

Sir Safir was a Christian knight of this descent, a French word for Arabs & Muslims during the Crusades

In the opera "Boris Godunov", Fyodor is the real son of the czar & Grigory is this "false" character
Scores at the end of the Double Jeopardy! Round:
| | | |
| --- | --- | --- |
| Austin | Chris | Sarah |
| $26,300 | $11,200 | $2,200 |
| (lock game) | | |
Final Jeopardy! Round
The protagonist of this novel "was fairly sure that his age was 39, and he believed that he had been born in 1944 or 1945"
Final scores:
| | | |
| --- | --- | --- |
| Austin | Chris | Sarah |
| $29,300 | $11,200 | $4,300 |
| 11-day champion: $394,700 | 2nd place: $2,000 | 3rd place: $1,000 |
Game dynamics: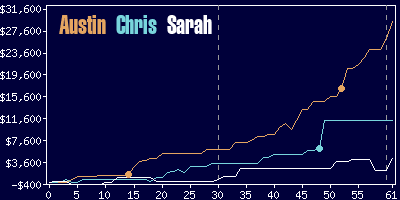 Austin
Chris
Sarah
$24,200
$8,200
$2,200
26 R
(including 2 DDs),
1 W
14 R
(including 1 DD),
3 W
8 R,
3 W
Game tape date: 2017-08-02