Show #2647 - Tuesday, February 20, 1996
1996 College Championship semifinal game 2.
Jeopardy! Round
| | | | | | |
| --- | --- | --- | --- | --- | --- |
| | | | | | |
| This duo became interested in flying after reading of the 1896 death of gliding pioneer Otto Lilienthal | va. is the traditional abbreviation for this member of the violin family | In 1995 this "Late Show" host published a new "Book of Top Ten Lists and Zesty Local Chicken Recipes" | In April the Alfred P. Murrah Federal Building in this city was bombed | These tiny fish are a traditional ingredient of Caesar salad & make a popular topping for pizza | The academic costume worn at graduation is commonly called cap and this |
| As a child this light bulb inventor labeled his chemicals "poison" so his family wouldn't touch them | This "Nutcracker" composer's "Little Russian Symphony" includes Ukrainian folk tunes | He's been nominated for Emmys 7 years in a row for playing Dan on "Roseanne" | In the Philippines, this former first lady ran for congress & won | This chewy roll, often topped with lox & cream cheese, can also be made into chips | With more than 14,000 students, Lisbon University is this country's largest |
| An artist before he invented the telegraph, he once painted a portrait of fellow inventor Eli Whitney | A symphony for the refrain of a song, or the group of people who might sing it | Jonathan Brandis has spent a lot of time underwater as Lucas Wolenczak on this Spielberg series | In January the government began reintroducing the endangered gray species of these into Yellowstone | Shoyu is the Japanese name for this sauce popular in Japanese cooking | From the Latin for "sister", it's an organization such as Psi Psi Psi |
| We hope attorney Joshua Pusey "struck" it rich when he developed these in book form | This German known for his "Lullaby" composed his "Academic Festival Overture" in 1880 | When "The Late Late Show" debuted in 1995, this star of "Murphy Brown" was Tom Snyder's 1st guest | In a Feb. address, Boris Yeltsin defended the Russian military actions against this breakaway republic | The "German" style of this side dish contains bits of bacon & is sometimes served warm | Christopher Wren graduated from Wadham College at this university in 1651 |
| Born in the 1860s, he produced a plethora of peanut products, including ink & soap | As a musical direction, piano means "soft" & this longer word means "very soft" | In 1995 this member of Wilson Phillips became host of her own talk show | Ian Ballantine, who founded 3 major ones of these in the U.S. passed away in March at age 79 | To hide discoloration, the shell of this nut is often dyed red | The 2 Ivy League universities that you should file under the letter C |
Scores at the first commercial break (after clue 15):
| | | |
| --- | --- | --- |
| Bryan | Bronwyn | Mark |
| $800 | $2,300 | $800 |
Scores at the end of the Jeopardy! Round:
| | | |
| --- | --- | --- |
| Bryan | Bronwyn | Mark |
| $4,900 | $2,200 | $2,000 |
Double Jeopardy! Round
THE DECLARATION OF INDEPENDENCE

This long tendon helps the foot pivot at the ankle

On Oct. 12, 1492 he wrote, "This afternoon the people of San Salvador came swimming to our ships"

This "Robinson Crusoe" author's novel "Roxana" is about the daughter of Huguenot refugees

After this man's death in 632, Abu Bakr became the first caliph of Islam

This swamp region in southern Florida extends from Lake Okeechobee to the Gulf of Mexico

The vote for independence happened on this date in 1776, 2 days earlier than most people think

In 1921 researchers isolated this hormone used to treat diabetic patients

When he arrived at the Pacific Ocean Sept. 29, 1513, he named the site the Gulf of San Miguel

"Wide Sargasso Sea", a 1966 prequel to this Bronte novel, tells the story of the first Mrs. Rochester

In 1882 the Japanese government divided this religion into state & sectarian forms

The Dubuque Hills are in both Illinois & this state to the west

This signer is quoted, "There! John Bull can read my name without spectacles"

This small triangular bone, also called the kneecap, protects the knee joint

The first voyage of his ship the Calypso was a 1952 trip to the Red Sea

Nick Carraway is Daisy Buchanan's distant cousin in this F. Scott Fitzgerald novel

On Oct. 19, 1512 he was awarded a doctorate of theology by the University of Wittenberg

Philadelphia is a leading U.S. port because of its location on this river

The number of the Continental Congress that adopted the Declaration

The name of these 4 large veins comes from the Latin for "collarbone"

Father Aguilar, who knew Spanish & Maya, & Dona Marina, who knew Maya & Nahuatl, served as his interpreters

Wackford Squeers is the horrible headmaster of Dotheboys Hall in his novel "Nicholas Nickleby"

The Mahayana form of this religion is dominant in Vietnam

At 6,643 feet, Clingman's Dome in the Great Smoky Mountains is this state's highest point

Signers' first names included
6 Williams,
6 Georges,
1 Button &
1 of these,
a Mr. Gerry

Emphysema destroys the walls of these tiny air sacs in the lungs

In 1497 Bartolomeu Dias accompanied him on part of his journey around Africa to India

Flem Snopes' stepdaughter Linda is the heroine of "The Mansion", the 3rd novel in his Snopes trilogy

Since 1179 popes in the Catholic church have been elected by this group

1 of 3 states bordering Nebraska's western panhandle

He said Jefferson wanted him to write the first draft, but Jefferson didn't remember it that way
Scores at the end of the Double Jeopardy! Round:
| | | |
| --- | --- | --- |
| Bryan | Bronwyn | Mark |
| $14,942 | $2,800 | $1,000 |
| (lock game) | | |
Final Jeopardy! Round
In 1947 Bernard Baruch told the Senate, "We are in the midst of" one of these "which is getting warmer"
Final scores:
| | | |
| --- | --- | --- |
| Bryan | Bronwyn | Mark |
| $14,955 | $0 | $2,000 |
| Finalist | 3rd place: $5,000 | 2nd place: $5,000 |
Game dynamics: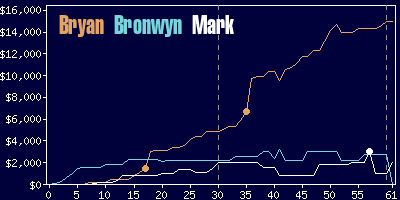 Bryan
Bronwyn
Mark
$11,900
$2,800
$3,000
30 R
(including 2 DDs),
2 W
14 R,
4 W
11 R,
4 W
(including 1 DD)
Game tape date: 1996-01-10