Show #7567 - Tuesday, July 4, 2017
Jon Eisenman game 3.
Jeopardy! Round
CHAPTER 13
(Alex: We'll give you a quote from Chapter 13 of a novel; you identify the book for us.)

"The young Lord Greystoke was indeed a strange and warlike figure"

In college football's title game in 2017, Clemson sent this SEC team home red-faced, 35-31

This pita filler is a popular street food all over the world

Great Falls, Montana boasts a casino named for this highest poker hand

On July 4, 1966 Congress created a commission for this event, but it only lasted 8 years, not the full 10

This 1968 release includes the classics "Rocky Raccoon" & "Helter Skelter"

"There are five-and-twenty guineas in this bag. Give it to your master, Pip"

Since 1950 Omaha has hosted what might be called the summer classic, the college version of this baseball event

It's the part of the fiddle indicated here

It modestly bills itself as "a modern day Roman empire that will dazzle you with unparalleled excitement"

Yankee Doodle Dandy Malia Obama was born July 4, 1998 in this city

There's no Norwegian blue, but the blue hyacinth species of this type of parrot does have beautiful plumage

"Thorin! Balin! Oin! Gloin! Fili! Kili!...The light's gone out!"

(I'm Anderson Cooper.) While at Yale I was this member of the crew team who's responsible for steering the boat & for directing the speed & rhythm of the rowers

A boxer weighing no more than 126 pounds

Gary, Indiana's Majestic Star Casino has a royal view of this Great Lake

Discovered by British explorers in 1584, this N.C. island would later witness a series of strange disappearances

Famous for the coffee grown there, the Blue Mountains are the highest range on this Caribbean island

"Ma said, 'You won't be no burden. Each'll help each, an' we'll all git to California'"

Shortly after she dominated the 2016 Olympics, she set 2 Stanford pool records at her first home swim meet

In the event of a water landing, your seat will act as this "device" (hopefully!)

Sink your sword into a filet at the Camelot Steakhouse in this Vegas hotel & casino

In 1187's Battle of Hattin, this Muslim general's army defeated the Crusaders & then took Jerusalem

In 1965 astronaut Ed White took the USA's first space walk during the 4th mission of this pre-Apollo program

"The Hispaniola was rolling scuppers under in the ocean swell"

Fundamentally, Tim Duncan was a Demon Deacon hooping it up for this school, as was Chris Paul

A rapid, simultaneous discharge of bullets or missiles

You can use this "Royal" company founded in 1969 to sail to King's Casino on Antigua

Rescuing 103 hostages captured by terrorists, in 1976 Israeli commandos raided an airport in this Ugandan city

This homespun announcer did radio play-by-play for Cincinnati, Brooklyn, and the New York Yankees
Scores at the first commercial break (after clue 15):
| | | |
| --- | --- | --- |
| Jon | Jacob | Robert |
| $3,000 | $2,400 | $800 |
Scores at the end of the Jeopardy! Round:
| | | |
| --- | --- | --- |
| Jon | Jacob | Robert |
| $5,200 | $4,000 | $4,200 |
Double Jeopardy! Round
NEW WORDS IN THE MERRIAM-WEBSTER DICTIONARY
(Alex: As of February 2017.)

The Cape type of this rodent can weigh nearly 70 pounds, with 12-inch quills

When he was born in Greene County, Tennessee in 1786, this frontiersman was just prince of the wild frontier

A curve winding around a fixed center point; some staircases are built that way

Hokkaido & this Japanese island are separated by only about 12 miles across the Tsugaru Strait

This Temptations hit begins, "I've got sunshine on a cloudy day, when it's cold outside I've got the month of May"

Trees breathed easier after 7.5-ft. Castoroides, a species of this with huge gnawing teeth, went extinct in the Pleistocene

Before he & his bros. bought the Barnum & Bailey Circus in 1907, John of this last name was born in 1866 in McGregor, Iowa

The vanishing of memories that aren't reinforced in graphed in not the learning curve but the this-ing curve

About a mile off the mainland, Iran's Qeshm Island is the largest in this strait

In the 1966 song "That's Life", this "Chairman of the Board" explains what it all means

From ice hockey we get this numerical term for the space between the goalie's legs

This longtime Cosmo editor was still a single girl when she was born in Green Forest, Arkansas in 1922

Most latitude & longitude lines curve on the gnomonic type of this, a way to map the round Earth on a flat surface

The Mu Us Desert in north central China lies within a bend of this long river

This Iron Butterfly hit was first titled "In The Garden Of Eden"; intoxication & slurring of the words led to the change

AKA the carpincho, or water pig, it can weigh 145 pounds or more

The neurological condition prosopagnosia is often called this blindness, for what isn't recognized

Born in Indianapolis in 1903, he was named Public Enemy No. 1 on his 31st (& last) birthday in 1934

A curve is named for this 17th c. French philosopher & geometer who challenged Pierre de Fermat to find its tangent

You'll find Muscat, capital of this Arab country, on the gulf of this Arab country

Roger McGuinn & David Crosby formed this folk-rock band in Los Angeles in 1964

AKA the coypu, this "river rat" that has spread from South America to the U.S. can weigh nearly 40 pounds

This 16-letter word refers to a person who is 110 years old or older

Named Bradley at birth in Oklahoma in 1987, in 2017 she had her prison sentence commuted by President Obama

This country's highest mountain, Kinabalu, rises 13,435 feet in the state of Sabah on Borneo

The top female solo act of the 1960s, she began the decade with "Sweet Nothin's" & "I'm Sorry"
Scores at the end of the Double Jeopardy! Round:
| | | |
| --- | --- | --- |
| Jon | Jacob | Robert |
| $19,600 | $3,500 | $6,200 |
| (lock game) | | |
Final Jeopardy! Round
CLASSIC CHILDREN'S LITERATURE
A 2016 biography of a children's author is titled "In the Great Green Room", a line from this classic book
Final scores:
| | | |
| --- | --- | --- |
| Jon | Jacob | Robert |
| $19,200 | $1,500 | $5,399 |
| 3-day champion: $64,300 | 3rd place: $1,000 | 2nd place: $2,000 |
Game dynamics: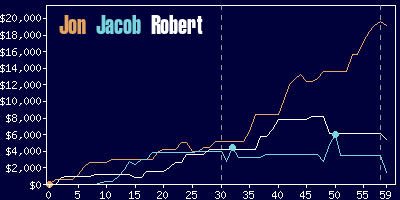 Jon
Jacob
Robert
$19,600
$7,200
$6,200
23 R
(including 1 DD),
2 W
12 R,
5 W
(including 2 DDs)
12 R,
2 W
Game tape date: Unknown