Show #7480 - Friday, March 3, 2017
Jeopardy! Round
| | | | | | |
| --- | --- | --- | --- | --- | --- |
| THE DREADED SPELLING CATEGORY | | | | | |
| This common bovine of the African savanna; it's only three letters | This "shining" 1973 No. 1 by Stevie Wonder forever will stay in our hearts | In 1981 he hosted a barbecue for Seabees who helped renovate his Rancho del Cielo into the Western White House | They have metal plates at heel & toe to increase sound | During a train trip E.B. White dreamed up this "small character who had the features of a mouse" | While in Iceland, I finally saw this phenomenon |
| This Packer started an NFL QB record 253 straight regular season games | Say this alternate title of a 2010 Cee Lo Green hit & you can remain on our stage | This home was named by the president's half-brother for his commanding officer in the British navy | Put this pretend-tious French word before "rabbit" or "fox" to keep yourself warm | In 1986 he & wife Tabitha created a foundation to provide support for Maine communities | I shot par at one of the courses at this royal & ancient golf club in Scotland |
| Flip 2 letters in a lumberjack's falling-tree yell & get this quality of the sound of a voice | After 2 billion YouTube views, we'd add "& Again" to this song by Wiz Khalifa & Charlie Puth | Considering himself to be a political outlaw, John Tyler named his plantation this for a wooded area in Nottinghamshire | In 1884 the U.S. Army introduced these tired-sounding casual clothes | | I got to see my daughter receive her Ph.D. from this Palo Alto, California university |
| Medical condition characterized by involuntary sleeping | In this 2006 hit The Killers said you could "close your eyes & see the place where you used to live" | | GQ says these suits typified by an extra row of buttons don't have to be boxy, 1930s gangster-style | | I got to swim with these magnificent sea cows in Crystal River, Florida |
| | The lady's response to this title query in a 1982 Human League hit? No, pretty much | In Marion in this state you can stand on the front porch for which Warren Harding's laid-back 1920 campaign is named | For Muslim women, a burqa covers the face; a niqab leaves the eyes uncovered; this five-letter word is a headscarf | | What an adrenaline rush! I zip lined 1,200 feet above the Arkansas River, across this regal Colorado canyon |
Scores at the first commercial break (after clue 15):
| | | |
| --- | --- | --- |
| Rob | Trish | Jeff |
| $2,400 | $2,400 | $400 |
Scores at the end of the Jeopardy! Round:
| | | |
| --- | --- | --- |
| Rob | Trish | Jeff |
| $4,400 | $3,600 | $1,000 |
Double Jeopardy! Round
PRITZKER ARCHITECTURE PRIZE WINNERS

In 1994 the FBI busted Aldrich Ames, a 31-year vet of this agency, for selling secrets to the Soviets

Anyone uncool was this rectangular polygon, dig?

2007 winner Richard Rogers & 1998's Renzo Piano teamed up to design the Pompidou Centre in this city

This printmaking method was invented around 1800 & soon, art stars like Delacroix & Goya were using it

Nine UK rivers bear this name, including the one seen here; oh, that's the Royal Shakespeare Theatre in the background

John Belushi & the other Deltas help make Frank Underwood the president

In the 1940s & '50s top British agent Harold Philby, nicknamed this after a Kipling title boy, was really a KGB mole

It wasn't just something to write on, it was a place to crash

--

you know, to sleep

In 1966 Jorn Utzon quit the opera house project designed for this city but today, that's his legacy

A set religious rite, such as the Eucharist

Out Stack, a rocky islet in this "equine" island group, is the United Kingdom's northernmost point

Plantation-set Disney film about Kyle, Cartman & their animated friends

Rosenblum was the real last name of this early 1900s British "Ace of Spies"

Meaning falling off a surfboard or other similar disaster, it was also the title of the Surfaris' 1963 Top 10 hit

Philip Johnson, the prize's very first winner in 1979, designed the Glass House in New Canaan in this state

Not in a figurative way, it means "relating to a seashore"

In recent years, large chunks of the white chalk cliffs near this port have fallen into the sea

Actress Julia Roberts flirts with Hugh Grant in a Steven Bochco cop series, & let's be careful out there

Your "treads" were your shoes; insert 1 letter to get these, your clothes, man

Dickens traumatized himself writing the death of this girl

With 114 miles of canals, this second-largest city in England rival Venice in total length of its canals

Arthur Miller play adaptation about a violent biker gang in a drug war

This "colorful" Secret Service chief & detective agency founder busted Confederate spy Rose Greenhow

Bummer

--

they closed the last "groove yard", this type of store, in my neighborhood

When a treaty was signed there, Brest was followed by this

2,036-foot Snaefell is the tallest

--

& only

--

mountain on this isle in the Irish Sea

Hubert Selby Jr. novel adaptation about comical cop Andy Samberg
Scores at the end of the Double Jeopardy! Round:
| | | |
| --- | --- | --- |
| Rob | Trish | Jeff |
| $14,000 | $4,800 | $6,600 |
| (lock game) | | |
Final Jeopardy! Round
His tombstone in a Hampshire churchyard reads, "Knight, patriot, physician & man of letters" & "22 May 1859-7 July 1930"
Final scores:
| | | |
| --- | --- | --- |
| Rob | Trish | Jeff |
| $14,000 | $4,800 | $9,601 |
| 4-day champion: $72,601 | 3rd place: $1,000 | 2nd place: $2,000 |
Game dynamics: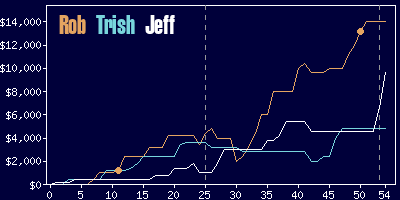 Rob
Trish
Jeff
$14,600
$4,800
$6,600
20 R
(including 2 DDs),
4 W
10 R,
3 W
11 R,
2 W
Game tape date: Unknown