Show #2727 - Tuesday, June 11, 1996
Missing third-place prize.
Jeopardy! Round
SEA____
(Alex: First part of the word is "sea"; you have to come up with the second part.)

On Jan. 5, 1914 this automaker announced a $5 per day minimum wage & an 8-hour day

The last line in this 1933 film is "Oh, no. It wasn't the airplanes. It was beauty killed the beast."

By 1877 Otto Lilienthal had invented one of these engineless airplanes with birdlike wings

Morganite is a pink or rose-colored gem named for this American financier

The shortest mottoes are Washington's "Alki", meaning "By and By" & this smallest state's "Hope"

Seashell tongue twister business site

In 1913 King Constantine declared the union of Crete with this country

A gorilla named Amy is featured in this 1995 movie, filmed in part near our "Jeopardy!" sound stage

This man, a goldsmith by trade, invented printing from movable type in Europe

The Hope, a famous Baroque one of these mollusk gems, is 2 inches long & weighs several ounces

"Regnat Populus", "The People Rule", in this land of opportunity

Altitude is measured from it

On March 1, 1919 a coalition of leaders declared Korea independent of this nation

Some of the flying monkeys in this 1939 classic were actors in costumes & some were 6" rubber miniatures

Herman Hollerith invented a system of encoding data on cards by means of these

The "blazing" name of these opals is misleading; many do not give off brilliant flashes of color

Complete's Ohio's motto, "With God, All Things are..."

Some Serbian officials provided support for Gavrilo Princip's June 1914 assassination of this archduke

Sigourney Weaver was nominated for a 1988 Oscar for playing this primatologist in "Gorillas in the Mist"

As a Harvard freshman, this photographic inventor became fascinated by polarized light

In 1830 these green gems were discovered in mica schists in Russia's Ural Mountains

Heavenly body mentioned in the mottoes of Kansas & Minnesota

Some marine types of algae

The United States took over this island group from Denmark in 1917

In a 1949 film Terry Moore played the piano while this "mighty" ape held her over his head

His most important invention kept an elevator car from falling even if its cable broke

Often a shade of orange, spessartite is a variety of this reddish-brown gem

South Carolina's "Dum Spiro Spero" translates to "While I" do this "I Hope"
Scores at the first commercial break (after clue 11):
| | | |
| --- | --- | --- |
| Bob | Cash | Barb |
| $600 | $100 | $2,400 |
Scores at the end of the Jeopardy! Round:
| | | |
| --- | --- | --- |
| Bob | Cash | Barb |
| $1,500 | $2,700 | $2,800 |
Double Jeopardy! Round
| | | | | | |
| --- | --- | --- | --- | --- | --- |
| | | | | | |
| | Of Joyce Cary, Joyce Kilmer or Joyce Carol Oates, the one that fits the category | It's the most modern city in Peru, as well as the largest | Gangster Louis Amberg was just "Pretty" while Charles Floyd was nicknamed this | Osip Bovet redesigned this square near the Kremlin after most of it was destroyed in an 1812 fire | In "Oh, What a Beautiful Mornin'", this "is as high as an elephant's eye" |
| | Nora Ephron wrote the searing novel "Heartburn" after her divorce from this Washington Post reporter | Astrakhan is situated on several islands in the delta of this river, 60 miles from the Caspian Sea | This showman got a plaster cast of condemned murderer Albert Hicks for his American museum | In 1799 Alexsandr Baranov, first governor of this territory, founded Sitka | According to a song from "Annie", "You're Never Fully Dressed Without" one of these |
| The 1986 disaster at this plant released over 100 million curies of radionuclides into the atmosphere | Queen of British romance novelists who wrote "The Wicked Marquis" & "The Impetuous Duchess" | This sea forms Pakistan's southern border | One of the two gangsters who led what was known as the Bug & Meyer Gang | A 1649 code forbade owners to kill these peasants generally treated as chattel | A song from "Finian's Rainbow" asks, "How are Things in" this place? Is that little brook still leaping there?" |
| This federal disaster agency was created by an executive reorganization plan in 1978 | After writing a book about Marilyn Monroe, this feminist established the Marilyn Monroe Children's Fund | Bissau is this west African country's chief port as well as its capital | "Trigger" Burke was hired to silence "Specs" O'Keefe, one of the gang involved in this 1950 Boston heist | Vladimir Nemirovich-Danchenko & this actor/producer founded the Moscow Art Theatre in 1898 | Flower referred to in the lyric "Blossom of snow, may you bloom and grow, bloom and grow forever" |
| A 1988 disaster killed all 259 people aboard Pan Am 103 & 11 in this Scottish town | This playwright called her first book of memoirs "An Unfinished Woman" & her last "Maybe" | The Tonle Sap & Bassac Rivers join this major river at Phnom Penh | Deported to Italy, Lucky Luciano slipped back to this Caribbean island to run his U.S. operations | Lithuania passed to Russia at the third partition of this country in 1795 | In an Anthony Newley-Leslie Bricusse song, this title question precedes "who never fell in love" |
Scores at the end of the Double Jeopardy! Round:
| | | |
| --- | --- | --- |
| Bob | Cash | Barb |
| $8,200 | $5,700 | $8,800 |
| | | |
Final Jeopardy! Round
This American adventurer & aviator discovered the world's highest waterfall in 1935
Final scores:
| | | |
| --- | --- | --- |
| Bob | Cash | Barb |
| $0 | $600 | $1,199 |
| 3rd place: unknown | 2nd place: Bassett furniture set | New champion: $1,199 |
Game dynamics: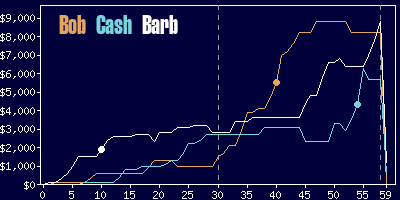 Bob
Cash
Barb
$7,700
$4,700
$8,800
18 R
(including 1 DD),
2 W
15 R
(including 1 DD),
3 W
22 R
(including 1 DD),
3 W
Game tape date: 1996-02-06