Show #4847 - Tuesday, October 11, 2005
2005 Back to School Week game 2.
Jeopardy! Round
In 1492 this man landed on the island of San Salvador & came in contact with Native Americans called Arawaks

This classic Warner Bros. animated duo helps Granny solve mysteries

In the 1600s his findings like the phases of Venus made this Italian think maybe the sun is what stuff revolves around

J-10

--

miss!
H-5

--

hit!
One more hit in this game & I'll have sunk your title vessel

On the highway this co.'s Corolla gets 40 mpg, its Land Cruiser, 17 (it'll be important to you one day, trust me)

Starbucks & most parents couldn't survive without this drink

The Pawtuxet Indian known as Squanto is famous for teaching the Pilgrims how to plant this crop aka maize

These title crime fighters all live together in a tower that might be even messier than your room

Ares Vallis is one of the larger channels on the surface of this planet

In 1985 Russian computer scientist Alexey Pajitnov created this maddening video game that features blocks

S. Dak., Alaska, Wyo. &, obviously, Hawaii are the only 4 states not on this natl. train co.'s passenger route map

You'll want to visit this building to send a parcel or letter

Mechanikat is one of the evil adversaries of this new breed of superhero seen here

Using Newton's laws of motion, astronomer Edmund Halley determined that these travel in elliptical orbits

Spinning the Wheel of Fate in this game can take you to Millionaire Estates, or you can end up in Countryside Acres

On May 20, 1927 at 7:52 A.M., Charles Lindbergh took to the skies of New York in this plane

Term for working on a computer that is not on the network

Gaining his powers from exposure to mutagenetic gas, he's the African-American teen superhero seen here

On Jan. 14, 2005 the Huygens Probe soft-landed on this largest moon of Saturn; photos reveal its surface to be orange

This "game for your whole brain" features a big purple brain in the center of the game board

In 2005 Dan Wheldon led a 1-2-3-4 finish at the Indy 500 for cars made by this co., known for its Accord & CR-V

It's the first play of a football game

Monks in training battle villains for sacred, ancient objects on this action-packed program

Consisting of a continuous flow of gases from the sun, its top speed may reach 2.25 million miles per hour

"Pop in the shapes fast or out they'll blast" is what can happen in this "flawless" game for kids

On May 10, 1869, No. 119 & the Jupiter were the 2 trains head-to-head when this golden item was hammered home

It's the first play of a basketball game
Scores at the first commercial break (after clue 12):
| | | |
| --- | --- | --- |
| Madison | Brady | Dylan |
| $200 | -$400 | $1,600 |
Scores at the end of the Jeopardy! Round:
| | | |
| --- | --- | --- |
| Madison | Brady | Dylan |
| $4,600 | $200 | $4,000 |
Double Jeopardy! Round
| | | | | | |
| --- | --- | --- | --- | --- | --- |
| | | | | | |
| Of 103, 206 or 412, the total number of bones in the adult body | It's the show in which Simba sings "I Just Can't Wait To Be King" | Due to use of the magnetic type of this device in the Middle Ages, mapmakers started putting north at the top of maps | This third president had siblings who were fraternal twins | The Encyclopedia of American Comics called Charlie Brown of this comic strip a "likable loser" | Building this type of large outdoor fire has been an autumn tradition for centuries |
| Digestion begins in the mouth, where this secretion breaks down starches into sugars | Phil Collins wasn't a star yet when he played this young pickpocket in the London stage production of "Oliver!" | Flemish cartographer Gerardus Mercator is said to have invented this word for a map collection | | World Book tells us that the brown recluse is one of these with a violin-shaped mark on its back | A prayer of this is one that expresses gratitude, not always over turkey & stuffing |
| | This Dr. Seuss-inspired musical sort of rhymes with "musical" | A U.S. county's equivalent of a capital, it's often shown on maps as a dot inside a circle | | "Cooking A to Z" tells us that brown sugar is a mixture of white sugar & this thick syrup, which gives it its color | A small bite, a small sip or a touch of cold in the air one autumn night |
| Your body's largest joint is this one that's capped by a bone called the patella | This musical has it all: cute kids named Jeremy & Jemima, a truly scrumptious leading lady &, oh yes, a flying car | There are lines of latitude called this of Cancer & this of Capricorn | | According to Encyclopedia Britannica, his raid at Harper's Ferry in 1859 made him a martyr to the anti-slavery cause | Puff the Magic Dragon "frolicked in" this "in a land called Honah Lee" |
| Elastic tissue called this forms the auricle; that's the outside of your ear | "Annie" is based on a comic strip; "Annie Get Your Gun" is based on this real-life girl who "shot" to fame in the 1800s | | | | Though it has a different number in our calendar, its name comes from the Latin for "eight" |
Scores at the end of the Double Jeopardy! Round:
| | | |
| --- | --- | --- |
| Madison | Brady | Dylan |
| $13,400 | -$5,000 | $4,000 |
| (lock game) | | |
Final Jeopardy! Round
Chapter 1 of this book describes "a cyclone cellar, where the family could go in case one of those… whirlwinds arose"
Final scores:
Game dynamics: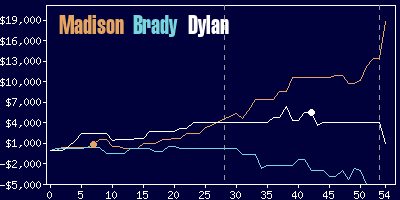 Madison
Brady
Dylan
$13,200
-$5,000
$6,000
21 R
(including 1 DD),
4 W
8 R,
10 W
12 R,
3 W
(including 1 DD)
Game tape date: 2005-09-12