Show #7435 - Friday, December 30, 2016
Clip of this game shown on the 2019-04-04 episode of Better Things.
Jeopardy! Round
THE GUMMELIER
(Alex: I will not be your sommelier, I will be [*] for you.)

WHAT'S YOUR FAVORITE SOAP?

I've chosen for you this company's Juicy Fruit, with subtle hints of cassis & a flamboyant finish

After Moses died this man led the children of Israel over the Jordan & conquered Jericho

From the mind of a McDonald's ad exec, this selection was first served up in 1979

No. 1 in 1984, this Prince hit reaches the Top 10 again in 2016 soon after his death

In 1981 Elizabeth Taylor played a villainous & uninvited guest who crashed Luke & Laura's wedding on this soap

With the name of a three-pronged weapon, this brand produces a fine wintergreen that is steely & unctuous

In 1992 the Presidential Medal of Freedom was awarded to this Chinese-American architect

Summertime counselors know who is & who isn't this, a phrase popularized in the 1980s

Gulf Coast State College is in Panama City in this state

Noah knew the waters of the earth had abated when a dove flew back with a leaf from this tree in its beak

Its creator described this Fox series centering on a hip hop music & entertainment co. as "black Dynasty"

You'll swoon over Ice Arctic Chill from this "toothy" gum brand; its crisp, earthy vibe is all the rage

Leading the fight against polio, his 1955 vaccine quickly dropped incidences of the disease from about 20 to 2 in 100,000

Tap-dancing is cool

--

very cool

--

in this 2006 Oscar winner

Costa Smeralda, or Emerald Coast, on this island just south of Corsica has been a haven for the jet set since the 1960s

According to the ads, the Dove Beauty Bar's "gentle cleansing formula contains 1/4" this kind of cream

In 1991 Ben Cross looked good for a 200-year-old as vampire Barnabas Collins on this remake of a '60s soap

You'll love the pink packaging of this rhyming brand's bubble tape gum; pull some out & embrace the lean suppleness

French president from 1995 to 2007 he was followed by his onetime protege Nicolas Sarkozy

This common 3-word wish literally means "I hope you have many more joyous such events"

In 2013 a peace dove consisting of 1.2 million buttons was created at the Burj Khalifa complex in this UA Emirate

One of the first successful primetime serials, it aired 2 nights a week & was based on a Grace Metalious novel

Also a nickname for Cornell, this cinnamon gum I have chosen conveys a bold, cloying zest

A good balance, or the ghost-summoning Madame Arcati in "Blithe Spirit"

This Croatian coast with destinations like Split & Brac has been called the next Riviera

1997's "Comanche Moon" was the last published of the 4 novels in this Western series

For 45 years the town of Llanview was the setting for this serial
Scores at the first commercial break (after clue 15):
| | | |
| --- | --- | --- |
| Mukund | Kate | Ryan |
| $3,000 | $1,400 | $1,200 |
Scores at the end of the Jeopardy! Round:
| | | |
| --- | --- | --- |
| Mukund | Kate | Ryan |
| $3,800 | $4,000 | $2,800 |
Double Jeopardy! Round
ANAGRAMMED SCIENTISTS' LAST NAMES

He really set things in motion:
WENT ON

"Georgia, Georgia, the whole day through, just an old sweet song, keeps" this 4-word title around

Like his roommate, this doctor first shows up in "A Study in Scarlet"

Ding dong! The first Forever stamps, issued in 2007, featured this iconic symbol

By 1240 Batu Khan, grandson of this man, had conquered most of Russia

Bordeaux & Beirut are 2 of these in relation to Los Angeles

This singer/guitarist gave us "Your Body Is A Wonderland" & "Why Georgia"

This doctor/poet was Boris Pasternak's alter ego

Stamps celebrating this character's 75th anniversary included the one seen here

Adopted "municipal" name of Odo de Lagny, elected pope in 1088 & a leader of ecclesiastical church reform

It tastes tart and may go into a tart

Nice neighbor! This "stately" mega-group of country sang "Burn Georgia Burn"

Eternally optimistic Dr. Pangloss is a companion & tutor to this title Voltaire fellow

In 2015, just in time for winter, the Postal Service issued 4 colorful stamps featuring geometric these

With its excellent port facilities, Riga, Latvia was an important center of this league of merchant cities

A Tina Fey skit popularized this name for unfashionable high-rise pants

A prolific breeder:
BARK BUN

Reba McEntire is among those who've sung about this title evening of murder injustice & power outage

Dr. Faustus is a scholar & magician in a work by this English playwright published posthumously in 1604

In 2015, gifts of friendship stamps, including the one seen here, were jointly issued by the United States & this country

After his death in 1226, "The Life of" this Italian saint told of his life of poverty & the founding of his order

In the English version of a song, he's informed that "morning bells are ringing, morning bells are ringing"

Ran hot & cold:
FINE HEARTH

In 1973 Gladys Knight & the Pips rode this title transportation to No. 1

Dr. Bernard Rieux forgoes escape to stay behind & fight the deadly contagion in this Albert Camus work

A 2016 series celebrating the National Park Service included a stamp of this park that covers over 3 million acres

Cathedrals went higher & higher with the use of pointed arches, forming this anatomical type of vault

In the King James Bible, these 3 words starting with a relative precede "for they know not what they do"
Scores at the end of the Double Jeopardy! Round:
| | | |
| --- | --- | --- |
| Mukund | Kate | Ryan |
| $14,800 | $8,800 | $9,600 |
| | | |
Final Jeopardy! Round
OSCAR-WINNING TITLE SUBJECTS
The only Nobel Prize winner to be the title subject of a Best Picture Oscar winner is this man
Final scores:
| | | |
| --- | --- | --- |
| Mukund | Kate | Ryan |
| $10,399 | $800 | $600 |
| 2-day champion: $31,799 | 2nd place: $2,000 | 3rd place: $1,000 |
Game dynamics: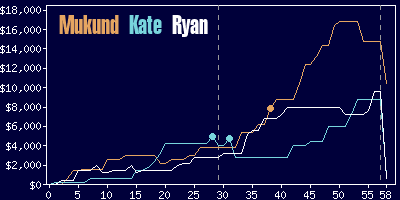 Mukund
Kate
Ryan
$15,800
$11,800
$9,600
18 R
(including 1 DD),
2 W
14 R,
2 W
(including 2 DDs)
17 R,
3 W
Game tape date: Unknown